Jump down to page content
Information about Les hasards heureux de l'escarpolette (The Swing)
Year created:

c. 1767 - 1768

Creator:

Jean-Honoré Fragonard

Country of Origin:

France

Dimensions:

81 x 64.2 cm

Collection:

Paintings

Gallery:

Great Gallery
Fragonard's iconic painting is one of the most emblematic images of 18th-century French art. A young woman wearing a lovely pink silk frock is tantalisingly positioned mid-air on a swing between her elderly husband on the right and her young lover on the left. The force of the swing caused one of her slippers to fly off, resulting in a privileged view for her lover whose delight is suggested by the symbolic offer of his hat.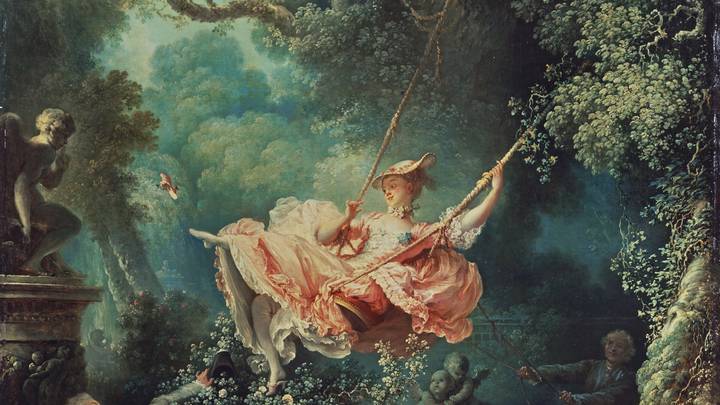 In 2019 we launched our ground-breaking conservation and research project focused around the Collection's eight masterpieces by Jean-Honoré Fragonard.
Led by Dr Yuriko Jackall, Curator of French Paintings at the Wallace Collection, the project aims to address these gaps in our knowledge. Five paintings — whose once-sparkling surfaces are now obscured by heavy layers of yellowed varnish — will be cleaned and conserved.