The Wallace Collection was founded by a gift in a Will. Continue the legacy by leaving one in yours.
In 1897 Lady Wallace followed Sir Richard Wallace's wishes and bequeathed his collection to the nation in her Will, establishing the greatest gift ever left to the country. It is thanks to the generosity of Lady Wallace and the legacy she made that the Wallace Collection is here for us to share and enjoy today.

Continue reading to find out more or download our legacy brochure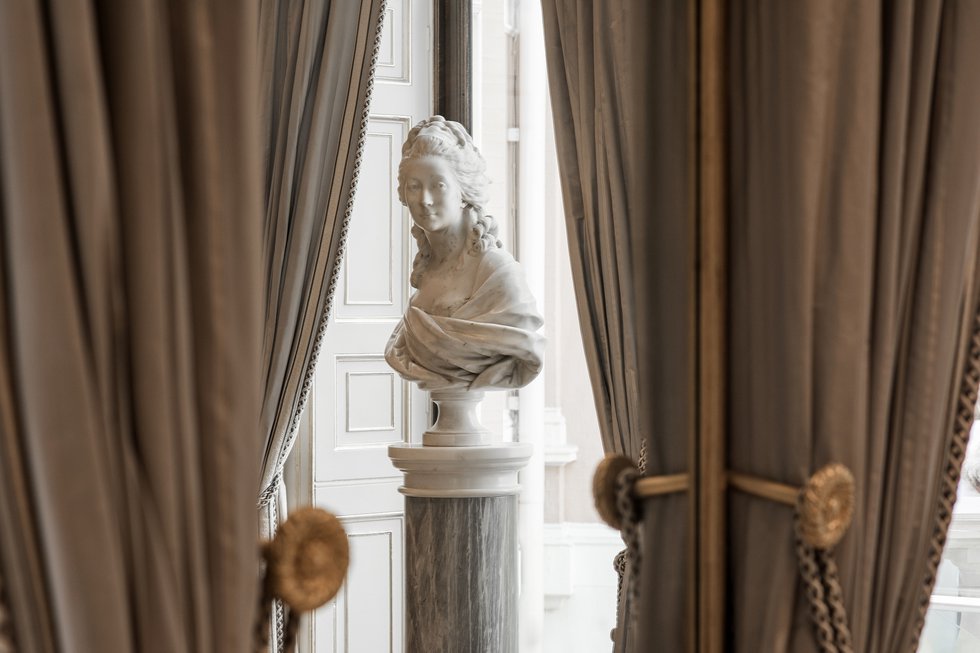 The Importance of Gifts in Wills
The Wallace Collection was originally unendowed, which means that we do not have a reliable source of income in perpetuity. Whilst we receive a government grant to maintain the fabric of the building and provide public access to the Collection, we still need to raise over £2 million a year to fund our core activities as well as additional amounts for specific capital projects.
Leaving a legacy to the Wallace Collection is a way of acknowledging the enjoyment the museum has given you and makes a lasting difference to the future of the Collection. No matter whether large or small, gifts left in Wills help us preserve, protect and research the wonderful works of art the Wallace Collection holds for future generations.
In your bequest, you can leave a gift for general purposes so that we can use the funds where they are needed or you can direct your gift towards whichever area of the museum you enjoy or wish to support the most – be it learning and education, object conservation, exhibitions, gallery refurbishment, or scholarship. As the Wallace Collection is an exempt charity your gift will be free of inheritance tax and may be an effective way of reducing the tax liability of your estate whilst benefiting a favourite charity.
Your Gift
There are three types of gift you can leave in your Will:
Residuary Legacy
The remainder or a portion of your estate after other specific gifts have been distributed.

Pecuniary Legacy
A fixed sum of money specified by you in your Will. You can speak to your Solicitor about making this sum index-linked to safeguard the gift against inflation.

Specific Bequest
A gift of specific personal possessions such as property, land or shares. The Wallace Collection cannot accept gifts of works of art into the Collection.
Please get in touch if you have left a gift to the Wallace Collection in your Will or are considering doing so. Prior knowledge of such gifts helps us ensure that we can fund projects which reflect your interests and acknowledge your gift in the most appropriate way.
Suggested wording for your Will
You may find the following suggestions for wording useful when preparing your Will:
" I give to the Wallace Collection, Hertford House, Manchester Square, London W1U 3BN… [sum of / item specified / residue of my estate/. This gift may be used for general purposes. OR It is my wish that this gift be used to support "specific project or other specific purpose".
" I declare that the receipt of the Director or other proper officer for the time being shall be a sufficient discharge to my executors".
Please note that if you have already made a Will, you do not have to rewrite it to include a gift to the Wallace Collection. You can simply add a codicil to your existing Will to include additional gifts.
Whilst it is very simple to leave something in your Will, we recommend that you consult your solicitor or professional advisor when drawing one up for the first time or changing an existing Will.
Making a Will with our Partner
The Goodwill Partnership offers an easy and discounted Will service which enables you to write your Will in the comfort of your home or over the phone.
Free home visits are conducted by a trained professional who will pass your instructions to a qualified solicitor to write your Will. Our discounted charity rate for a single Will is £108 +VAT.
To find out more call 0844 669 6148 and mention the Wallace Collection, or book an appointment online.
Charity Status and Tax Efficient Giving
The Wallace Collection is an exempt charity. Gifts to charities are exempt from Inheritance Tax, this means a bequest to the Wallace Collection will be deducted from the value of the estate before any tax liability is calculated.
In addition, if you leave a legacy to the Wallace Collection out of an estate that is subject to Inheritance Tax (excess over £325,000 in 2021/22) of 10% or more of the estate, your donation will reduce your Inheritance Tax to 36% instead of 40%.
Everyone's tax situation is different and we would advise that you discuss your plans with a solicitor, tax advisor or our partner The Goodwill Partnership.
Case Study
Mr Stanley Gordon Clarke
In the summer of 2016 the Wallace Collection was unexpectedly contacted by the executors of Mr Stanley Gordon Clarke's estate. As with many of our legacy donations, the Wallace Collection unfortunately had no indication of Mr Gordon Clarke's enjoyment or affection for the museum in his lifetime. From the outset we were unaware of the nature or size of Mr Gordon Clarke's legacy bequest, but as with all legacy donors, we were keen to arrange a meeting to discuss Mr Gordon Clarke's motivation for donating and interest in the museum.
At the meeting we were advised by the executors that Mr Gordon Clarke's legacy donation was a sum total of £440,000. Astonished and touched by Mr Gordon Clarke's generous donation we enjoyed learning more from the executors about Stanley and his quiet enthusiasm for the museum. One of the executors, a great friend of Stanley's, informed us that his great passion was furniture and that he had been visitor to the museum his whole life. Together we discussed appropriate ways to acknowledge his generosity, and in particular to highlight his interest in furniture.
With the approval of the executors, Mr Gordon Clarke's donation was split between a sizeable endowment donation, which provides future security for the museum, and an amount to be used on immediate costs towards research and conservation in the field of eighteenth-century furniture. His support is immortalised in his appearance in the opening pages of Gilded Interiors: Parisian Luxury and the Antique and his generosity to the endowment will be acknowledged in perpetuity.
Leaving a Gift from overseas
If you are a US citizen or resident, gifts or bequests passing to The Wallace Collection in America inc. either under your will or otherwise will be fully deductible for US estate tax purposes.
For further information or to donate, get in touch via wca@wallacecollection.org.
Get in Touch
Thank you for considering leaving a gift in your Will. We are very happy to discuss how it would benefit the Collection and how we can best acknowledge your gift. Please contact the Development Office on +44 (0)20 7563 9538, by email fundraising@wallacecollection.org or by post by filling in this form and sending it back to us:
Development Office
The Wallace Collection
Hertford House
Manchester Square
London W1U 3BN