10 June 2019 – 27 October 2019
Partnership between Manolo Blahník and the Wallace Collection
"The Wallace Collection has been a point of reference for me since my early days in London. It was – and remains – one of my favourite museums with the most refined selection of art. I am incredibly humbled and honoured to be a part of the project and have my work displayed at the museum." - Manolo Blahnik
"A match made in romantic heaven" - The Daily Telegraph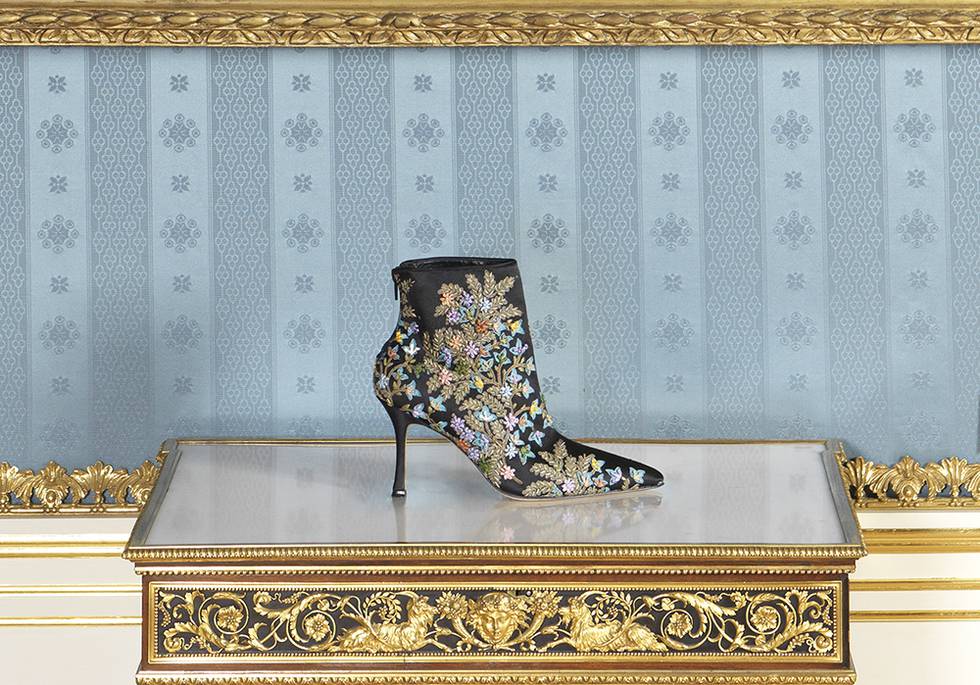 In June 2019, the Wallace Collection and Manolo Blahnik presented An Enquiring Mind: Manolo Blahnik at the Wallace Collection. The exhibition featured a personally selected edit of shoe designs from Blahnik's private archives set amongst the masterpieces of the Wallace Collection.
This exciting venture juxtaposed an icon from the world of contemporary fashion with Wallace's outstanding collection that has been an inspiration to artists since it opened to the public in 1900.
Co-curated by Wallace Collection Director, Dr Xavier Bray, and Manolo Blahnik himself, the partnership celebrated the renowned designer's long-held fascination with the Wallace Collection and provides an unprecedented exploration of his creative process. The exhibition placed Blahnik's exquisite designs in the intimate context of the Wallace Collection alongside the paintings, sculpture and furniture that inspired his enquiring mind, leading to a dialogue between the old and the new, the art and the craft, the real and the fantasy.
Each room explored a particular theme associated with Blahnik's work, demonstrating his thirst for knowledge and the wide ranging influences upon his designs. Visitors were taken on a journey through Blahnik's imagination, spanning the theatre and spectacle of the Commedia dell'arte, the fashions inspired by Blahnik's native Spain, 18th-century Rococo style, his own personal interpretation of Englishness and much more.
The full diversity of Blahnik's work was on display, from the candy-coloured shoes designed for Sofia Coppola's award-winning film, Marie Antoinette, shown alongside Fragonard's Swing and Boucher's Mme de Pompadour, to his carefully worked, jewel-encrusted shoes which reflect the diamond-mounted gold boxes and delicately painted miniatures of the Wallace Collection's Boudoir Cabinet.