FIVE PORTRAITS OF MEN AT THE WALLACE COLLECTION
The Wallace Collection possesses a strong selection of individual portraits of men by artists working in Flanders, Italy and the Dutch Republic. These make a wonderful complement to our current exhibition, Frans Hals: The Male Portrait, on until 30 January 2022 in our temporary exhibition galleries.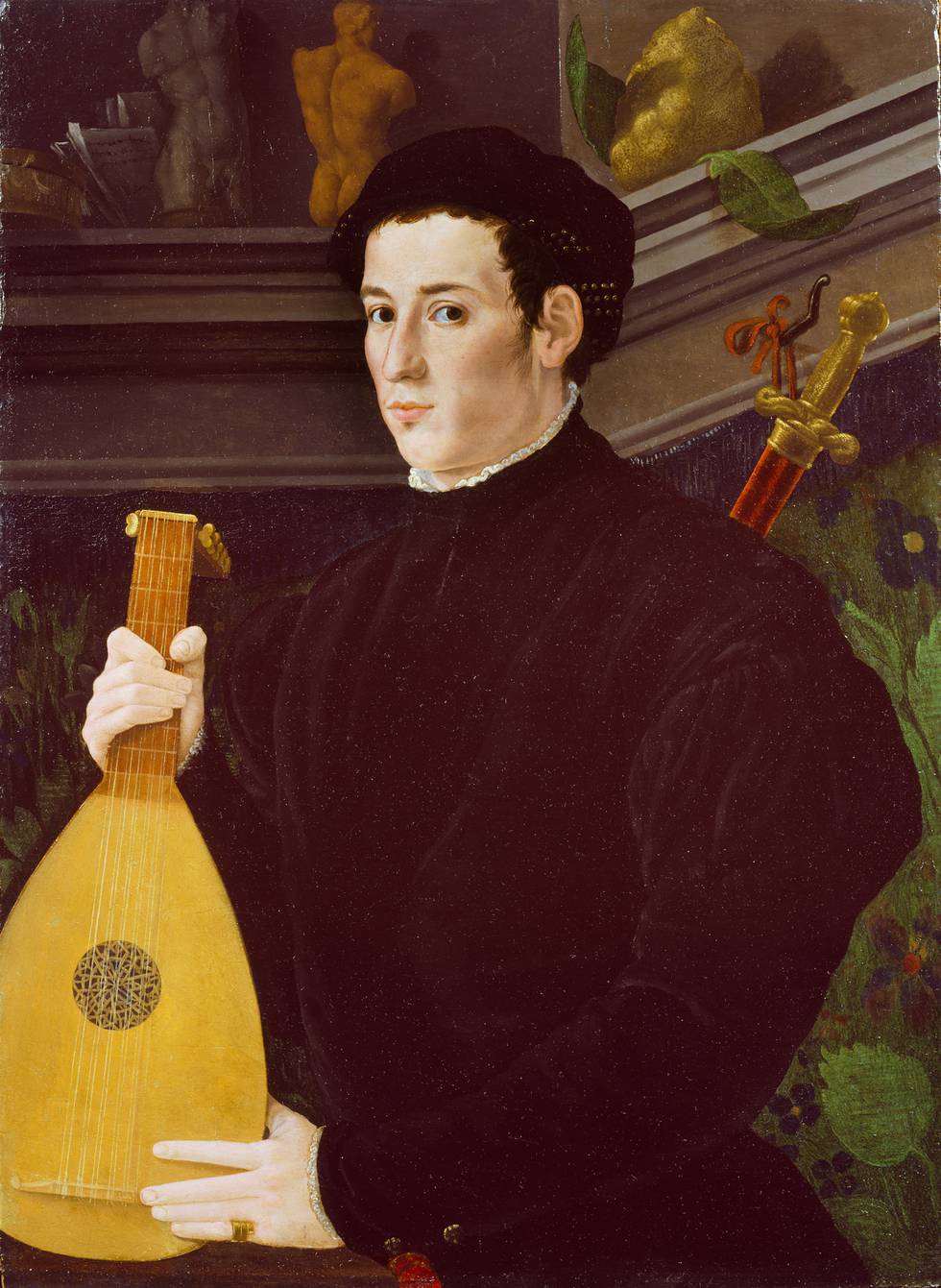 Tuscan School, Portrait of a Young Man with a Lute, 1540–60 (P542)
This elegantly dressed young man is represented with numerous attributes, absent from later portraits by artists like Frans Hals. The man's expert grasp on a lute and the instrument's prominent position in the foreground suggest that he excelled at music. However, the presence of a gilded rapier, writing sheets and statues behind the sitter suggest a person of elevated social status, rather than a simple musician. Allusions to music, literature and Antiquity were customary signs of distinction and intellectual refinement associated with courtly life, making it probable that the sitter was such a courtier.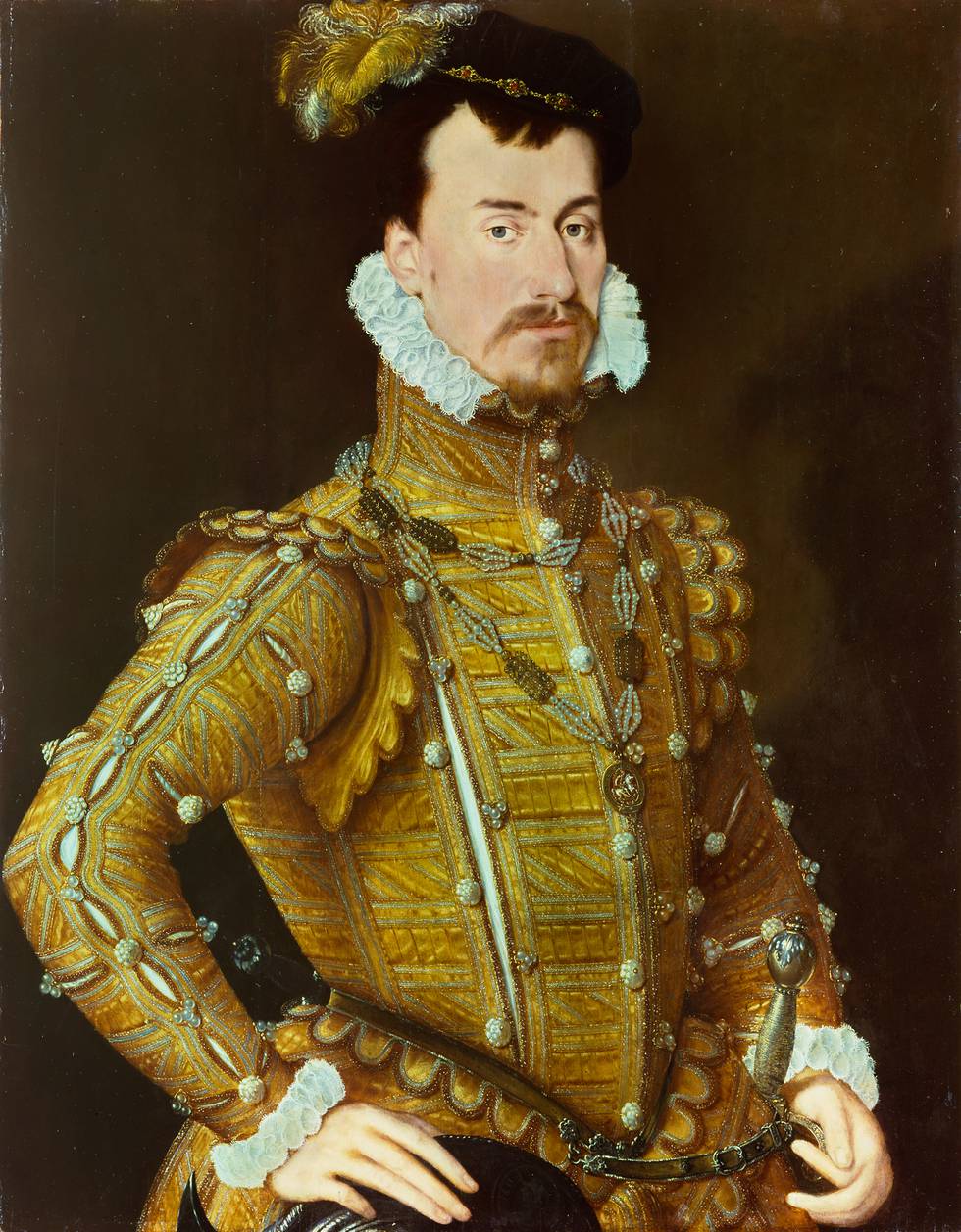 Attributed to Steven van der Meulen, Robert Dudley, Earl of Leicester, c. 1560–65 (P534)
This fantastic portrait of the sumptuously dressed nobleman, Robert Dudley, serves as a wonderful antecedent to Frans Hals's flamboyantly dressed bachelors on view in the current exhibition, Frans Hals: the Male Portrait. The Earl of Leicester wears an exquisite gold silk doublet with a high neckline, richly decorated with a gold and silver thread pattern interspersed with precious pearls and white enamelled roses. The dark velvet beret on his head is decorated with feathers that match his outfit and a jewelled chain. His hands rest on the hilt of a rapier and a helmet, respectively, common attributes in aristocratic portraits from the period.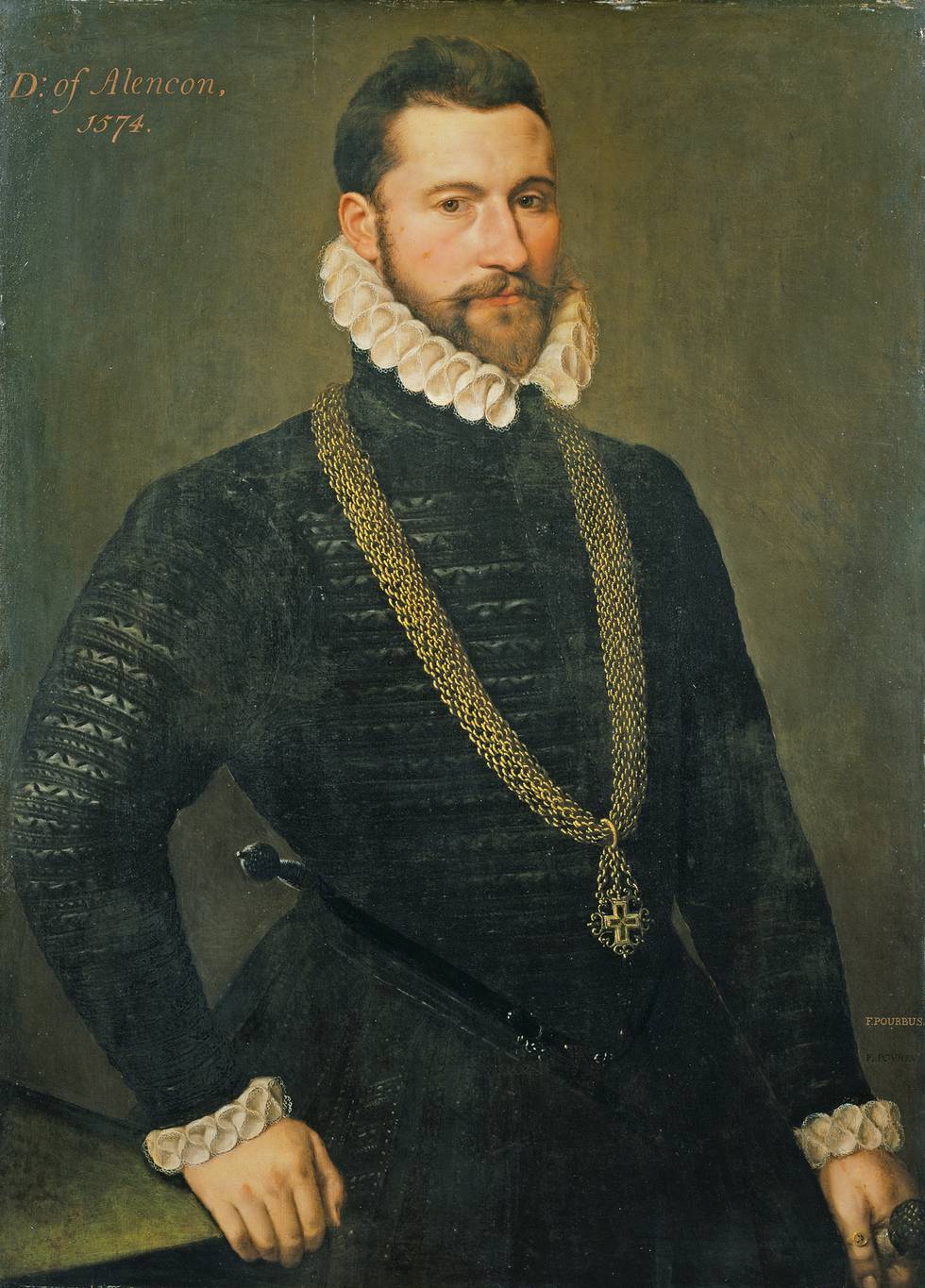 Frans Pourbus the Elder, Portrait of a Man, 1574 (P26)
This imposing portrait provides a stark contrast to Frans Hals's more informal portrayal of his male sitters during the subsequent century. The man wears sober black clothing, coupled with a stiffly starched ruff and cuffs, in keeping with the strict Spanish fashions prevalent in the Southern Netherlands. His short hair and pointed beard and moustache were also common at the time. By contrast, Hals's sitters in the current exhibition, Frans Hals: the Male Portrait, are more casually posed, wear flamboyant, colourful clothing and sport long hair paired with a clean-shaven look.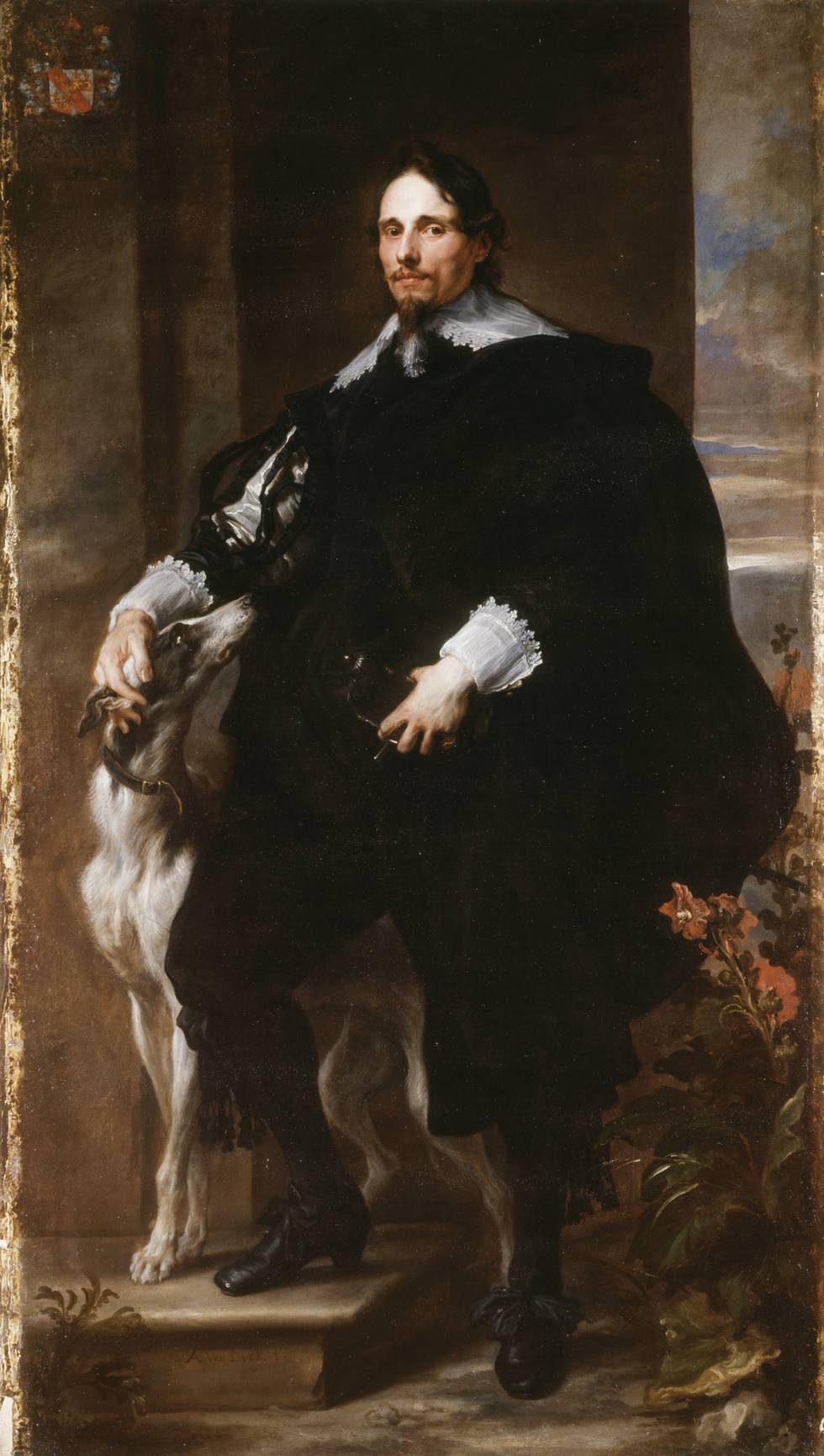 Anthony van Dyck, Philippe Le Roy, 1630 (P94)
This grand, full-length portrait of the aristocrat Philippe Le Roy, stands in contrast to the more informal half-length portraits by artists like Frans Hals. Le Roy is dressed in elegant black clothing, fitting for a married man and carries a rapier in his left hand, a prized accessory and status symbol for gentlemen at the time, as indispensable as a hat or gloves. Le Roy's right hand strokes his beloved greyhound who looks up adoringly at his master, a symbol of fidelity fitting for a portrait painted on the occasion of marriage.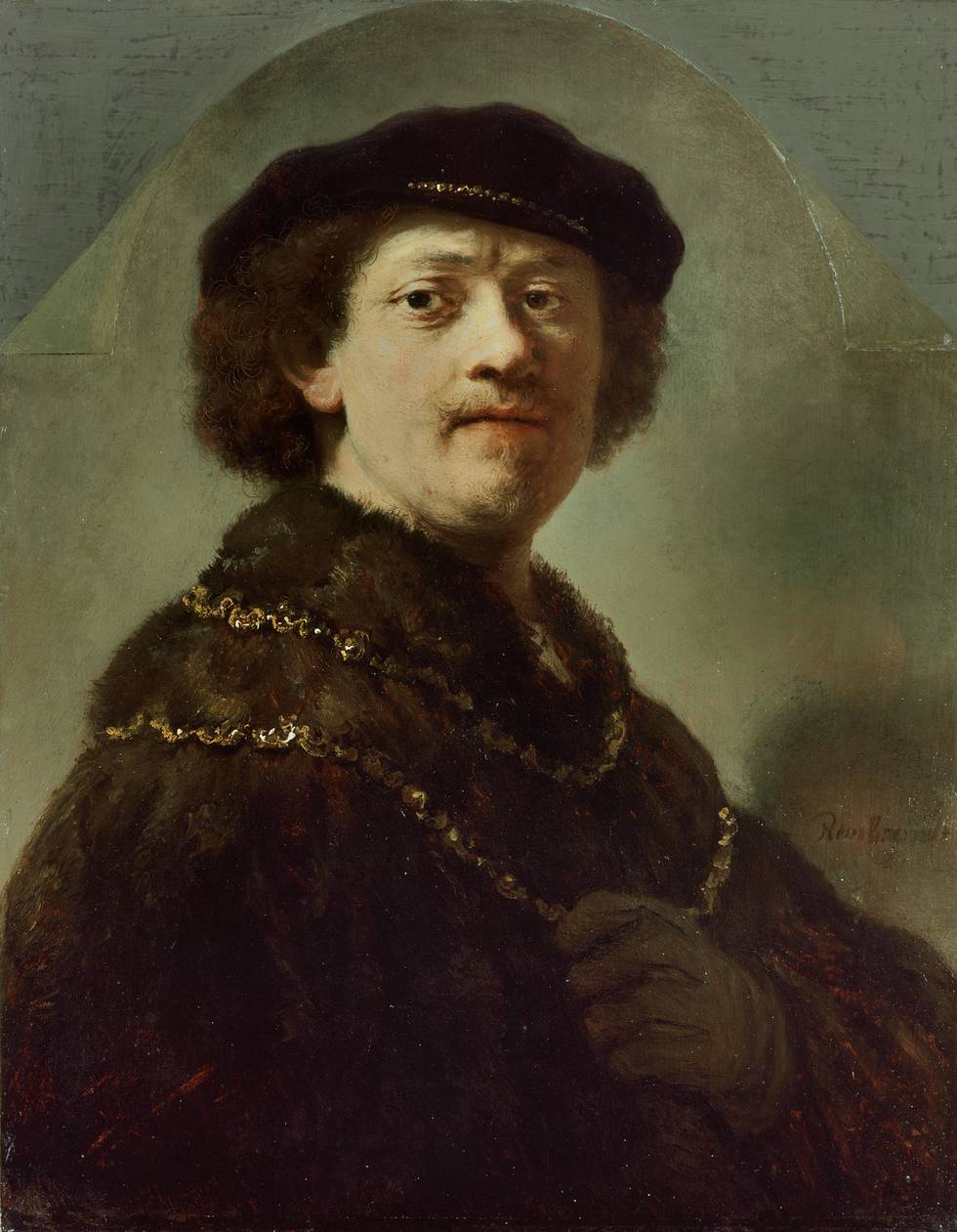 Rembrandt, Self-Portrait in a Black Cap, 1637 (P52)
Rembrandt loved to scrutinise his own image, producing over sixty self-portraits in painting, drawing and print. He is the first artist to make self-portraiture a genre in its own right. Here, Rembrandt portrayed himself in costume, wearing a sixteenth century fur cloak adorned with a double gold chain. On his head he wears a velvet beret, also adorned with a gold chain. On his left hand he wears a leather glove, an indispensable accessory of any gentleman, as seen in many of Frans Hals's portraits currently on view in our temporary exhibition, Frans Hals: the Male Portrait.