Conservation
Conservation
Our Conservation department is responsible for the preservation and conservation of all the works of art within the Museum, ensuring they are safeguarded for present and future generations, whilst reflecting the Collection's policy of minimum intervention.
Our in-house specialists treat furniture and woodwork, as well as metalwork such as arms and armour. We also work closely with external specialists for the conservation of our paintings, ceramics, glass, leather and textiles.

If you would like to get in touch with us, please email the conservation team
Find out more about other conservation projects on our YouTube Channel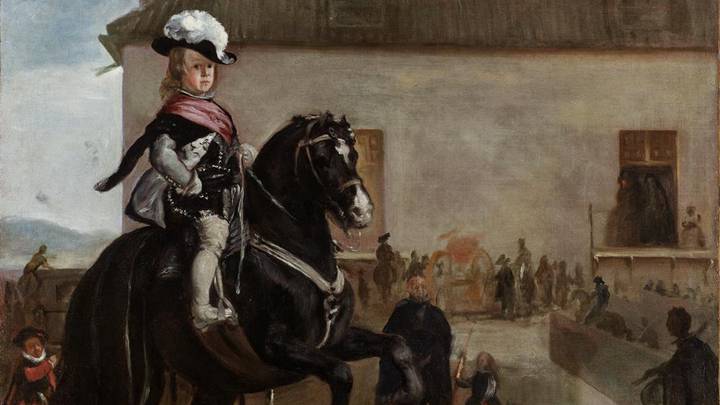 Read the Prince Baltasar Carlos painting conservation video transcript
Conserving Prince Baltasar Carlos in the Riding School by the Studio of Velázquez
Dr Lelia Packer: We are very excited to embark on a major project around one of our best loved pictures here at the Wallace Collection: Prince Baltasar Carlos in the Riding School. This is a picture that hangs here in our Great Gallery, and is incredibly popular with visitors.
Dr Xavier Bray: Today is a really exciting moment for the Wallace Collection because we're about to send out this fantastic painting to be conserved. It's a picture that is incredibly popular with the public and particularly children as you can imagine and also with Spanish experts – we still want to know much more about this picture.
Lelia: This painting represents Prince Baltasar Carlos, the beloved son of King Philip IV of Spain and Queen Isabella of Bourbon. He was born in 1629 and he was heir to the throne. He's here shown at about age 7, riding a pony in what is thought to have been a riding school. The portrait is incredibly innovative because it takes us into areas of the court that had not yet been seen before in painting. So rather than representing Baltasar Carlos on a horse, as would have been more common in equestrian portraits in a non-descript setting, what Velázquez does is he creates an entire narrative around the prince on his horse so that we can better understand what is happening around him. So this painting is actually a major departure from what we are used to in equestrian portraits of this period.
What's astounding is that we haven't properly cleaned and restored this picture since the nineteenth century. So what we're doing now is we are sending it off to be cleaned, restored, and we're going to have the latest technical examination undertaken around this picture to better understand its structure, how it was produced. At the moment it sits somewhere within the Velázquez studio. It was a painting that was originally attributed to Velázquez and we'd like to better understand its relationship to the master. The existence of another version of this painting in a private collection has raised questions about the authorship of our picture, and what we hope to do through this extensive research project is to better understand who is responsible for this wonderful painting.
We're thrilled to be collaborating with a very experienced conservator Nicole Ryder, who has restored a number of Spanish pictures, so the painting will be going off to her studio where she will remove this old varnish and old retouchings and restoring the picture to its original glory.
A month since leaving the Wallace Collection
Nicole Ryder: My name's Nicole Ryder and I'm a freelance paintings conservator working for the Wallace Collection. I have started cleaning Baltasar Carlos in the Riding School and I'm about half-way through the process.
When the painting entered the studio, it's clear that the condition is quite stable in terms of the attachment of the paint to the canvas, it's not flaking, but the varnish which was applied in the 1930s is actually quite discoloured. Spanish paintings of the seventeenth century often have quite a cool palette and tonality so they are particularly affected by discoloured varnishes. But it's not just the dirtiness of a varnish which affects the appearance – it's also the tone of the painting, so the lightness and the darkness will be affected and that restricts three-dimensional space and interest and detail in the painting.
Since I've removed half the varnish, I'm beginning to see some of the old damages that are appearing for example in the roof here we have one of the old retouched damages, we've got small damages appearing round the edges, the colour is different, the sky is bluer, the sketch brushstrokes are more obvious in the sky. Over here on the left you can see these grey areas are actually puffs of smoke which makes sense of the little figure clambering over the wall.
The figures on the balcony probably represent two women and a child. Before this cleaning, we weren't absolutely sure if we had a male figure here or not but it's beginning to become more legible.
Once I've removed the varnish, I will consider the next layer of cleaning and that involves removing old discoloured restoration. The painting will then go out of the studio for technical analysis and that will help us understand the painting better – how it was made and who it might be by.
Nine months since leaving the Wallace Collection…
Nicole: It's been several months since I started the conservation process. The discoloured varnish and old restoration has been removed, the painting's been lined, the losses filled. There's new varnish on the painting and I'm presently in the process of retouching those losses. As well as the conservation work on the painting, we've also carried out a range of technical analyses including X-ray which was useful for determining the condition. So the painting has not changed substantially in size. It's lost a little bit at the top edge, perhaps a couple of centimetres, otherwise the size is pretty much as we see it today. We can see that there are losses around the edges but not too many within the picture. The ground application is very characteristic and we can see large, curved white marks on the x-ray image which relate to the type of ground and the way it was applied with a large, curved spatula.
Now that we can see the painting more clearly, we can see that it has a slightly unfinished appearance and maybe this is because it was left at an intermediary stage and there was an intention to develop it further, but for some reason this never happened.
We've been wondering if this painting is a parallel commission or variation of the same subject, by Velázquez in a private collection, but it was quite common practice for Velázquez' studio to create other versions of paintings and some of the materials and techniques used in the Wallace painting are very similar to those of the privately owned painting.
I'm at the final stages in the treatment, the retouching and the revarnishing and once that is completed, the painting will return to the Wallace Collection.
Installation day – a year since leaving the Wallace Collection
Nicole: It's an exciting moment. There's always a little bit of jeopardy involved because you don't know whether the fit in the frame is going to be correct and whether your retouchings are going to show up.
I'm pretty happy with how it looks and I'm looking forward to seeing it back on the wall.
Natalia Muñoz -Rojas: It is extremely exciting to see the painting back after a whole year. It much brighter, the colours are saturated, it has regained depth and detail. This painting is a piece shrouded in mystery. We haven't been able to date the painting to a firm date. We have however been able to place the painting closer within Velázquez' studio and his close entourage.
And the other really important thing of it hanging here, at the Wallace Collection, is that it hangs beside another portrait of Baltasar Carlos when the prince was younger, and next to a portrait of his half-sister, the Infanta Margarita. So this can tell a lot about the Spanish royal court. That, combined with the scenes of everyday life at the court in the background can tell the audience about how a prince was brought up and educated. With the painting back, hanging in the Great Gallery, we will have a great opportunity to further help research our own paintings but also other paintings by the artist in other museums and collections.
The conservation and technical analysis of Prince Baltasar Carlos in the Riding School by the Studio of Velázquez was generously supported by the Centro de Estudios Europa Hispánica (CEEH).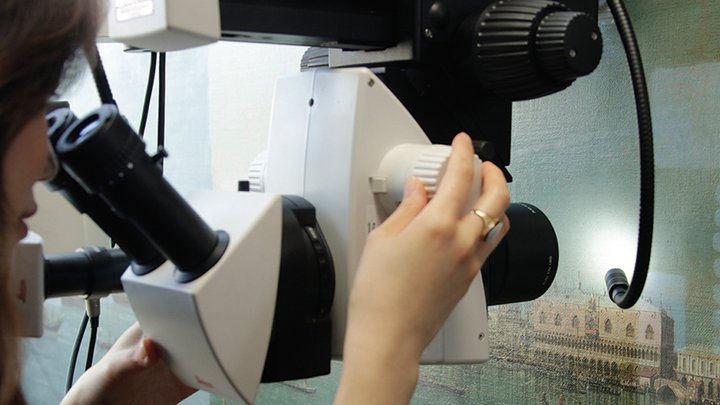 Read the Canaletto painting conservation video transcript
Canaletto and the Vedute Room: A Conservation Project
Dr Xavier Bray: A vedute room is basically a space created by eighteenth-century aristocrats who relive their wonderful visit to Venice. They would commission paintings by Canaletto and Guardi and decorate a room with just those kind of pictures. The Wallace Collection has one of the greatest collections of vedute paintings all assembled here. The only thing is that they have never really been studied and they are in urgent need of conservation. The canvases are covered with yellowed varnish and with time, it means you can't really see through that yellow varnish; so what we are hoping to do is remove that in order to reveal what is beneath and bring them back to their former glory.
We are going to focus first of all on the two really great Canalettos that we have here of the Bacino, and the remarkable thing about those two pictures is that when you stand in the middle and look from one side to the other, it's as if you were on the gondola visiting Venice. These were acquired very likely by the first Marquess of Hertford, possibly in Venice, maybe directly from the painter himself – and these are the kind of questions we are going to be asking and hopefully answering by the end of the project.
In the next few days, these pictures are going to be taken off the walls and we're going to be sending them to the Hamilton Kerr Institute which belongs to the University of Cambridge, and there they will be conserved and analysed technically.
We've been really fortunate that the Bank of America Merrill Lynch has sponsored this project in order to get these works restored. It's very costly and you need expert restorers to do it.
Rupert Featherstone: So we're pretty well at the end of the cleaning now, Lucy.
Dr Lucy Davis, curator: Wonderful and so fresh, just extraordinary.
Rupert: It's amazing. Emma's just got a tiny bit of varnish to take off now.
Lucy: It's interesting how the varnish looks even more yellow here in the natural light than it did in the gallery.
Rupert: Yeah I mean it's 1940s varnish but it is discoloured and it was suppressing a lot of information actually. You didn't realise but the subtle blues in the sky, all the gradations and in the water as well, you just didn't notice all of that.
Lucy: Yes, beautiful depth, the reflections.
Rupert: The reflections really come out beautifully. I mean this one is in amazingly good condition, barely a crack to be seen in it – it's uncanny in a way for a painting of this date. Another thing that the varnish removal has revealed is the incisions which he (Canaletto) uses to define architecture. So we've got some x-rays that we took earlier, and that shows so clearly these very fine little lines, really narrow, and then when you look at the surface you can actually see that they were done into the wet paint. And in some areas like over here, on the church, you can see he's been using a compass and you've got little compass points, and these minute fine lines that define the architecture, and also act as a kind of highlight.
You can see it in this x-ray rather well, it's really clear where he's cut through the wet paint so it's gone right through to the ground and hence it appears dark on the x-ray. And there's another one there, so you can see the compass point, and then all these horizontals he's inscribed.
Lucy: So meticulous.
Rupert: Then comes back when the paint's dry and puts those little dark lines on – and the thing about those is they are so crisp and fine, and you wonder, how'd you do that?
Lucy: The control required is amazing.
Rupert: Well they seem to be ruled, but can you do that freehand, or with a brush, or do you use a sort of pen? I mean, they're so fine, some of those things. And then the rigging of course, which is freehand because it's not straight, but again it's amazing control of paint.
Lucy: The freehand is incredible.
Rupert: And then the other thing which I think is rather nice, is texture comes out when you've got rid of that glossy varnish. So you've got things like the way the impasto works on areas around here, especially around the faces. The faces are so simple! They are just little ciphers in a way, but they work. You've got three little blobs of highlight, two little blobs of eyes, and you've got a face!
Lucy: Amazing, and I love the contrast between this area, as you say loosely painted, and then this incredible meticulousness and accuracy in the rendering of the buildings. And the way that Canaletto controls the composition is just extraordinary, when you're thinking that he often takes liberties with views so you can take in more of the wonderful monuments of Venice than you could actually see from many of the viewpoints.
Rupert: It looks so simple, it looks photographic – you think, oh yeah, just a view of Venice, but there's much more to it than that.
Lucy: So carefully composed.
Rupert: If you look at this one, Jay's got further. She's taken all the varnish off and we're now onto removing the repaint from the very old tear – which must have been very early for that to have occurred. It must have been after the lining. And then you've got these odd little damages. This one is not as in good condition, funnily enough. There's a little bit more wear to the paint and there's these strange damages all along the bottom edge which I don't fully understand what caused those. So for some reason, this one hasn't been treated quite the same, and the other thing is, it doesn't have the incisions.
Lucy: So the technique is different.
Rupert: Just subtly different. I wonder if there was a little bit of a gap, even though they look like a perfect pair. Whether they were separated just a little bit in time – or one was painted to match the other one, or something like that.
Lucy: It's wonderful how this conservation project has revealed so much more about the two paintings and their relationship with each other. And yes, I can't wait to see them restored to their original splendour back at the Wallace Collection.
Xavier: Our two great Canalettos have been away for eight months, and they've just been hung – literally yesterday – in this great gallery. And this is where Richard Wallace loved to show some of his very best paintings, and he would entertain here. And I really felt it would be important to welcome these pictures back with this wonderful space that was only recently redone in 2014. So the lighting is perfect, the red wall colours are perfect for the blues to stand out. So this is just the beginning of the conservation project that we've initiated here at the Wallace. We have many more Canalettos, and followers of Canalettos, that need to be restored and the ultimate aim is to have them all cleaned and ready to be shown in a newly refurbished room. Seeing them on this red, I'm wondering if that is the right colour we should use when we create what will be, I'm pretty sure, one of the greatest vedute rooms in Great Britain. A perfect place to escape a rainy London.
This project has been made possible by the Bank of America Merrill Lynch Art Conservation Project. With thanks to the Hamilton Kerr Institute, Fitzwilliam Museum, University of Cambridge.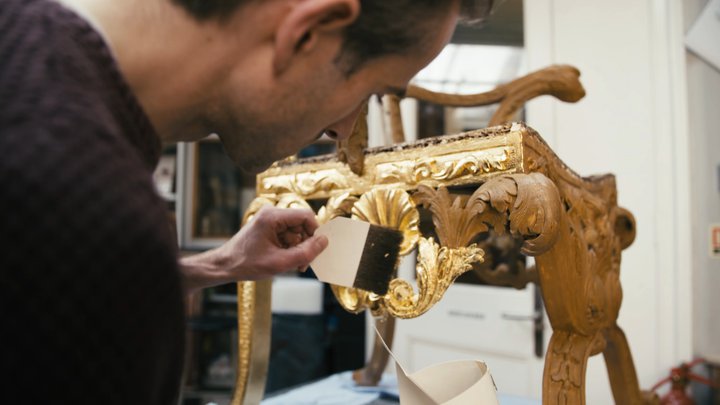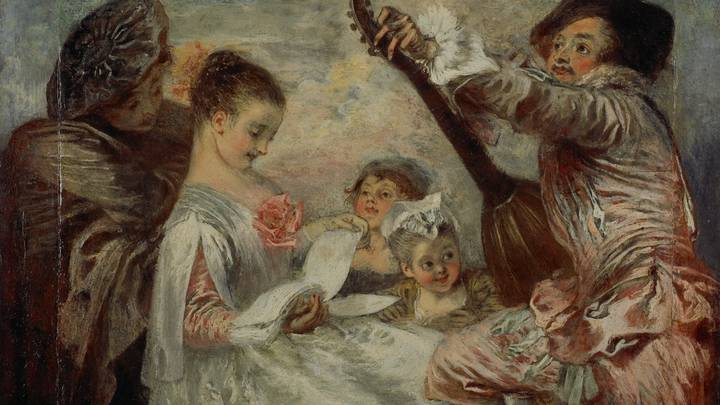 Research Projects
The Wallace Collection Conservation team are leaders in cutting-edge research within two specialist areas of interest: furniture and metalwork.
Follow our blog for updates on our current research projects.
Conservation Department Internships
The Wallace Collection offers exciting internship opportunities in the Conservation Department to those applicants/candidates currently completing an undergraduate or post-graduate degree in Conservation, where an internship is a required element of the course.
The Conservation Department at the Wallace Collection is a small team consisting of one metals and one furniture conservator, together with a conservation craftsman/mount-maker. Conservation internships are offered on the understanding that in addition to any material-specific work, the successful candidate will be part of the Conservation team helping with routine day-to-day jobs, including art-object moves and general administrative or organisational tasks, providing the candidate with an insight to working in a small National Museum. The intern's activities will fit into the Department's established work-plan, the intern working with and learning from the Collection's conservators to deliver conservation and collection-care to the highest standard.
The duration of a work-placement internship will normally be six – twelve weeks, but in special circumstances could be longer. Expenses will be covered for travel between zones 1-3, but no other expenses or costs will be paid. Please note that the Wallace Collection is unable to provide sponsorship for visas for the purposes of volunteering and work experience. If you have a passport from a non EEA country before you apply for a work placement you must check with the British Embassy in your country regarding visa and entry requirements. It is your responsibility to make all subsequent arrangements regarding work or study visas.
If you are interested in undertaking a conservation internship here at the Wallace Collection, please send a CV and covering letter indicating your preferred placement length and your available dates to conservation.staff@wallacecollection.org
Interviews are usually conducted in person at the Museum, but phone/Skype interviews can also be arranged.