Swing Time: Serendipitous Conversations about the Rococo - Identity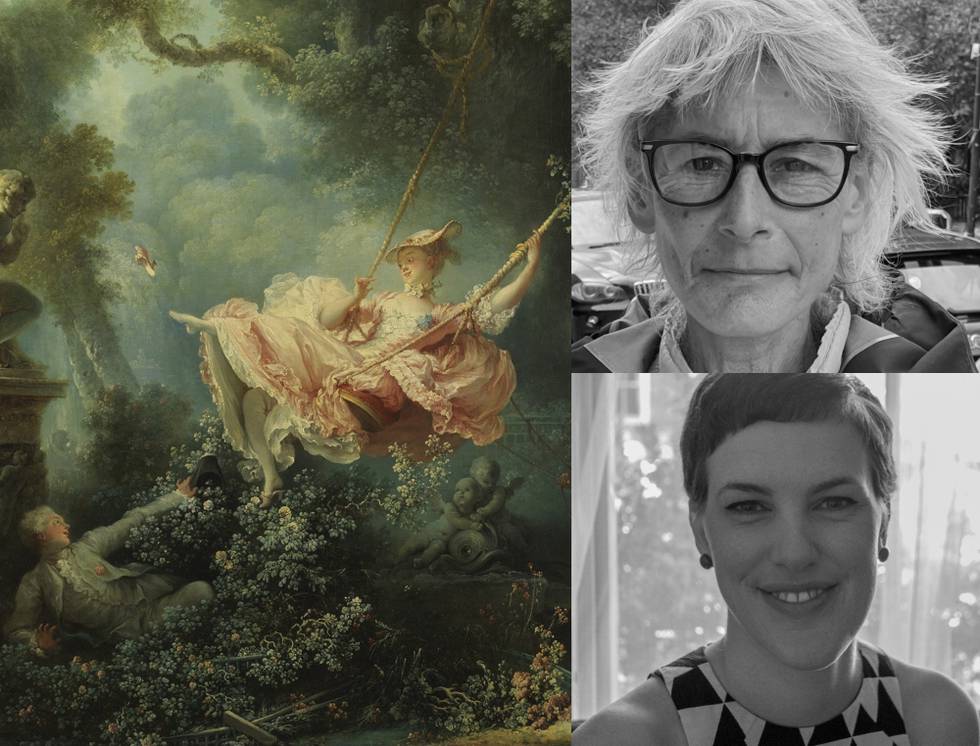 Date: Monday 22 November 2021
Times: 19.00–20.00 GMT
Location: Zoom Webinar
Speakers: Catherine Yass and Dr Rosalind McKever (Exhibition Project Curator, the Victoria and Albert Museum), with Dr Yuriko Jackall (Head of the Curatorial Department and Curator of French Paintings, the Wallace Collection)
Event Description: The name and motivations of the person who commissioned The Swing remain obscure. So do the identities of the three people depicted. Only the painter, Jean-Honoré Fragonard, is known to us. In cases like these, art historians rely upon visual clues to understand what is being represented.
In this talk, Dr Yuriko Jackall is joined by artist Catherine Yass and curator Dr Rosalind McKever in a conversation about how visual codes - dress, gesture, and representation of place - shape the way in which we read and perceive identity.
About the Speakers: A Turner prize nominee, Catherine Yass creates photographs and films that explore the relationship between physical and psychological space, namely how environments are constructed and experienced by their inhabitants, through an emphasis on temporal duration. Yass frequently concentrates on interiors and landscapes as states of mind. Her works are in numerous public collections including the Tate, England; Jewish Museum, New York; National Museum of Women in the Arts, Washington, D.C.; and Scottish National Gallery of Modern Art, Scotland. She lives and works in London, England.
Rosalind McKever is Co-Curator of the V&A exhibition Fashioning Masculinities: The Art of Menswear (opening March 2022). A curator and art historian specialising in modern Europe, especially Italy, Rosalind has a particular interest in fashion and time in art. She has worked at the National Gallery, London, The Metropolitan Museum of Art, New York, and Leeds Museums and Galleries, and has taught at the University of Sussex. She received her PhD from Kingston University in 2012.
About the Series: Fragonard's Les hasards heureux de l'escarpolette, known in English as The Swing, is a revered painting in the Wallace Collection and one of the most representative works of art of the entire French 18th century. To celebrate the gentle cleaning and restoration of this rococo icon, we have invited five art practitioners and five scholars to participate in a series of virtual conversations inspired by its key themes: Pink, Identity, Fashion, Play, and The Libertine.
Join our guests and Dr Yuriko Jackall, Head of Curatorial and Curator of French Paintings at the Wallace Collection, to discover the influence of rococo art, and The Swing in particular, on artistic production today.
Read the full talk series description here.
Registration and Location: This discussion will be hosted online through Zoom Webinar. Sign up to the free Swing Time series below. For more information about Zoom, including instructions on how to download and use the system, please visit www.zoom.us/support.
Talk Recording: This talk will be recorded and will be made available on the Wallace Collection YouTube channel. 
Date & Times
| Date | Start Time | End Time |
| --- | --- | --- |
| 22/11/2021 | 19:00 | 20:00 |
Ticket Information
| Ticket type | Price |
| --- | --- |
| Online Talk (Free) | £0 |
Book tickets