Swing Time: Serendipitous Conversations about the Rococo - Fashion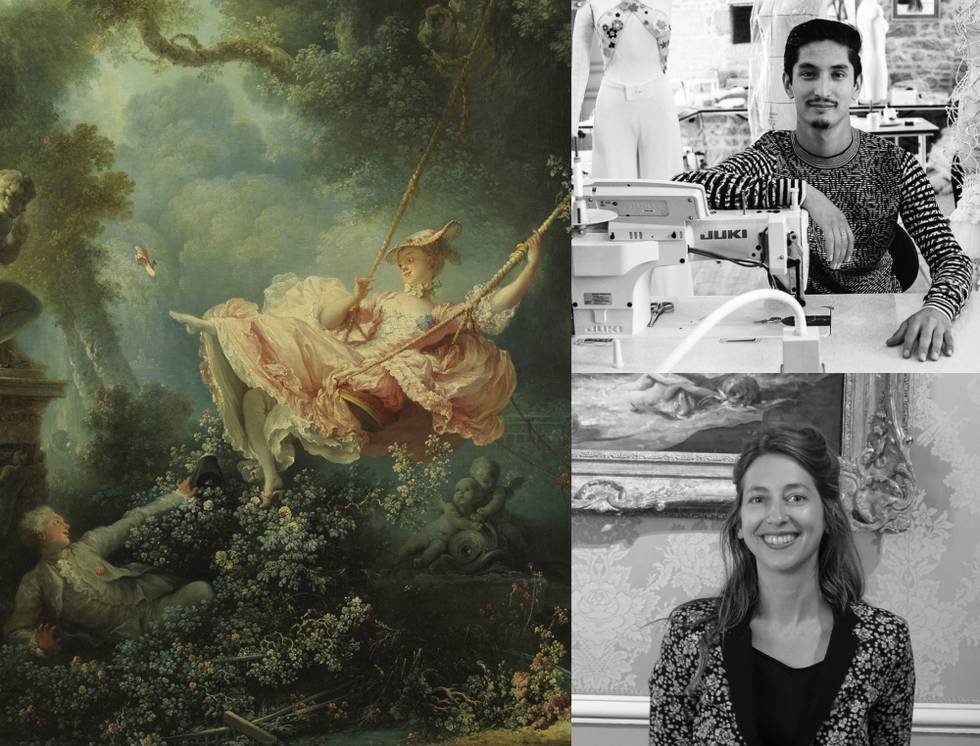 Date: Monday 29 November 2021
Times: 19.00–20.00 GMT
Location: Zoom Webinar
This talk will include simultaneous English-French translation.
Speakers: Sami Nouri and Jessica Degain (Curator, Musée des Beaux-Arts of Tours), with Dr Yuriko Jackall (Head of the Curatorial Department and Curator of French Paintings, the Wallace Collection).
Event Description: During the last decades of the ancien régime (1760–1789), Paris became the epicentre of the fashion world. Vogues for hairstyle, dress shape, fabric patterns, or silk colour came and went, with the vertiginous rapidity associated to today's ever-evolving fashion industry. Like his teacher, François Boucher, Fragonard excelled in putting his protagonists in the latest fashions. The fabrics, trimmings and garments flowing from the brushes of these painters have, in turn, inspired fashion designers for the last 250 years.
Join Dr Yuriko Jackall, haute-couture fashion designer Sami Nouri, and curator Jessica Degain as they explore how 18th-century fashions continue to resonate today.
About the Speakers: Sami Nouri was born in Afghanistan where he learnt sewing with his father. Forced to leave his country, he arrived in Tours at the age of fourteen. Following apprenticeships with John Galliano and Jean-Paul Gautier, he founded his own haute couture studio in 2017. In 2022, at the invitation of the Musée des Beaux-Arts of Tours, he will create a costume inspired by the painting of François Boucher that will figure in the exhibition.
A graduate of Paris's prestigious École du Louvre, Jessica Degain is Curator at the Musée des Beaux-Arts of Tours where she oversees the museum's collections of 17th-, 18th-, and 19th-century painting. Previously she was in charge of conservation and restoration of the collections of Parisan churches and was a contributor to the major exhibition Le Baroque des Lumières: Chefs-d'œuvre des églises parisiennes au XVIIIe siècle (Petit Palais, musée des Beaux-Arts de la Ville de Paris, 2017). She is currently working on an exhibition about François Boucher and his contributions to the theatre and opera for 2022.
About the Series: Fragonard's Les hasards heureux de l'escarpolette, known in English as The Swing, is a revered painting in the Wallace Collection and one of the most representative works of art of the entire French 18th century. To celebrate the gentle cleaning and restoration of this rococo icon, we have invited five art practitioners and five scholars to participate in a series of virtual conversations inspired by its key themes: Pink, Identity, Fashion, Play, and The Libertine.
Join our guests and Dr Yuriko Jackall, Head of Curatorial and Curator of French Paintings at the Wallace Collection, to discover the influence of rococo art, and The Swing in particular, on artistic production today.
Read the full talk series description here.
Registration and Location: This discussion will be hosted online through Zoom Webinar. Sign up to the free Swing Time series below. For more information about Zoom, including instructions on how to download and use the system, please visit www.zoom.us/support.
Talk Recording: This talk will be recorded and will be made available on the Wallace Collection YouTube channel. 
Date & Times
| Date | Start Time | End Time |
| --- | --- | --- |
| 29/11/2021 | 19:00 | 20:00 |
Ticket Information
| Ticket type | Price |
| --- | --- |
| Online Talk (Free) | £0 |
Book tickets