Seminar in the History of Collecting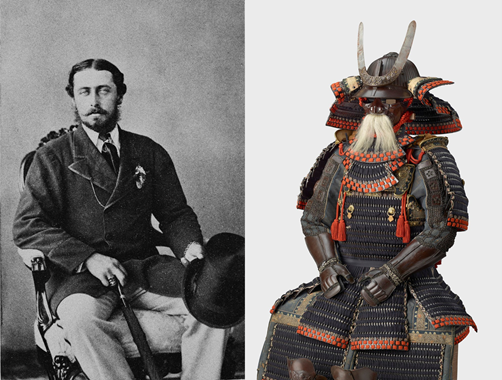 Date: Monday 29 November 2021
Times: 17.30 to 19.00 GMT
Title: 'A most distinguished collector and patron' – Prince Alfred, Duke of Edinburgh and Japanese Art, 1869–1900
Speaker: Rachel Peat (Assistant Curator of Non-European Works of Art, Royal Collection Trust, London)
Registration and Location: This talk will be hosted online through Zoom and YouTube. Please click here to register for Zoom.
For more information about Zoom, including instructions on how to download and use the system, please visit https://support.zoom.us/hc/en-us
Please click here to view this talk via our YouTube channel.
Abstract: Queen Victoria's son, Prince Alfred, was the first royal visitor to Japan. In 1869, aged just 26, he was received by the Emperor Meiji in the resplendent setting of Tokyo's Imperial Palace where tea was served and diplomatic gifts presented. The meeting ushered in a new era of collecting and artistic exchange, made possible by Japan's dramatic 're-opening' to the West 15 years previously. During his visit, the young prince acquired a dazzling range of lacquer, arms and armour, netsuke, bronzes, porcelain and paintings, becoming one the foremost collectors of contemporary Japanese art in Britain.
This lecture will explore the important works acquired by the prince and their subsequent exhibition in London, Glasgow and Dublin. It seeks to shed new light on this often-overlooked royal collector, highlighting the central role his rich Japanese collection played in shaping royal furnishing and public taste.
Rachel Peat is Assistant Curator of Non-European Works of Art at Royal Collection Trust. She is editor of Japan: Courts and Culture (published May 2020), the first publication dedicated exclusively to Japanese art in the Royal Collection, and curator of the exhibition of the same name, which will open at The Queen's Gallery, Buckingham Palace in spring 2022.   
About the Series: This seminar series was established in 2006 as part of the Wallace Collection's commitment to the research and study of the history of collections and collecting, especially in the eighteenth and nineteenth centuries in Paris and London.

The seminars, which are normally held on the last Monday of every month during the calendar year, excluding August and December, act as a forum for the presentation and discussion of new research into the history of collecting. Seminars are open to curators, academics, historians, archivists and all those with an interest in the subject. Papers are generally 45-60 minutes long.
Please check here nearer the time to find out whether this seminar will take place at the Wallace Collection or via Zoom.
Seminars in the History of Collecting 2021
Monday 29 November
'A most distinguished collector and patron' – Prince Alfred, Duke of Edinburgh and Japanese Art, 1869–1900
Rachel Peat (Assistant Curator of Non-European Works of Art, Royal Collection Trust, London)
Date & Times
| Date | Start Time | End Time |
| --- | --- | --- |
| 29/11/2021 | 17:30 | 19:00 |