Seminar in the History of Collecting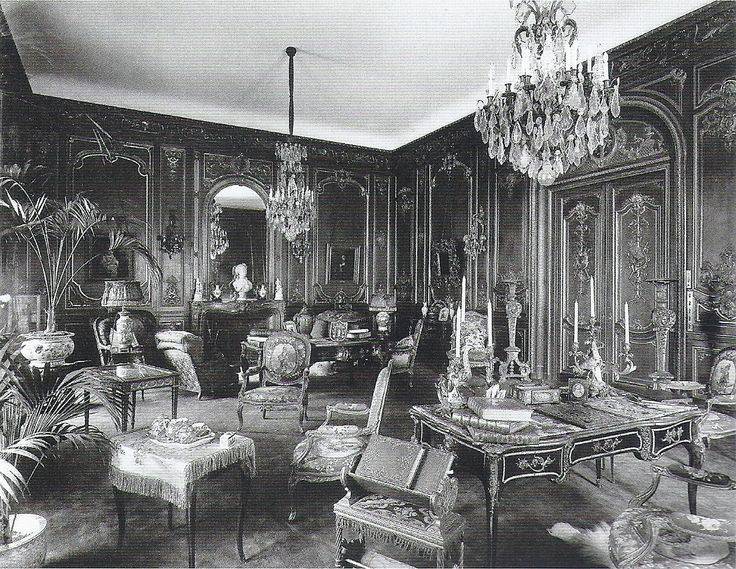 Date: Monday 28 March 2022
Times: 17.30–19.00 GMT
Title: The Lost George J. Gould Collection and the Beginning of Duveen Taste in America
Location: Zoom Webinar and YouTube
Speaker: John D. Ward (Head of Silver and Vertu Department, Sotheby's, New York, USA)
Registration and Location: This talk will be hosted online through Zoom. Please click here to register for Zoom. 
For more information about Zoom, including instructions on how to download and use the system, please visit www.zoom.us/support.
Please click here to view this talk via our YouTube channel.
Event Description: George J. and Edith Gould were major collectors in Gilded Age America. They were among the very first Americans to live with Old Master paintings and French eighteenth-century furniture, sculpture, porcelain, and vertu, in interiors specifically created to display these collections.
George's early purchases, mostly from Agnew's, included works by Constable, Romney, and Gerard Dou. By 1900 the collection boasted Rembrandt, Hals, and Van Dyck, Reynolds' 'Strawberry Girl' and a Hobbema from the Demidoff Collection; in 1904 ten works were chosen to enhance the loan exhibit at the St. Louis World's Fair.
Complementing these works was furniture by Jacob and Cressent, Sèvres vases, gold boxes and miniatures, mostly supplied by Henry Duveen. From 1907 a new townhouse in New York was planned: architecture by Horace Trumbauer, interiors by Carlhian, contents largely by and the whole overseen by Henry and Joseph Duveen.
Period photos and early inventories allow a reconstruction of the interior, with its full-length English portraits, Sèvres-mounted and Riesener furniture, rose du Barry Gobelins and matching Sèvres, sculptures by Foucou, Boizot and Pajou, and Clouet portraits.
After the deaths of Edith in 1921 and George in 1923, Duveen purchased the bulk of the collection. Much was resold to his major clients of the 1920s and 30s, particularly Eleanor Elkins Rice, Henry E. Huntington, and Anna Dodge. Today the artworks are scattered, and the importance of this seminal collection - for the House of Duveen and for elite American taste - has been almost completely forgotten.
About the Series: This seminar series was established in 2006 as part of the Wallace Collection's commitment to the research and study of the history of collections and collecting, especially in the eighteenth and nineteenth centuries in Paris and London.

The seminars, which are normally held on the last Monday of every month during the calendar year, excluding August and December, act as a forum for the presentation and discussion of new research into the history of collecting. Seminars are open to curators, academics, historians, archivists and all those with an interest in the subject. Papers are generally 45-60 minutes long.
Seminars in the History of Collecting 2022
Monday 28 March
The lost George J. Gould collection and the beginning of Duveen taste in America
John D. Ward (Head of Silver and Vertu Department, Sotheby's, New York, USA)
Monday 25 April
Philipp von Stosch (1691–1757) and his circle: collecting and studying of ancient engraved gems, from antiquarianism to proto-archaeology
Dr Paweł Gołyźniak (Research Fellow, Department of Classical Archaeology, Institute of Archaeology, Jagiellonian University, Krakow, Poland)
Monday 30 May    
Collector/Photographer/Art Critic: the multiple roles of Paul Casimir-Périer (1812–1897) 
Simon Kelly (Curator and Head of Department of Modern and Contemporary Art, Saint Louis Art Museum, Saint Louis, USA)
Monday 27 June
Ancient and modern: the collecting habit of John Campbell, first baron Cawdor (1755–1821)
Dr John E. Davies FRhistS (Independent Scholar)
Monday 25 July
Prints and drawings at the British Library: revealing hidden collections
Felicity Myrone (Lead Curator, Western Prints and Drawings, British Library, London)
Monday 26 September
Provenancing the Dragoon Vases: porcelain, architecture and monumentality in German antiquarianism (1700–1933)
Feng Schöneweiß (PhD Candidate, University of Heidelberg, Germany)
Monday 31 October
Paul Sandby's collection of drawings 
Rosie Razzall (Curator of Prints and Drawings, Royal Collection Trust, London)
Monday 28 November
Wonderfully expensive things: Howard Carter and the market for Egyptian art, 1920-1940
Tom Hardwick (Consulting Curator of Egyptology, Houston Museum of Natural Science, Houston, USA)
Date & Times
| Date | Start Time | End Time |
| --- | --- | --- |
| 28/03/2022 | 17:30 | 19:00 |