Portraits of Dogs: From Gainsborough to Hockney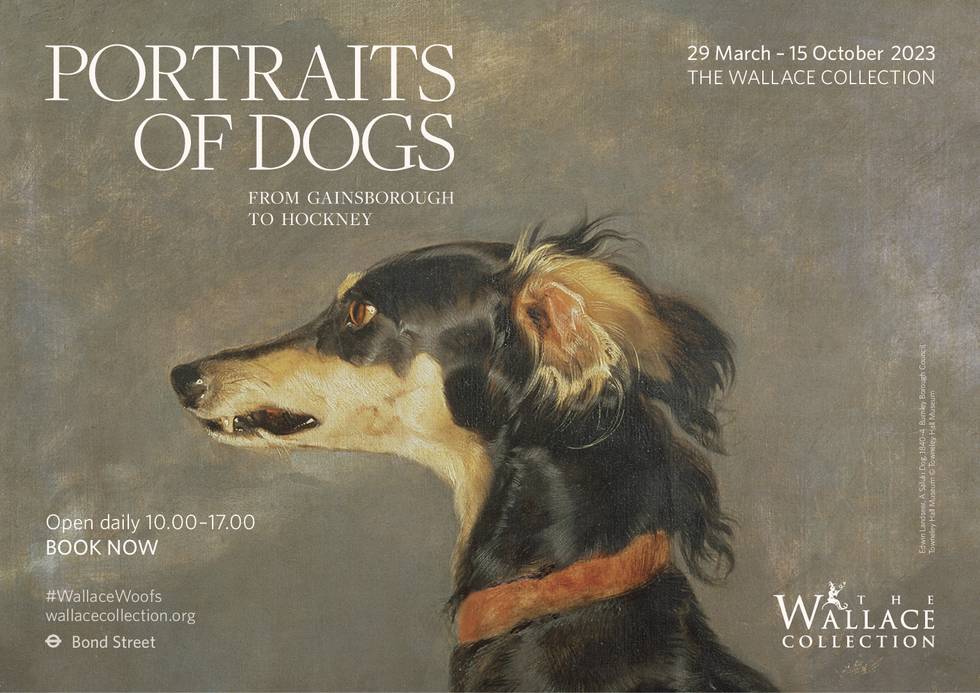 PORTRAITS OF DOGS: FROM GAINSBOROUGH TO HOCKNEY
29 March – 15 October 2023
Admission charge. Members go free.
#WallaceWoofs
Next spring, the Wallace Collection will open Portraits of Dogs: From Gainsborough to Hockney. The exhibition explores our devotion to four-legged friends across the centuries. Through carefully selected paintings, sculptures, drawings, works of art and even taxidermy, the exhibition highlights the unique bond between humans and their canine companions.
Dog portraiture developed as an artistic genre contemporaneously with its human counterpart – dogs are represented in the earliest cave paintings alongside humans – and it flourished, particularly in Britain, from the 17th century onwards. More than any other nationality perhaps, the British have both commissioned and collected portraits of dogs.
Bringing over 50 works of art to Hertford House, Portraits of Dogs presents a broad range of portraiture showing dogs in all their different shapes and sizes, with each painter or sculptor challenging themselves how best to represent mankind's most faithful and fearless friend.
Can't wait for the exhibition? Buy your catalogue here and enjoy the exhibition early.
For safety reasons, only assistance dogs are allowed in the museum. However, why not pamper your pooch with a gift from our shop, or share a photo of your dog with us on social media? Remember to tag your post #WallaceWoofs.
Date & Times
| Date | Start Time | End Time |
| --- | --- | --- |
| 29/03/2023 | 10:15 | 17:00 |
| 29/03/2023 | 10:45 | 17:00 |
| 29/03/2023 | 11:15 | 17:00 |
| 29/03/2023 | 11:45 | 17:00 |
| 29/03/2023 | 12:15 | 17:00 |
| 29/03/2023 | 12:45 | 17:00 |
| 29/03/2023 | 13:15 | 17:00 |
| 29/03/2023 | 13:45 | 17:00 |
| 29/03/2023 | 14:15 | 17:00 |
| 29/03/2023 | 14:45 | 17:00 |
| 29/03/2023 | 15:15 | 17:00 |
| 29/03/2023 | 15:45 | 17:00 |
View Full Schedule
Ticket Information
| Ticket type | Price |
| --- | --- |
| Adult + Donate + Gift Aid | £14 |
| Adult | £14 |
| Student (18-25) + Donate + Gift Aid | £10 |
| Student (18-25) | £10 |
| Young Person (12-17) + Donate + Gift Aid | £5 |
| Young Person (12-17) | £5 |
| Art Fund + Donate + Gift Aid | £7 |
| Art Fund | £7 |
| Jobseeker + Donate + Gift Aid | £10 |
| Jobseeker | £10 |
| Disabled Adults + Donate + Gift Aid | £10 |
| Disabled Adults | £10 |
| Under 12s | £0 |
| Carer | £0 |
Book tickets