Horace Vernet's Menagerie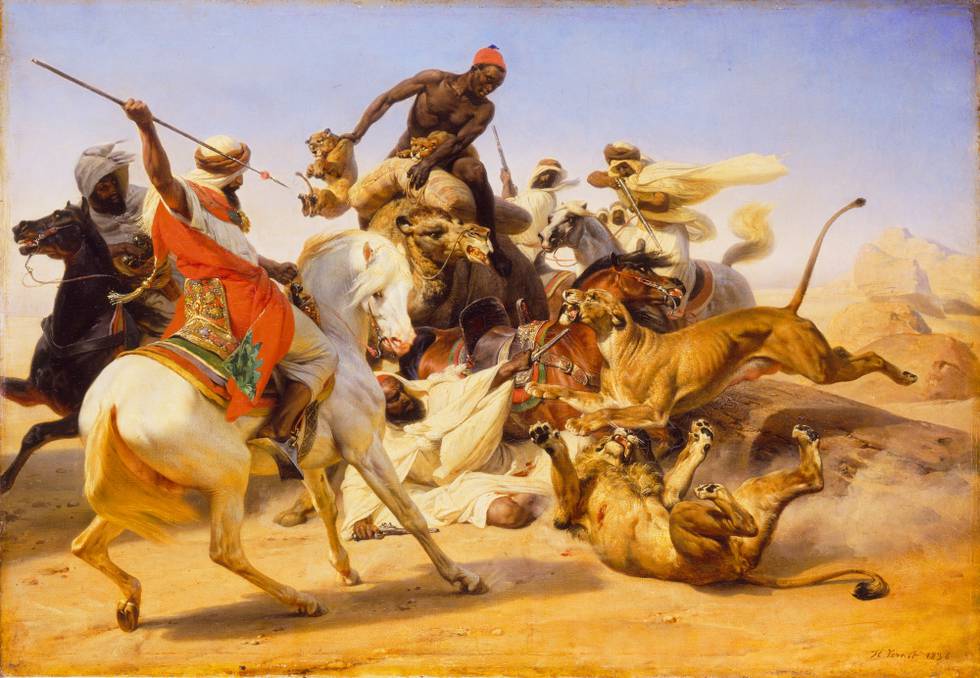 Date: Monday 21 February 2022
Times: 19.00–20.00 GMT
Location: Online (Zoom)
Speaker: Professor Katie Hornstein, Dartmouth College, USA
Description: Horace Vernet (1789-1863) was one of the most prolific painters in 19th-century France and is largely remembered for his military-themed history and genre paintings. In these human-centred works of art, animals often appear. On occasion, non-human actors take centre stage. This is the case for what is arguably Vernet's most important animal-focused painting: the Wallace Collection's 1836 The Lion Hunt, which was widely reproduced and was exhibited at the Salon of 1839. The Lion Hunt represents an event that Vernet purportedly witnessed during his first visit to Algeria in 1833, when he travelled there at the behest of King Louis-Philippe to gather material for a series of paintings to support and valorise the ongoing military campaign.
In this special talk to celebrate our display of Vernet paintings, The Emperor, The Artist, and the Collector, Professor Hornstein will focus on the underappreciated role of animals within Vernet's oeuvre, with particular attention given to the lions who appear in The Lion Hunt.
About the Speaker: Katie Hornstein is Associate Professor of Art History at Dartmouth College, USA. Her teaching and research interests include the history of war imagery; 19th-century material culture, print media and photography; the rise of early mass culture; and the representation of animals. Professor Hornstein's current book project, Myth and Menagerie: Seeing Lions in Nineteenth-Century France, examines how visual representations of lions provided the basis for approaching a very human set of questions, including issues related to sovereignty, empire and spectacle. 
Joining Information and Format: This talk will be presented through Zoom Webinar. Book now to receive your Zoom link, Webinar ID and Passcode.
Talk Recording: This talk will be recorded. Ticketholders will be emailed a link to view the recording, which will be available for one week only.
Date & Times
| Date | Start Time | End Time |
| --- | --- | --- |
| 21/02/2022 | 19:00 | 20:00 |
Ticket Information
| Ticket type | Price |
| --- | --- |
| Online Talk (free) | £0 |
Book tickets