Venetian Views Conservation Project
Conservation Appeal:
Venetian Views Project
Despite their importance, the Wallace Collection's impressive group of twenty eight, eighteenth-century Venetian view paintings by Canaletto and his followers have long been a neglected part of the collection. The majority have not been cleaned since they entered the collection in the nineteenth century. As a result, their original beauty is obscured by extremely dirty, yellow varnish.

In order to address this, the Venetian Views Conservation Project was launched in 2017, in collaboration with the Hamilton Kerr Institute at the University of Cambridge. Its aim is to undertake the most up-to-date technical and scholarly research into each of these captivating paintings, and to clean and restore each picture to its original splendour.

View a video detailing the conservation of our two largest Canaletto's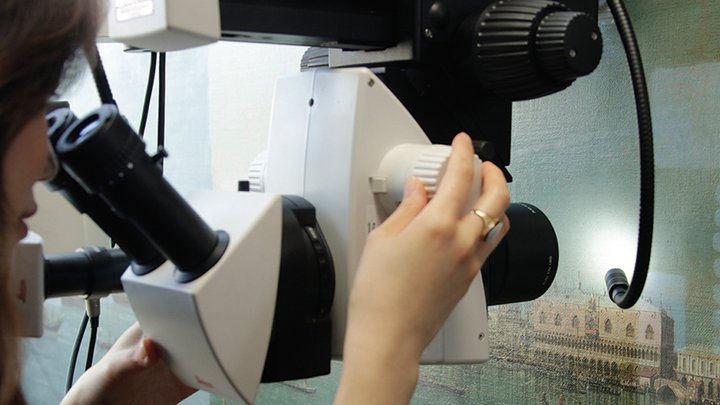 We would like to thank the following organisations and individuals for their support of this project so far:

Bank of America Art Conservation Project
Nick and Debbie Barton
Sir Bruce Bossom, Bt
Charles Hayward Foundation
The John S Cohen Foundation
The European Friends of The Wallace Collection
The Excel Fund
Thomas and Elsebeth Gatacre
Gifts in honour of António Horta-Osório
Gift dedicated by Suzannah Jacobs in memory of her grandparents, Sandra and Malcolm Jacobs
The McCorquodale Charitable Trust
Suzie and David Newman
The Radcliffe Trust
Paul Rivlin
Timothy and Ellen Schroder
Arend and Cecilia Versteegh
The 136 donors who supported our Art Happens crowdfunding campaign
At present, four paintings still need conservation treatment, for which we are still fundraising. If you would like to support this exciting project, please contact fundraising@wallacecollection.org.