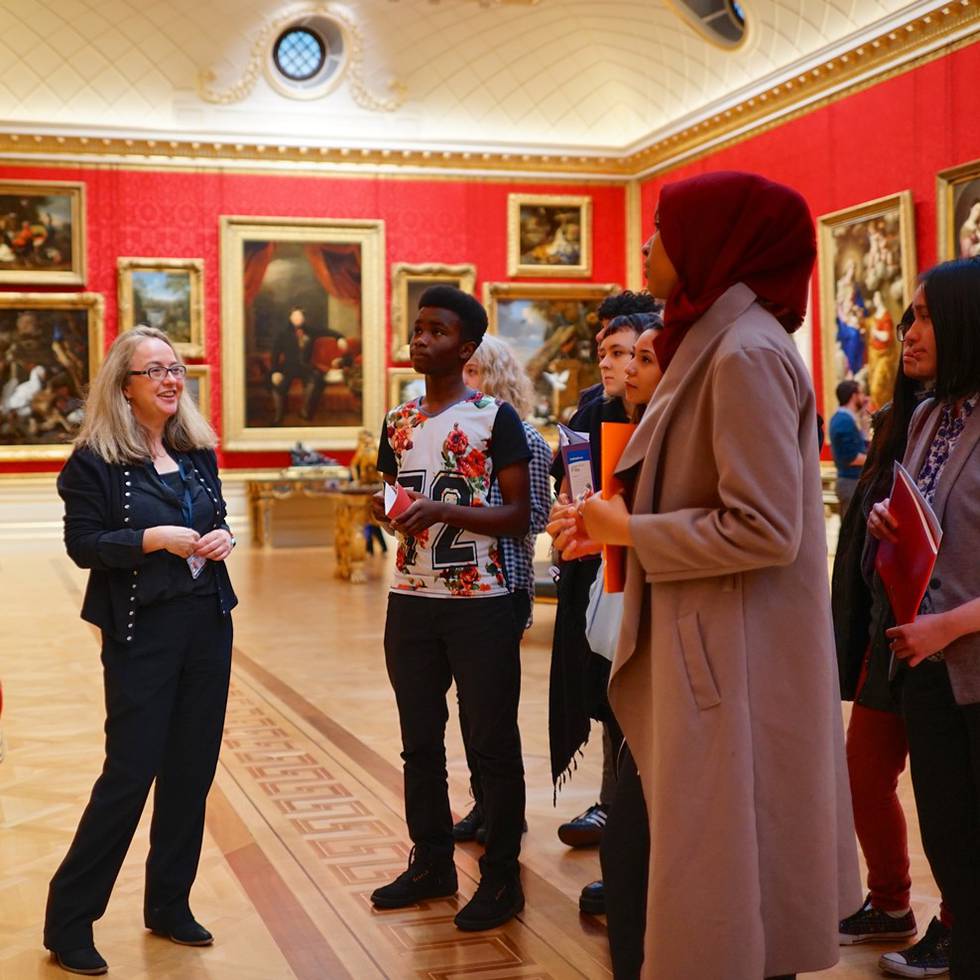 For Secondary School, Key-Stage 5 students.
Duration 2.5 hours on term-time Saturdays
Art History for Everyone is a free taught Art History Extended Project Qualification and A level course for state maintained sector students on term-time Saturdays. Two courses are currently based at two venues: The Wallace Collection, generously supported by The Band Trust, and the National Gallery, with core funding from The Rothschild Foundation, with visits to other collections and sites.
From September 2018, students will study for a taught Extended Project Qualification (EPQ) which is the equivalent to half an A level in UCAS points. This will be taught alongside two modules of the new Pearson A Level Art History course. Students have the option to study a further two modules and sit the A level exam at the end of the second year.
Teaching takes place in dedicated teaching spaces, with close access to the permanent collections. The modules taught alongside the Extended Project Qualification course at the Wallace Collection will be "Nature in Art and Architecture" and "Power and Persuasion: the Baroque in Catholic Europe 1597-1685". A separate taught EPQ course is based at the National Gallery based on two modules from the A level Art History specification, "Identities in Art and Architecture" and "Invention and Illusion: The Renaissance in Italy 1420-1520". It is envisaged that the Wallace Collection course will run on Saturday mornings and the National Gallery course on Saturday afternoons from September 2018 to July 2019.
All places are offered at no charge to state maintained sector sixth form students, with priority to candidates from a widening participation background, and to those with aptitude and ability for the course.
Every student is offered learning support in the form of EPQ/homework club, visiting expert advice on careers and FE/HE applications, and access to work experience in relevant sectors. There is significant and increasing demand for places. The deadline for applications is 5pm 10th September however students are encouraged to apply online as soon as possible at http://arthistorylinkup.org/apply/
Benefits to students include:
Additional qualification: the Extended Project Qualification is equivalent to up to half an A-level in UCAS points
Students have the option of continuing to study a further two modules and sitting the Pearson/Edexcel A level Art History exam at the end of a second year of the course
Access to, familiarity with and understanding of, great works of art in the capital's public collections: The course is structured around examples of art and architecture which can be experienced and studied at first-hand in our great collections
Access to careers/FE seminars; work experience placements include the Victoria & Albert Museum, the Royal Collection, ArtUK, HENI Talks and more
Relevance and application for Art & Design students, at A level and beyond, and a wide range of other subjects
EPQ/homework club following class, with snacks, plus EPQ and careers mentoring, and membership of alumni club
Exam entry, and other administration, is organised by Art History Link-Up, a registered charity. Study materials are included

Previous Art History for Everyone AS students:
"State school students would definitely be interested in taking fast track AS History of Art, as it isn't offered at many schools, but is something that many people are interested in. I have really gained a skill-set in a way that I don't from my other subjects. I feel that I will now have the skills of analysis forever, as it is more a way of thinking than just remembering a collection of facts."
"It was not like I expected it to be, it was so much fun, so interactive with the real works of art we study, the opportunities that it has presented me with, and the atmosphere of the classes and the extraordinary people I have met".
"[The best things were] Getting to see actual paintings and other works of art in the flesh; always being supported and getting really good information; special things that we get because we don't do it in school e.g. the architectural walking tour, people coming in to help us, homework club!".
"The course has helped me with all my other subjects and has opened my eyes to the skills and complexity involved in art and architecture: I see the world in a different way"
Art History for Everyone at the Wallace Collection is generously supported by the Wallace Collection and the Band Trust, and Art History for Everyone at the National Gallery is generously supported by the National Gallery, the Rothschild Foundation, and other supporters. Art History for Everyone is managed by Art History Link-Up, a registered charity 1172792