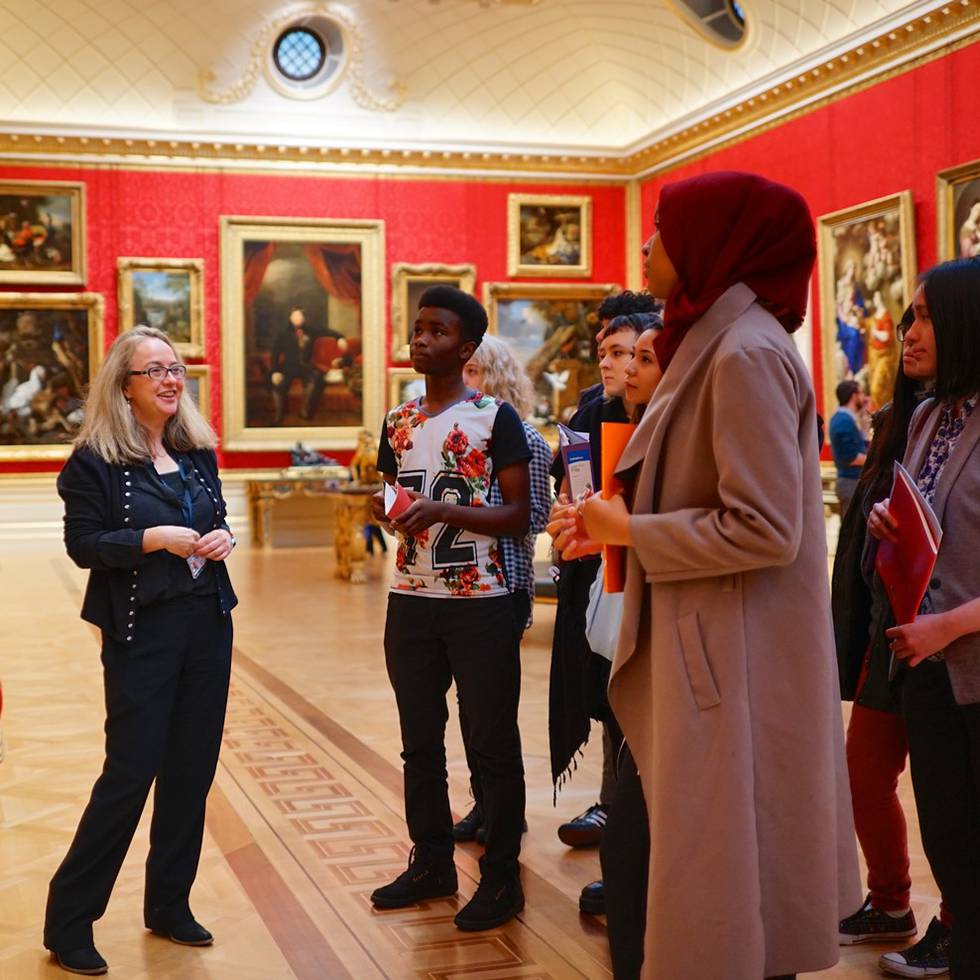 For Secondary School, Key-Stage 5 students.
Duration 2.5 hours on term-time Saturdays
Art History for Everyone is a free taught Art History Extended Project Qualification and A level course for state maintained sector students on term-time Saturdays. Two courses are currently based at two venues: The Wallace Collection, generously supported by The Band Trust, and the National Gallery, with core funding from The Rothschild Foundation, with visits to other collections and sites.
From September 2019, students will study for a taught Extended Project Qualification (EPQ) which is the equivalent to half an A level in UCAS points. This will be taught alongside two modules of the new Pearson A Level Art History course. Students have the option to study a further two modules and sit the A level exam at the end of the second year.
Teaching takes place in dedicated teaching spaces, with close access to the permanent collections. The modules taught alongside the Extended Project Qualification course at the Wallace Collection will be "Nature in Art and Architecture" and "Power and Persuasion: the Baroque in Catholic Europe 1597-1685". A separate taught EPQ course is based at the National Gallery based on two modules from the A level Art History specification, "Identities in Art and Architecture" and "Invention and Illusion: The Renaissance in Italy 1420-1520". It is envisaged that the Wallace Collection course will run on Saturday mornings and the National Gallery course on Saturday afternoons from September 2019 to July 2020.
All places are offered at no charge to state maintained sector sixth form students, with priority to candidates from a widening participation background, and to those with aptitude and ability for the course.
Every student is offered learning support in the form of EPQ/homework club, visiting expert advice on careers and FE/HE applications, and access to work experience in relevant sectors. There is significant and increasing demand for places. The deadline for applications is 5pm 9th September however students are encouraged to apply online as soon as possible at http://arthistorylinkup.org/apply/
Benefits to students include:
Additional qualification: the Extended Project Qualification is equivalent to up to half an A-level in UCAS points
Students have the option of continuing to study a further two modules and sitting the Pearson/Edexcel A level Art History exam at the end of a second year of the course
Access to, familiarity with and understanding of, great works of art in the capital's public collections: The course is structured around examples of art and architecture which can be experienced and studied at first-hand in our great collections
Access to careers/FE seminars; work experience placements include the Victoria & Albert Museum, the Royal Collection, ArtUK, HENI Talks and more
Relevance and application for Art & Design students, at A level and beyond, and a wide range of other subjects
EPQ/homework club following class, with snacks, plus EPQ and careers mentoring, and membership of alumni club
Exam entry, and other administration, is organised by Art History Link-Up, a registered charity. Study materials are included
What past students say about Art History for Everyone:
"I had no idea that Art History was offered as an A level until this course was recommended to me, so just being able to have this opportunity is really important. Being able to head to London's best galleries to learning inside their walls, and something completely new, and then to head out to put into a real life context is such an effective way to learn. I've been leaning French since Year 1 and until this day, at Y13 I still can't speak it… But if you ask me to analyse a painting or describe the formal features of a sculpture/building, then I can talk for hours!"
"It is so refreshing that we are not taught with the sole purpose of doing well in an exam but because there is a shared interest and enthusiasm for Art History. It doesn't feel like going to school on Saturdays: it is actually fun!"
"As someone who typically doesn't enjoy school I really appreciate how very interesting and enjoyable this course has been: it has had me re-think further education as an option for me".
"I don't think I have enjoyed anything as much ever – it turned out to be a combination of all my passions and interest – art, ancient history and just learning!"
"This course has really opened my eyes and helped me to appreciate the incredible art heritage in our museums and galleries. The breadth and scope of the course equipped me with the skills and curiosity to continue in the world of Art History".
"Art History really seems to have been the missing piece in my puzzle, combining my interests and opening my eyes to see the world around me differently each time I go outside. This course has without a doubt been the best opportunity I have been given, not only have I learnt vast amounts and will continue to do so, it has given me a focus and stability. This truly has been an immeasurably valuable experience".
"You've helped transform me from an absolute novice to someone who can spot Classical references in buildings, talk about paintings with confidence, and an absolute Art History fan girl"
"The lessons changed the way I look and the way I think about art, and opened a whole new door for me, towards a subject I never dreamed I'd like this much and now will study at university!"
Art History for Everyone at the Wallace Collection is generously supported by the Wallace Collection, the Band Trust and other supporters. Art History for Everyone at the National Gallery is generously supported by the National Gallery, the Rothschild Foundation, the Duke of Devonshire's Charitable Trust, the Foyle Foundation, the Worshipful Company of Grocers' and other supporters.
Art History for Everyone is managed by Art History Link-Up, a registered charity 1172792