Travel
In this blog series, our curators, archivists, conservators and learning team will be bringing together works of art from across the Collection under one theme. From armour and jewellery, to portraits and porcelain, read about some of the most fascinating and marvellous pieces in the Collection here.
From two beautiful lacquer cabinets from Kyoto to Vernet's iconic seascape, A Storm and a Shipwreck, explore the theme of Travel in this week's blog.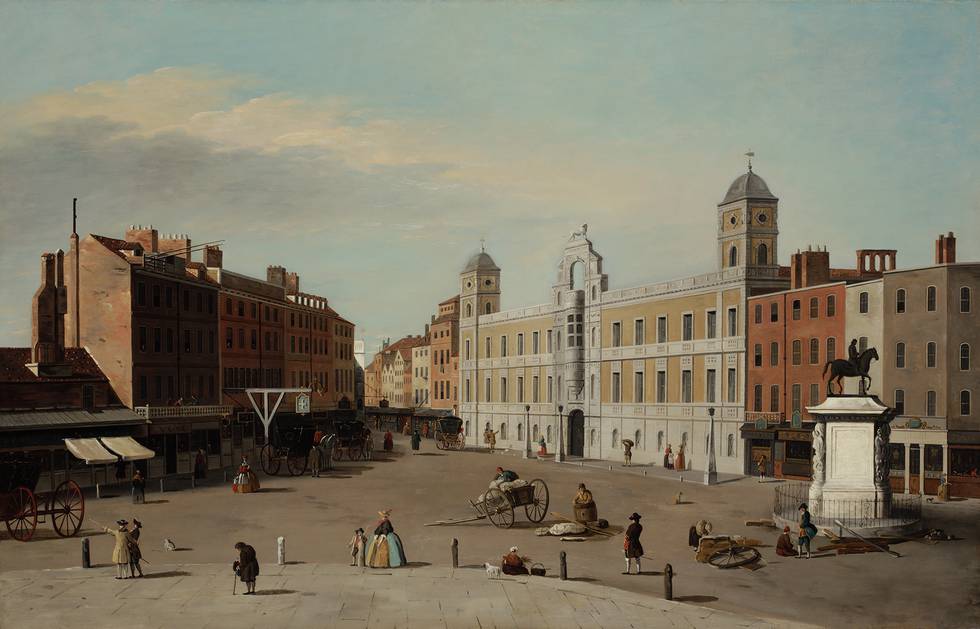 After Canaletto, London: Northumberland House, c. 1753-1773
The name Canaletto has become nearly synonymous with Venice, his native city, which he painted over and over from various angles. In fact, many of us have only travelled to Venice via Canaletto's paintings. Yet, Canaletto also spent a considerable period in England. Thanks to him, we can travel back in time to famous sites, such as the area around Charing Cross in London, as seen in the present painting.
The Earl of Northumberland asked Canaletto to record his newly refurbished, modern townhouse shown prominently in the centre of the painting. Canaletto represented not only the impressive building with its elegant façade, but also the hustle and bustle of mid eighteenth-century London. Northumberland House is no longer part of the fabric of the city as it was demolished in 1873 to make way for Northumberland Avenue. It is thanks to Canaletto that we have a wonderful record of it today.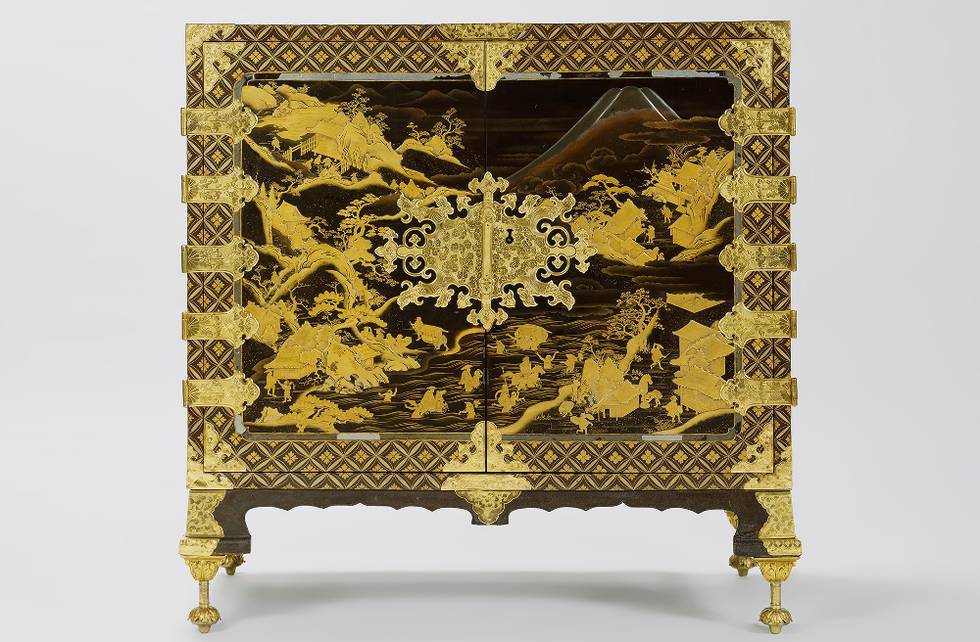 Lacquer cabinets, Kyoto (?) and Paris, c. 1680
Japanese lacquer was highly sought after in seventeenth-century Europe. It was usually exported from Asia via the Dutch East India Company, which held a monopoly over its trade. Lacquer was collected by royalty and aristocrats who valued the scarcity of the material and the scenes of faraway lands it often depicted. These two lacquer cabinets, probably made in Kyoto around 1680 and with feet added in Paris, are of unusually high quality.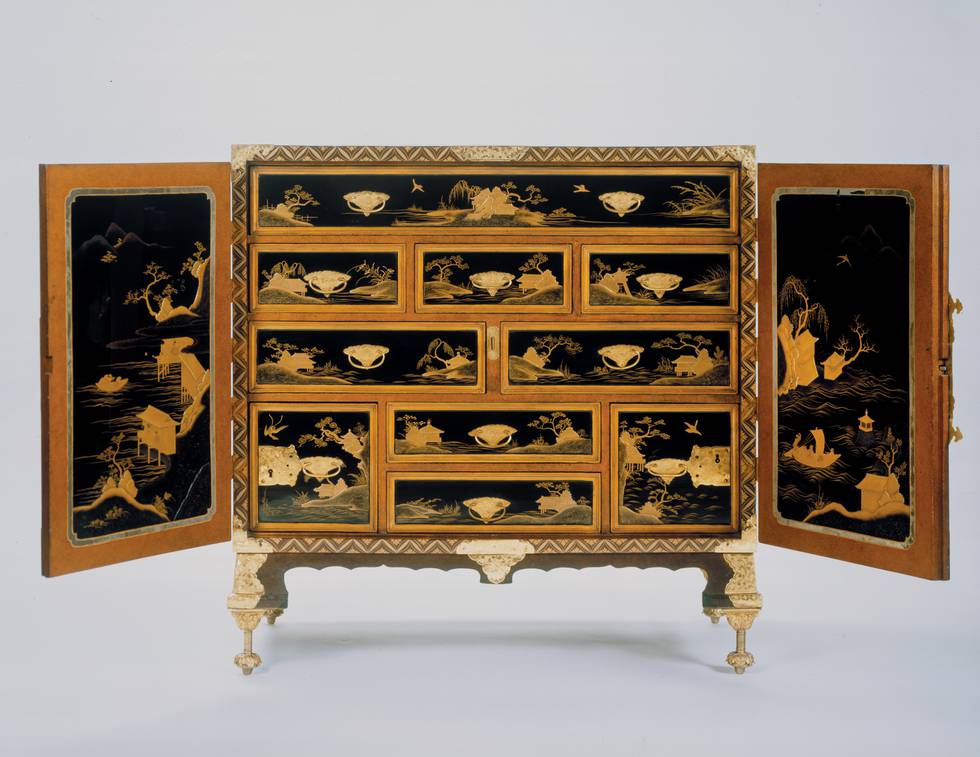 They are decorated in gilded low relief with views of Mount Fuji (the summit of which has been covered with silver leaf to represent snow) and its surrounding landscape, showing people carrying out their daily activities in a village nestled between rocks, trees and a lake.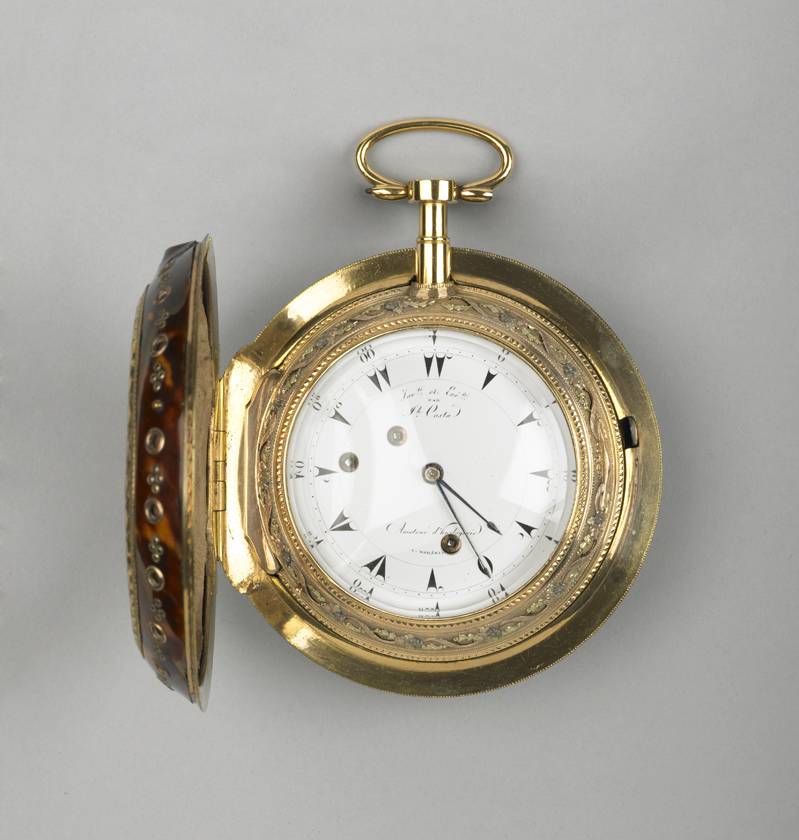 Musical clock-watch, Geneva and Marseille, c. 1830
During long-distance travel, a musical clock-watch such as this, with its protective outer case of turtleshell and varicoloured gold, might have been hung inside a carriage for use by passengers. It is fitted with a complex mechanism that includes a carillon of five bells which plays two tunes, and a striker for the hours and half hours. Despite being of Swiss manufacture, probably Geneva, the name 'Roquerbe' is engraved on one bell of the watch, evidence that it went through the hands of the company of that name based in Marseilles.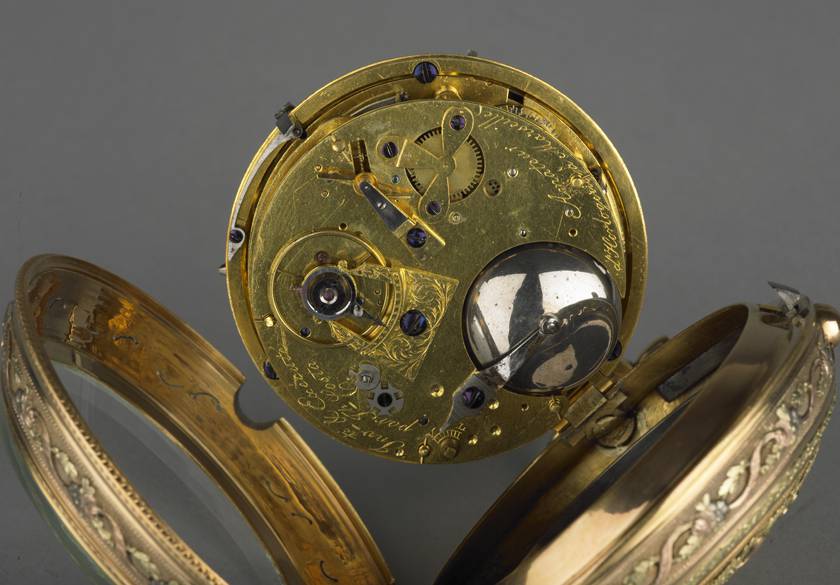 Roquerbe & Cie traded with the Ottoman Empire, and the Turkish numerals on the clock face, and the Turkish military trophy on the back of the case, suggest that it was commissioned by a patron from the Ottoman Empire.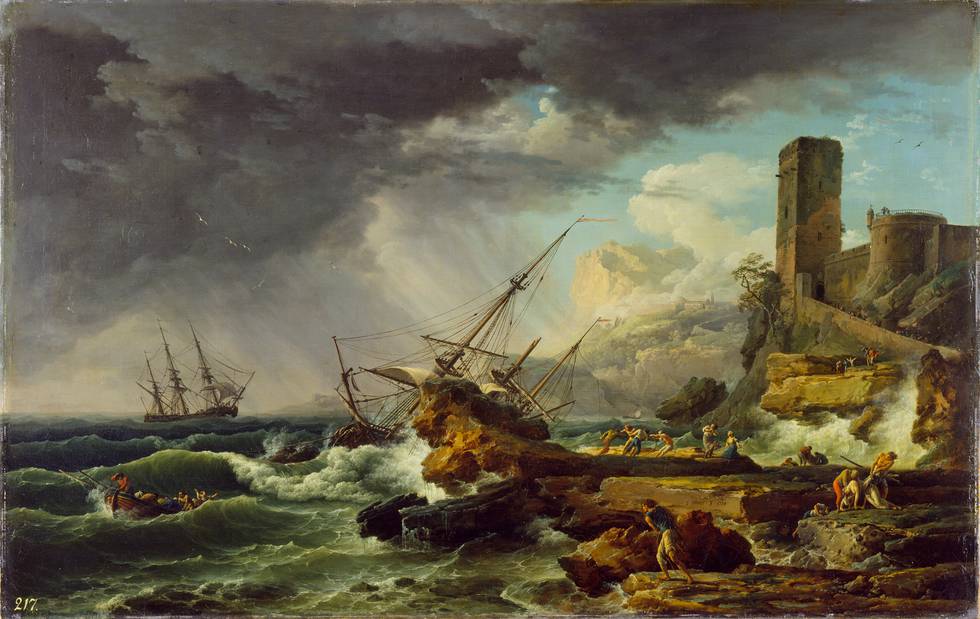 Claude-Joseph Vernet, Tempête et Naufrage d'un Vaisseau (A Storm and a Shipwreck), 1754
It's a painting seemingly intended to give all good landlubbers nightmares, a composition designed to encourage a staycation. A proud ship tips precariously on a roiling sea as its sails catch fierce gusts of wind and horrified onlookers gesticulate furiously from the shore. Claude-Joseph Vernet was famous for such stormy scenes, which he typically showed alongside calm, sunlit seascapes. Such contrasting pairings, highlighting the dangers and joys of nature, invested his landscapes with narrative and emotional content.
This particular painting was made for the powerful marquis de Marigny whose sister Madame de Pompadour, was the mistress of Louis XV. It was exhibited to great acclaim in the Paris Salon exhibition of 1755.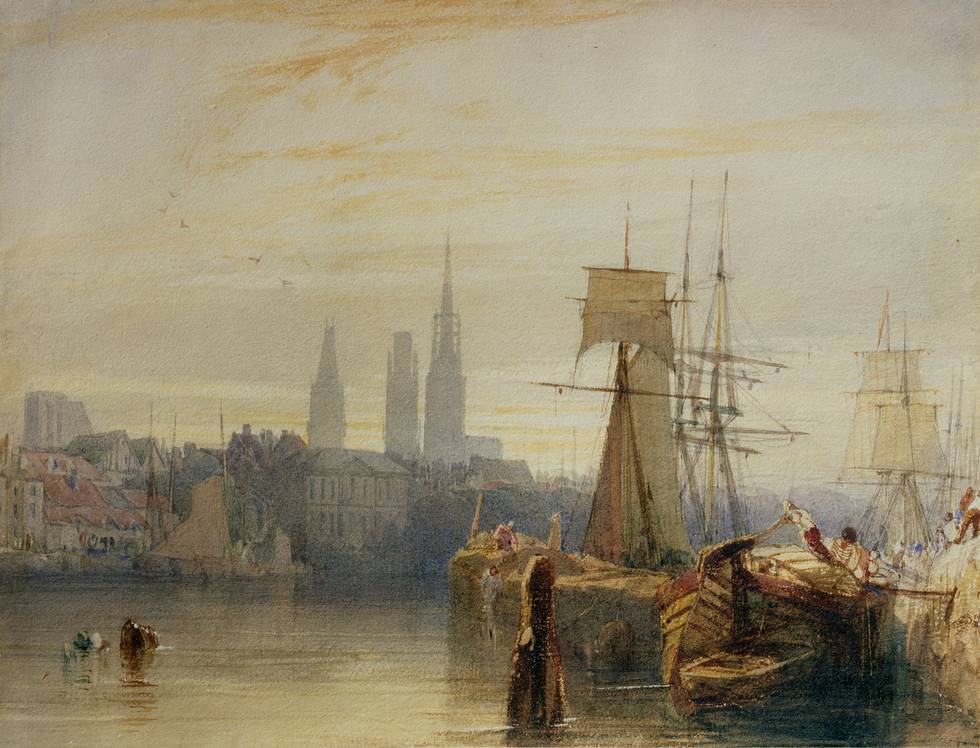 Richard Parkes Bonington, Rouen, c. 1825
Spires illuminated in the morning glow beckon us invitingly in this luminous watercolour view of the city of Rouen, seen across a stretch of water, past boats and boatmen. Although the artist Richard Parkes Bonington, was English, he knew this French city well. Born just outside of Nottingham, he had moved to Calais, France at the age of 14 and trained as a painter in Paris. He is considered responsible for bringing aspects of the English picturesque style to France.
Here, with skilful rendering of light and atmosphere, he has conjured up the gothic cathedral that would be immortalised later in the century by Impressionist painter Claude Monet.