September Treasure of the Month
A Pair of English Shoes, 1660-80s
The Treasure of the Month series offers the opportunity to highlight less well-known works from the collection as well as to look with fresh eyes on beloved masterpieces. This month's pick is a pair of English shoes dated from 1660-80s and now on display to mark our exhibition 'An Enquiring Mind: Manolo Blahník at the Wallace Collection'.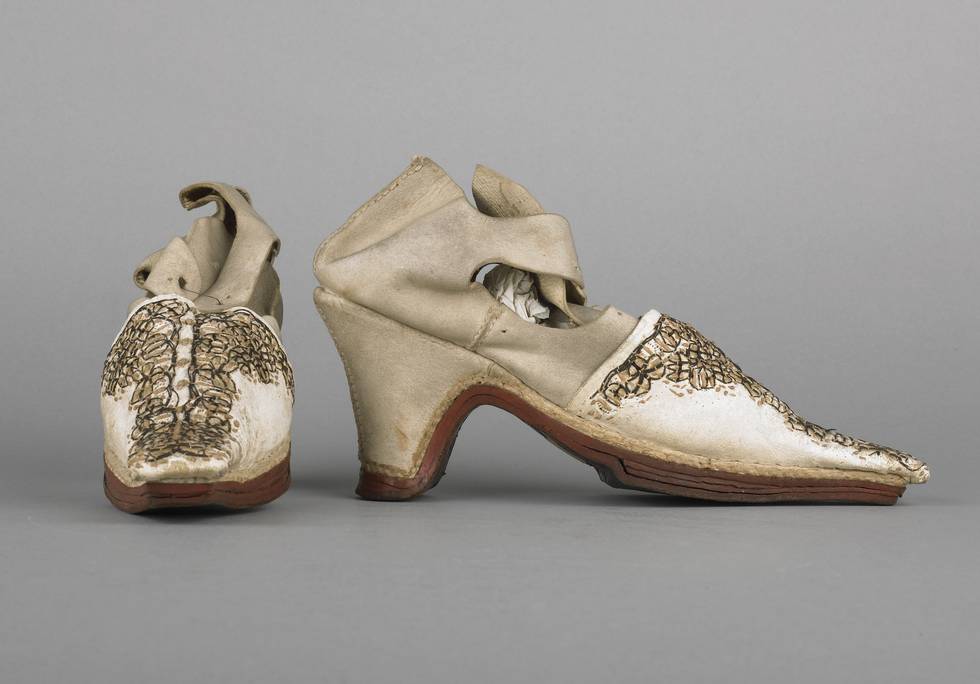 This pair of ladies' shoes is made of white kid leather and suede. They have red leather soles and are embroidered with silk in a raised floral decoration. The shoes lost their original fastening – the current ribbon is modern. They could be either tied with a ribbon drawn through small holes in the tongue and latches (straps) or fastened with a buckle. The shoes could be worn on either foot – these were known as 'straights'.
We do not know how and when the pair entered the Collection but according to old museum documentation, the shoes were said to have belonged to Queen Elizabeth I (1533–1603). This could suggest why they were acquired by Sir Richard Wallace (1818–1890), one of the founders of the Collection. He had a great interest in Renaissance works of art and their provenance and enjoyed links between the objects and historic figures.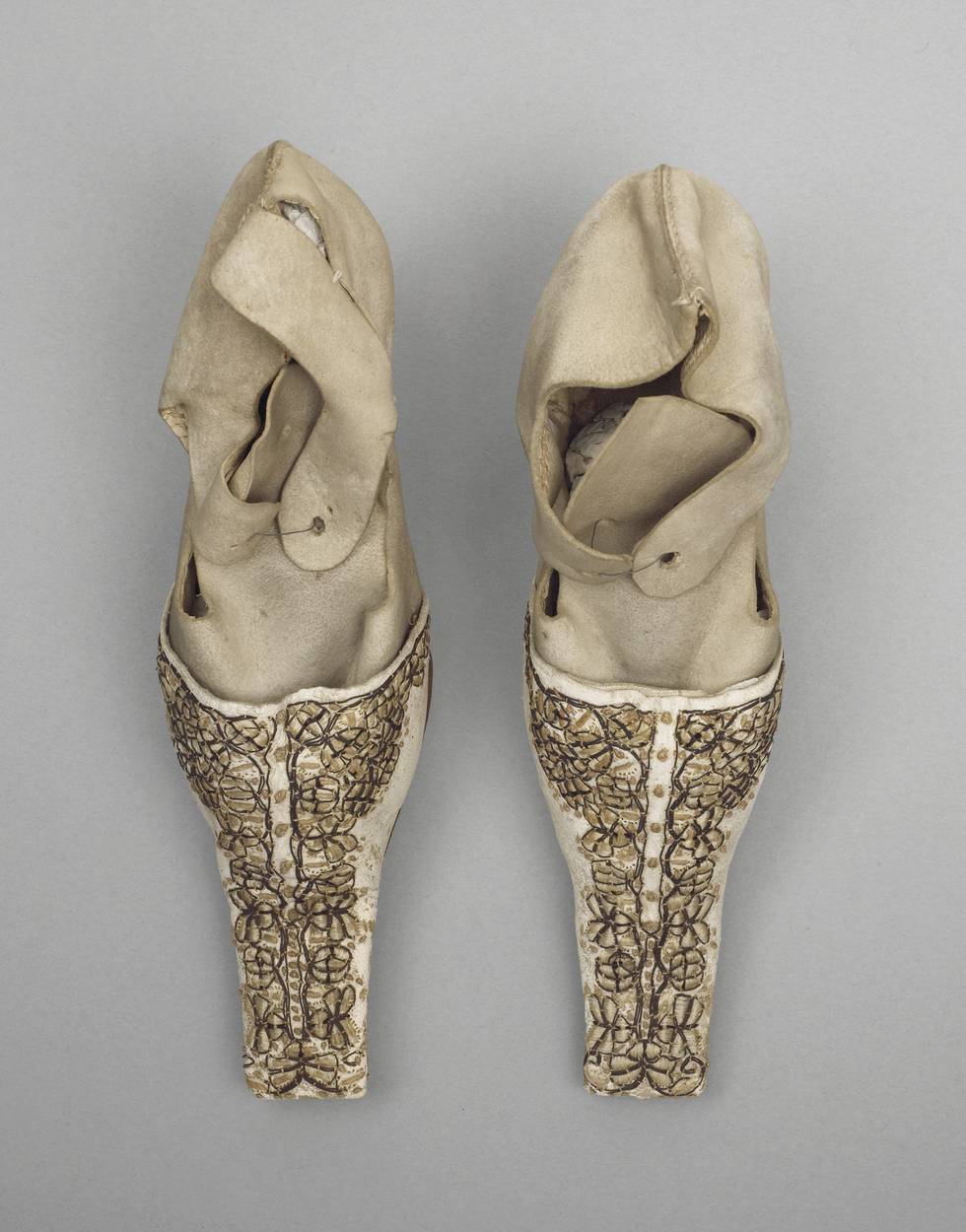 One can be sure, however, that the shoes did not belong to Elizabeth I because they are of a later date. The long square toe and shaped heel of these shoes are typical of fashionable footwear of the 1660s and 1670s. Another notable feature of the mid-seventeenth century footwear is the wide side opening. The fashion for red soles derived from France.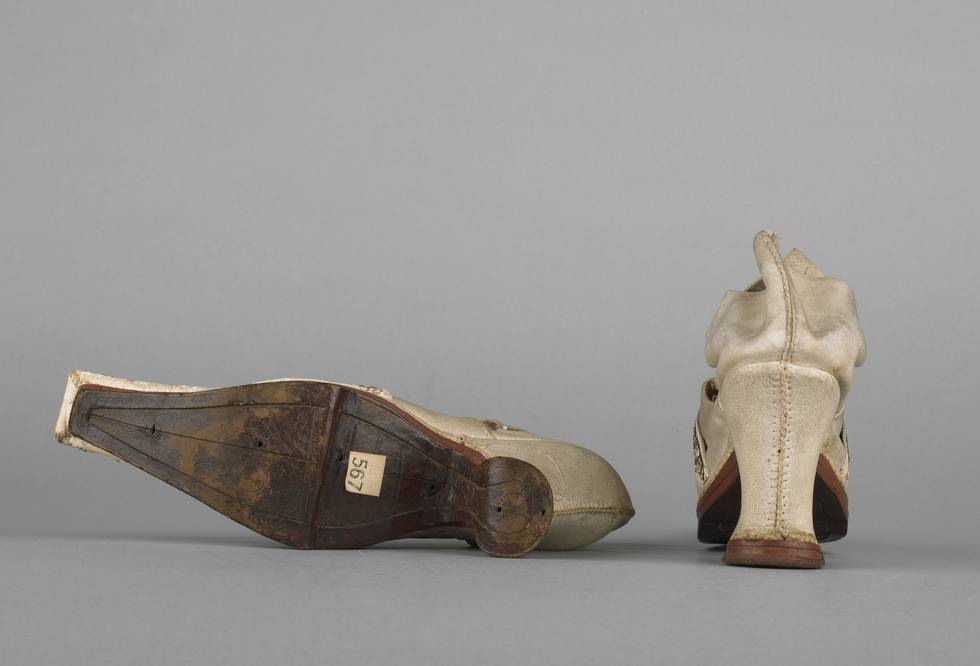 In England, they became popular at the court of Charles II, who in 1660 returned to the country from exile and was greatly influenced by the French. White kid rands (bands of leather attaching the upper of the shoe to the sole) visible in this pair, were another distinctive feature of women's shoes from the 1660s. The light colour of the shoes suggests that they were used indoors. It also signals privilege as the wearer did not walk on muddy streets. Indeed, the shoes are in a remarkably good condition.
This pair is usually kept in storage but to mark our exhibition 'An Enquiring Mind: Manolo Blahník at the Wallace Collection', they are going on display in the Sixteenth-Century Gallery.
- Ada de Wit, Curator of Works of Art
Tuesday 3 and Friday 27 September at 1 pm in the Sixteenth-Century Gallery with Ada de Wit, Curator of Works of Art.