Royalty
In this blog series our curators, archivists, conservators and learning team will be bringing together works of art from across the Collection under one theme. From armour and jewellery, to portraits and porcelain, read about some of the most fascinating and marvellous pieces in the Collection here.
Today we will be looking at the theme of 'Royalty', explore some of the Collection's finest royal portraiture alongside Louis XIV's flint-lock pistols and a chest-of-drawers built for Louis XV's private apartments at Versailles.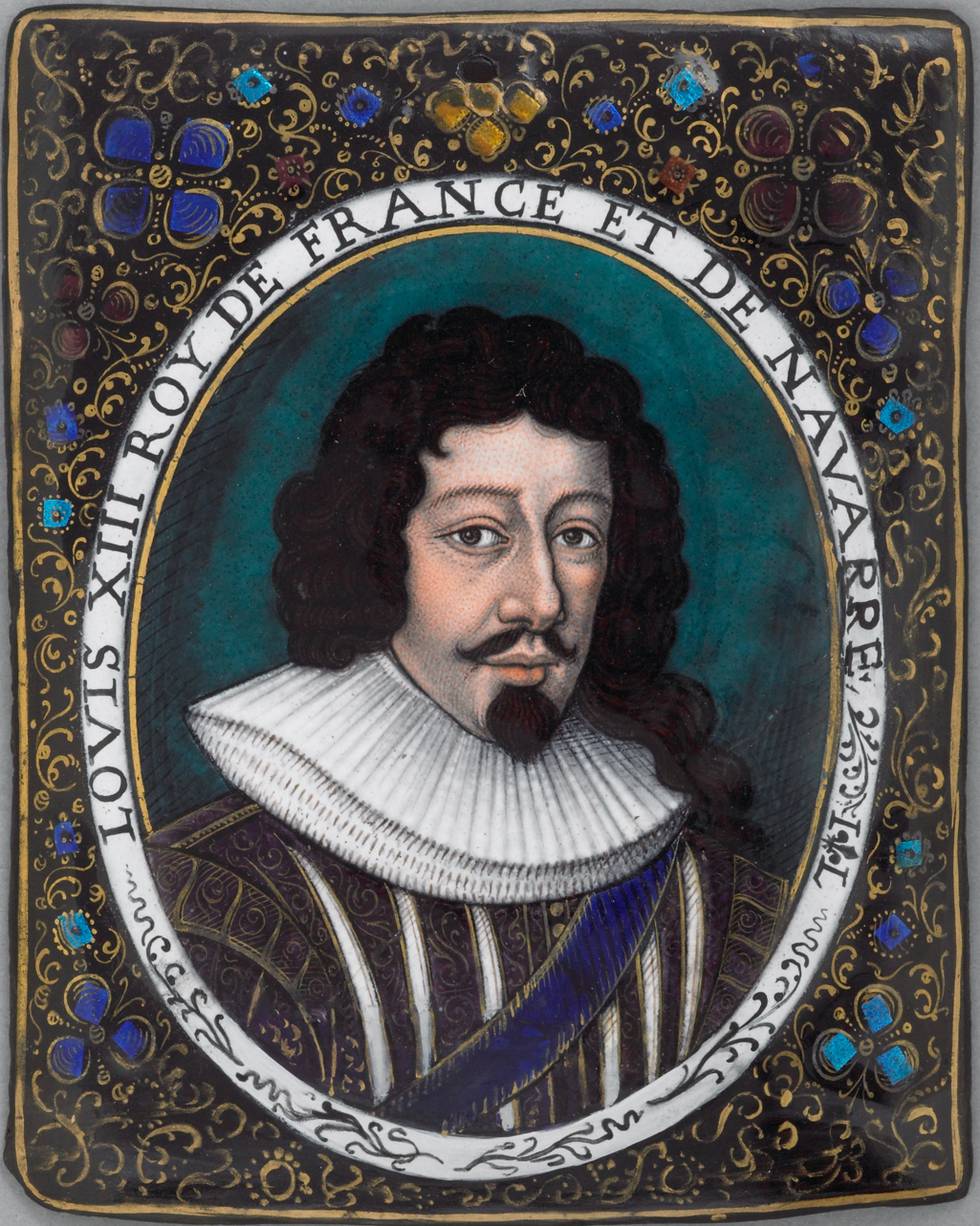 Louis XIII, King of France and Navarre, Attributed to Jean II Limosin, Limoges, France, c. 1627–c. 1630
This small painted enamel plaque of Louis XIII (1601–1643) is modelled on a print. Louis inherited the French throne in 1610, aged eight, after the assassination of his father, Henri IV, but his mother, Marie de' Medici, acted as regent until 1614. Louis is depicted as a robust young ruler. He looks very dapper with his fashionable asymmetrical hairstyle, white fallen ruff, purple paned doublet embroidered in gold, and the blue sash of the Ordre du Saint-Esprit. The floral border is abundantly gilded and silver foil shines through translucent enamel to create the shimmering flower petals. The plaque may have been intended as a book or box cover, or as part of a decorative scheme.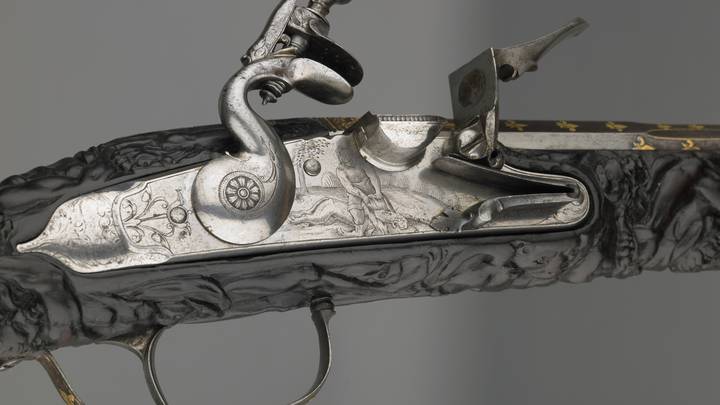 Pair of French Flint-lock Pistols of King Louis XIV, c. 1655-70
This elegant and sumptuously decorated pair of flint-lock pistols was made for the French King Louis XIV. Their precise provenance is unknown. It has been suggested that they might have been made in celebration of the capture of Dunkirk in 1658. Alternatively, they might have formed part of a gift from the city of Lille to mark and celebrate the annexation of that city by French forces in the 1667-8 Spanish Netherlands campaign.
The quality and craftsmanship are of the highest order: the stocks are of carved walnut stained dark, while the gun barrels are engraved, blued and overlaid in gold. As was often the case with guns intended for royalty, they do not bear the name of their maker.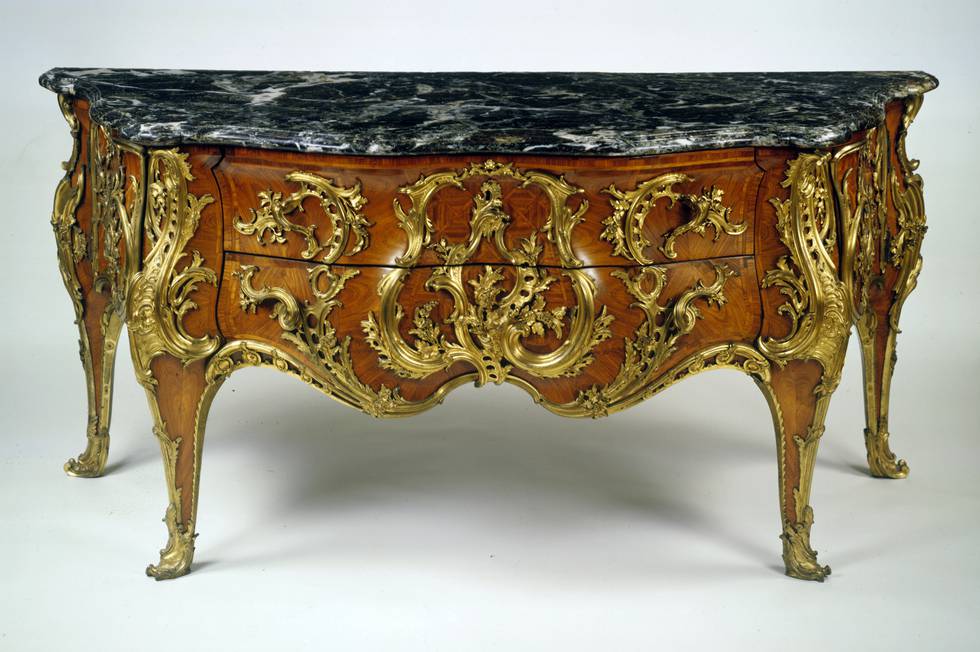 Louis XV's chest-of-drawers by Antoine-Robert Gaudreaus, 1739
In 1738, Louis XV had a new bedroom built in his private apartments at Versailles. It was smaller than the state bedroom used by Louis XIV and easier to heat. New furniture was delivered, including this magnificent chest of drawers which was placed under a pier glass opposite the chimneypiece. The original marble top was of red Sarrancolin marble, to match the chimneypiece, and a pair of gold candelabra were placed on top of it. After the death of Louis XV in 1774, the chest of drawers was given to the duc d'Aumont as a perquisite of his position as first gentleman of the king's bedchamber.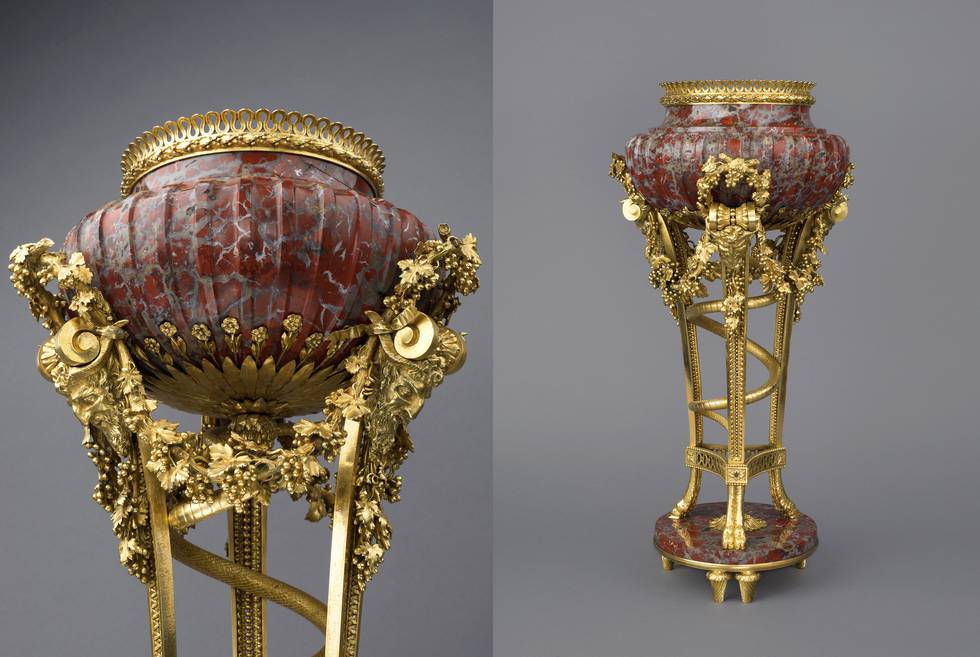 Marie-Antoinette's perfume-burner by Pierre Gouthière, 1773–5
Marie-Antoinette was entranced by this object, buying it in 1782 at the auction following the death of its first owner, the duc d'Aumont, and paying the highest price for any object at the sale. It is a perfume burner in the Antique style, combining a highly-polished speckled jasper bowl with rich gilt bronze which had been chased and gilded by the celebrated Pierre Gouthière. The queen kept it in her newly-decorated private sitting-room at Versailles, where it took central place on the chimneypiece. When she was driven from the palace in 1789, she gave it to her trusted dealer to keep safe for her, but it was sold after her death to raise funds for the French state.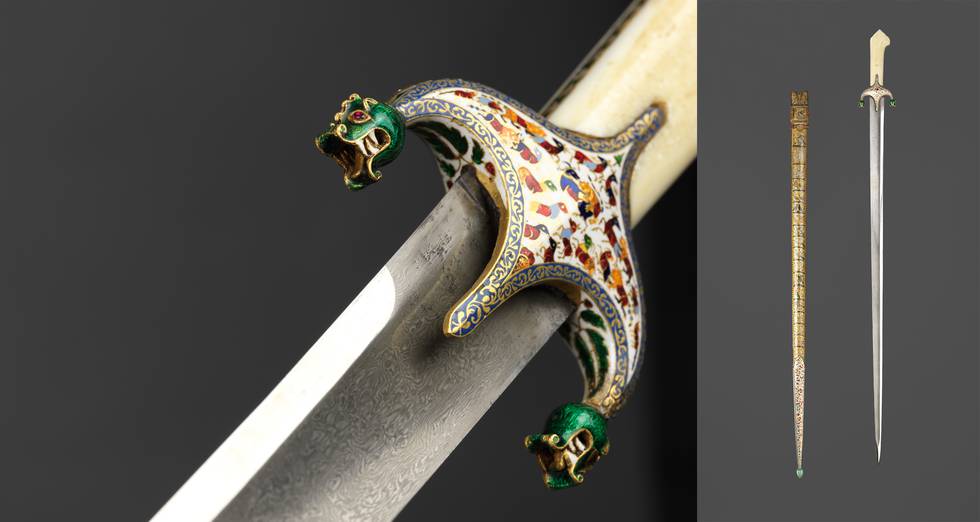 Sword, Delhi, India, c. 1748–53
The Mughal emperors could not rule their vast empire alone; they were supported by an extensive bureaucracy. The key figure in this imperial administration was the highly coveted position of vizier, who served as the key advisor to the emperor. This highly decorative sword was almost certainly made for one such vizier, Safdar Jang, who served in this position from 1748 to 1751. The two fables painted on its scabbard tell moralising tales on the importance of the vizier's role to the stability of the kingdom, a message that would have resonated with Safdar Jang.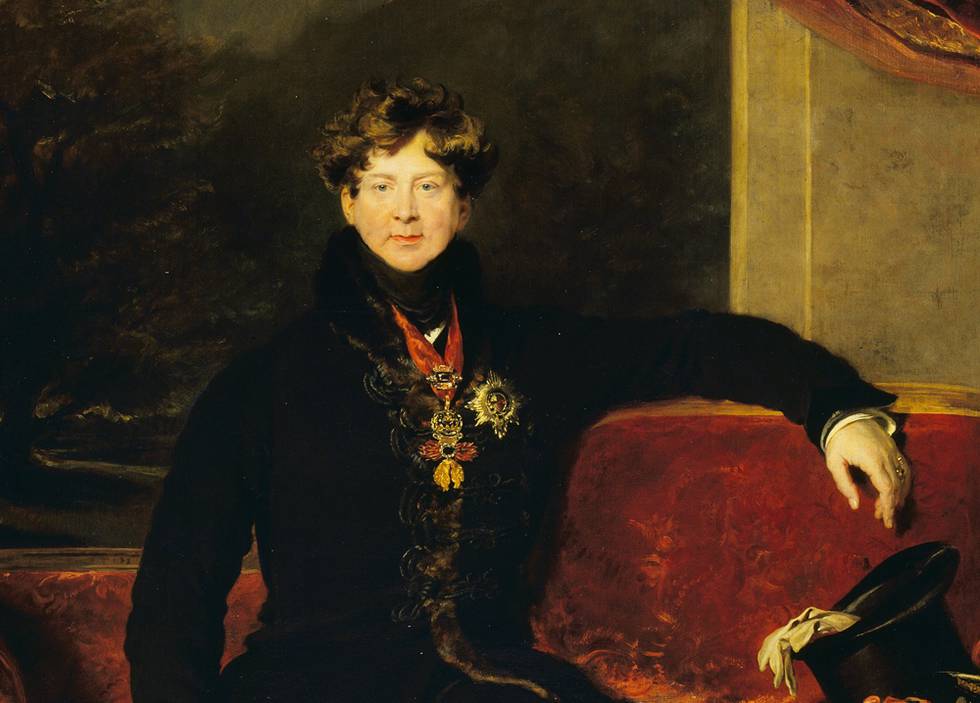 George IV by Thomas Lawrence, 1822
This enormous canvas dominates the East wall of the Great Gallery. In a painting of this size we might expect to see a portrait of the monarch standing, as was traditional in formal court portraiture; The Royal Collection's official portrait of George IV in his coronation robes that Lawrence painted the year before is only slightly larger than this painting. However, despite the monumental format and sumptuous surroundings with rich fabrics and fine furniture, the portrait is remarkably informal. The king, wearing court dress, is seated on a sofa, upon which he rests his arm in a relaxed pose. Lawrence, who was George IV's Principal Painter, was particularly proud of what he called the 'simple domestic character' of the portrait, and considered it to be his most 'successful resemblance' of the king.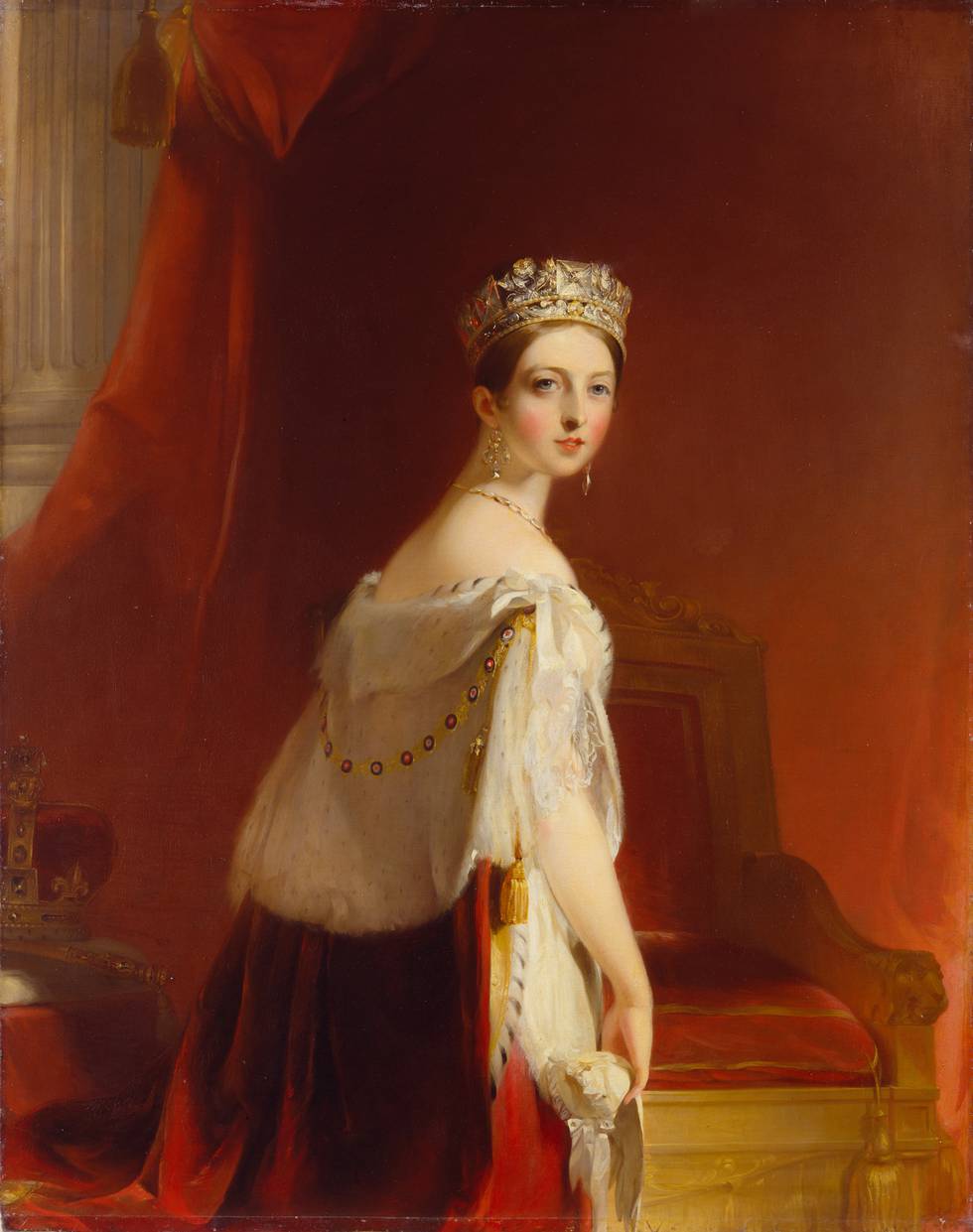 Queen Victoria by Thomas Sully, 1838
This compelling portrait of the eighteen- year-old Queen Victoria was based on sittings nine months after her accession to the throne and was completed in the month of her coronation. Although at least fifteen painters portrayed her in her Coronation year alone, she was particularly impressed by Sully, who, she recorded proudly, 'is come from America to paint me.'
In this composition (which exists in several versions) Sully took the unconventional step of depicting the monarch in her robes of state, looking over her shoulder in a spontaneous, even intimate manner, as she steps towards her throne. The painter not only invites us to admire her beauty, her graceful neck and bare shoulders, but also humanity and youth. The queen, who permitted Sully's break with the traditional manner of portraying a monarch, seems to have taken an active interest in the making of her portrait, allegedly asking of him during the sitting 'Am I in the position you require Mr Sully?'