Reading and Writing
In this new blog series our curators, archivists, conservators and learning team will be bringing together works of art from across the Collection under one theme. From armour and jewellery, to portraits and porcelain, read about some of the most fascinating and marvellous pieces in the Collection here.
Today we will be looking at the theme of 'Reading and Writing', discover the recently digitised Hertford House visitor's book, the story behind a Sèvres porcelain inkstand and Fragonard's emotive painting of a school scene set in Rome.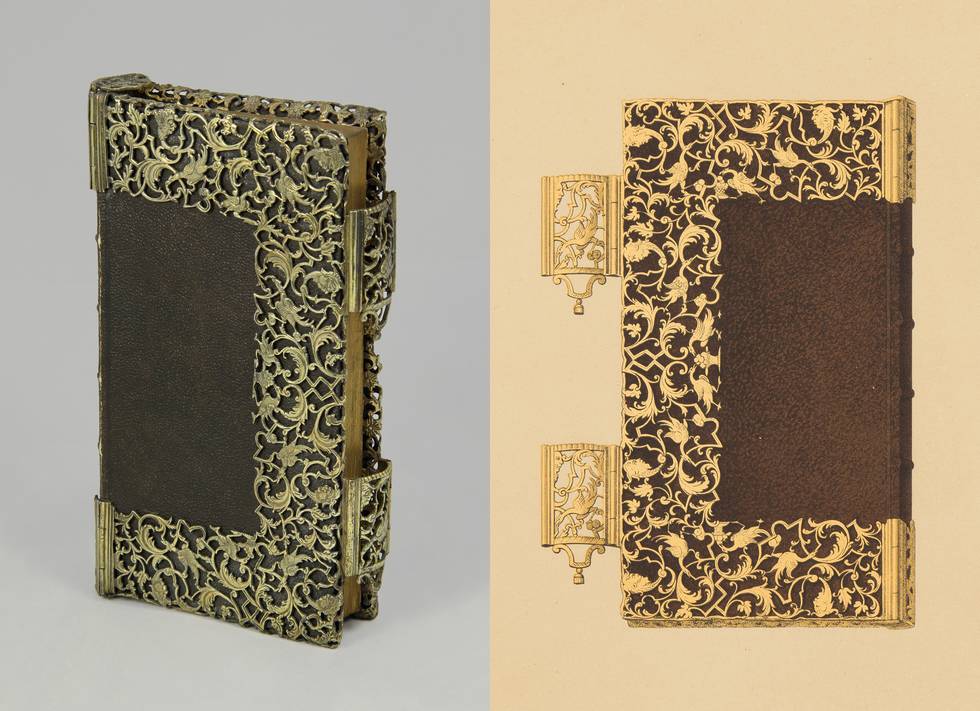 Book mount, Swiss or German, early eighteenth century
This elaborate silver pierced mount is decorated with scrollwork, birds and baskets of flowers. It contains the New Testament and the book of Psalms published later in the eighteenth century by David Gessner, a printing and publishing house in Zurich.
The mount must have been valued by Sir Richard Wallace because it was illustrated in the Musée Graphique, a book published in France probably in 1884 which was intended to make fine examples of historic design and craftsmanship in the decorative arts more widely available to art students, designers and the public. Wallace was a generous supporter of this project.
Right image credit: Plate from Edouard Lièvre, Musée graphique pour l'étude de l'art dans toutes ses applications, n.d., probably 1884.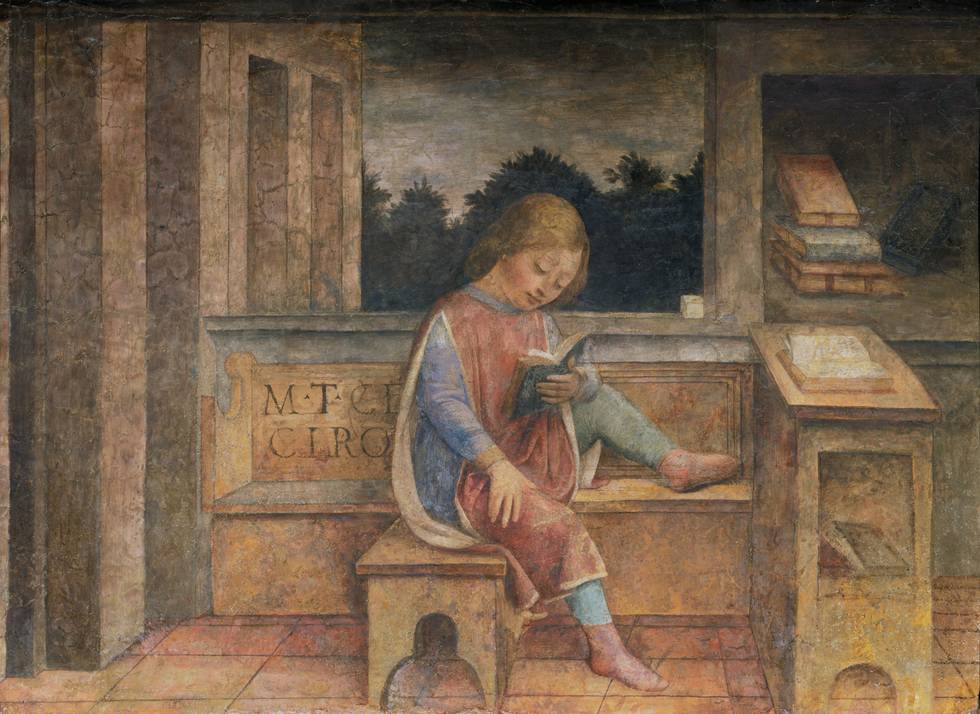 The Young Cicero Reading by Vincenzo Foppa, c. 1464
Even the great orator and writer Cicero, who is now celebrated for his enduring impact on the Latin language, was a child once. And this is how Vincenzo Foppa imagines him, seated on a stone bench, touchingly youthful with his short limbs, bare feet, and unlined face. Rather than playing with toys or other children, he is shown engrossed in the book in his hand. Several other volumes lie within easy reach.
This fresco painting was probably intended as an allegory of rhetoric but it is likely not far from the truth. As a boy Cicero's health was frail and he devoted much of his time to reading, thinking, and developing the intellectual gifts that would later make him so famous.
Take inspiration from this painting and write your own story for Cicero with our learning activity: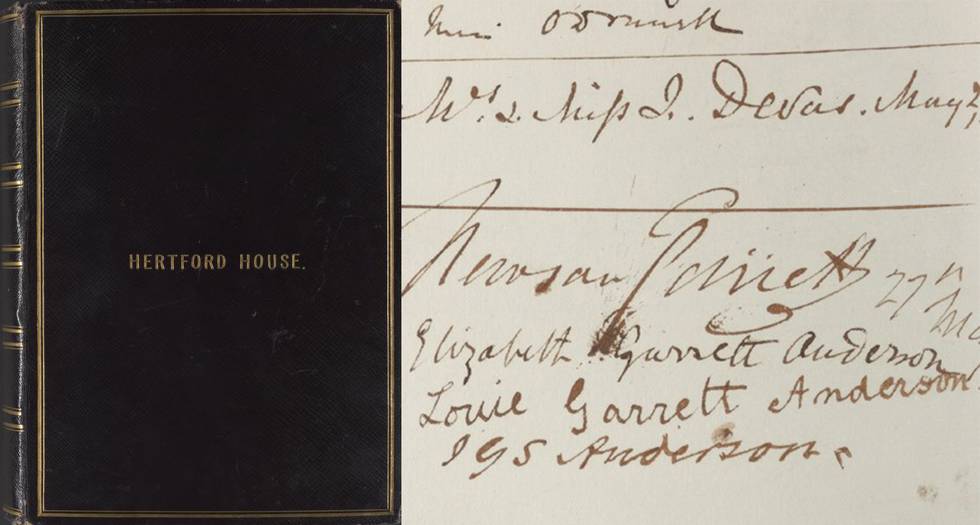 Hertford House Visitor's Book, 1876–97
The Hertford House Visitor's Book was displayed on a desk in the Great Gallery for visitors to sign their names in it. The book covers the period from 1876, just after the Wallaces moved into Hertford house, until December 1897 several months after Lady Wallace's death. The house was not open to the public like it is today, but people could visit by appointment to see the collection. The signatures provide an interesting outlook of society during this period, including most of Queen Victoria's children, famous artists and pioneers including Elizabeth Garrett Anderson the first female doctor in Britain.
The book has now been digitised and is available on the Internet Archive.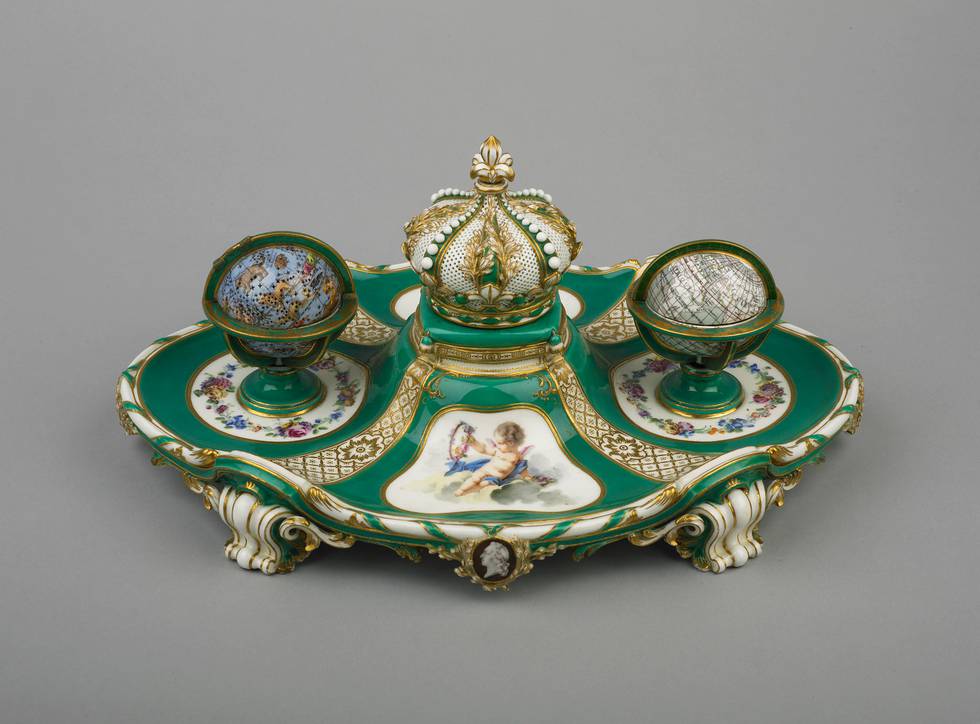 Sèvres porcelain inkstand designed by Jean-Claude Chambellan Duplessis, the Elder, and possibly painted by Charles-Nicolas Dodin, 1759
Accessories for writing in the eighteenth century included quill pens and inkstands, of which this is a particularly refined example. It was probably a present from King Louis XV to his daughter Marie Adélaïde. Made in soft-paste porcelain, it consists of an oval pen-tray with two globes: one is decorated with a map of the world and acted as an inkwell, while the second, the container for the sand used for blotting ink, has the signs of the zodiac and pierced stars representing the night sky.
The crown rests on a cushion that housed the sponge for drying pen nibs and underneath the crown was a bell for ringing a servant to come and take away the written letters. The globes were fitted with silver-gilt liners and the one in the celestial sphere would have shone out through the pricked holes, matching the position of the stars in the sky, especially by candlelight. Displayed on a writing table, its rococo undulating shape, bright colours and regal symbolism would have made this a striking centrepiece.
Read more about this object here.
Practice your own writing skills with our Describe and Draw learning activity: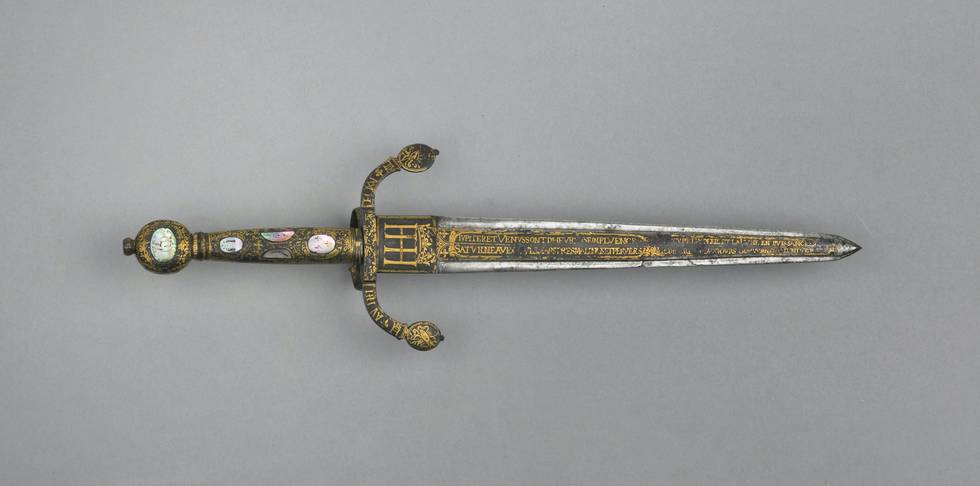 Parrying Dagger of King Henri IV of France, Paris, c. 1599–1600
Weapons are not just tools for fighting, they are also symbols – of power, majesty and mysticism. They also embody the identity of their owner, testifying to status and character.
This dagger was given as a wedding present to King Henry IV of France in 1600. It was never meant to be used, but instead was created purely as a royal work of art, of quite a personal sort.
The poetic inscriptions on the guard and blade refer, in esoteric astrological terms, to Henri as the 'vanquisher', guided by the positive influences of the sun, the moon and the other planets.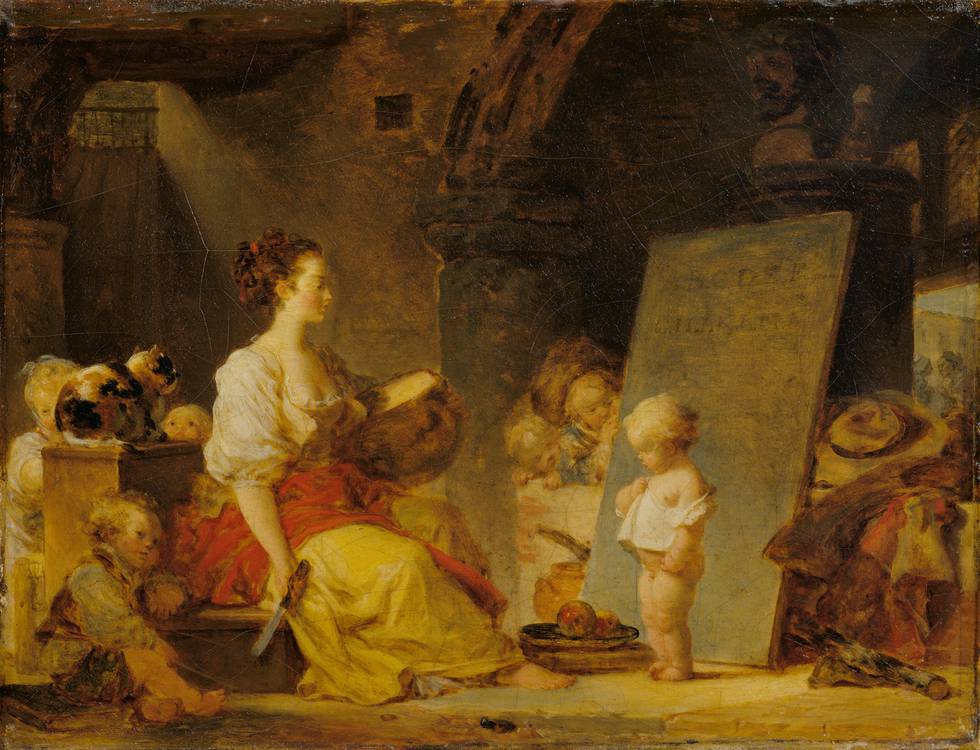 Dites donc s'il vous plaît (Say Please) by Jean-Honoré Fragonard, c. 1780
It has traditionally been said that Fragonard was not much of a reader but the extensive library found in his possession upon his death contradicts this. So do paintings like this — a school scene set in Rome where children tumble, late, into the classroom. One little boy appears to have forgotten key items of clothing in the rush to get to school!
He is completely focused on obtaining his morning snack but the chalkboard behind him gives a suggestion of what the day's lesson is to be: the first part of the alphabet. The clever artist even gives careful viewers a whole word to read: the letter 'F' is discreetly followed by the rest of his name, making the word 'Fragonard' part of the lesson.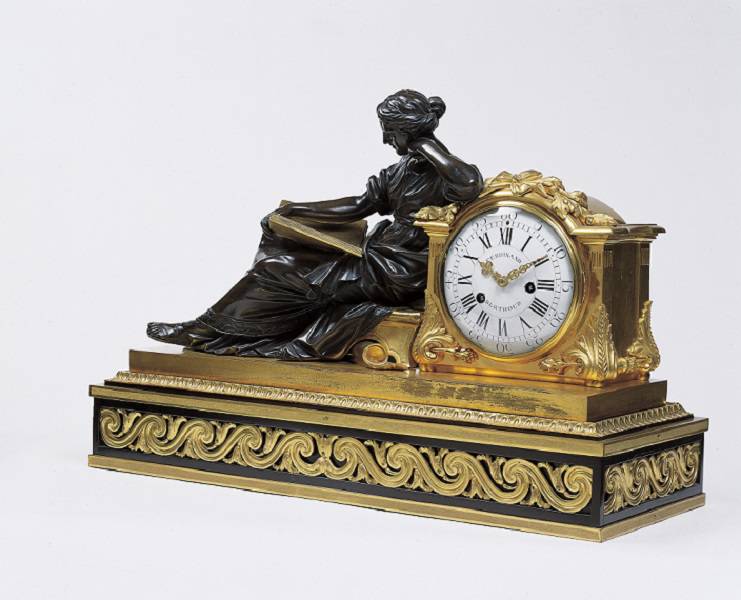 Mantel clock, France, c. 1768
Marie-Thérèse Geoffrin (1699–1777) was one of the foremost salonnières of her generation, hosting weekly gatherings at her Parisian town house for artists, philosophers and writers. She was a keen letter-writer, as well as a patron of the arts, and funded artists and authors in their early careers. The original model of this clock, known as The Employment of Time, was sculpted for her by Laurent Guiard in 1754; perhaps based on her likeness, it is a fitting tribute to her intellectual pursuits.
She was a particular friend of Denis Diderot, co-founder of the Encyclopédie, and gave him another clock of this model. Several are known, including this one which was acquired by the Earl of Yarmouth, later 3rd Marquess of Hertford, in 1802.