Putting a Spotlight on Boilly
Between the 28 January and 19 May 2019 we are highlighting three recently conserved paintings by French painter Léopold Boilly (1761–1845) in a special display 'Spotlight on Boilly'. In this short blog story, Dr Yuriko Jackall – Curator of French Paintings at the Wallace Collection, tells us a bit more about Boilly, giving us insight into the artist, the reasons behind the conservation project, and why we wish to put a 'Spotlight' on him this year…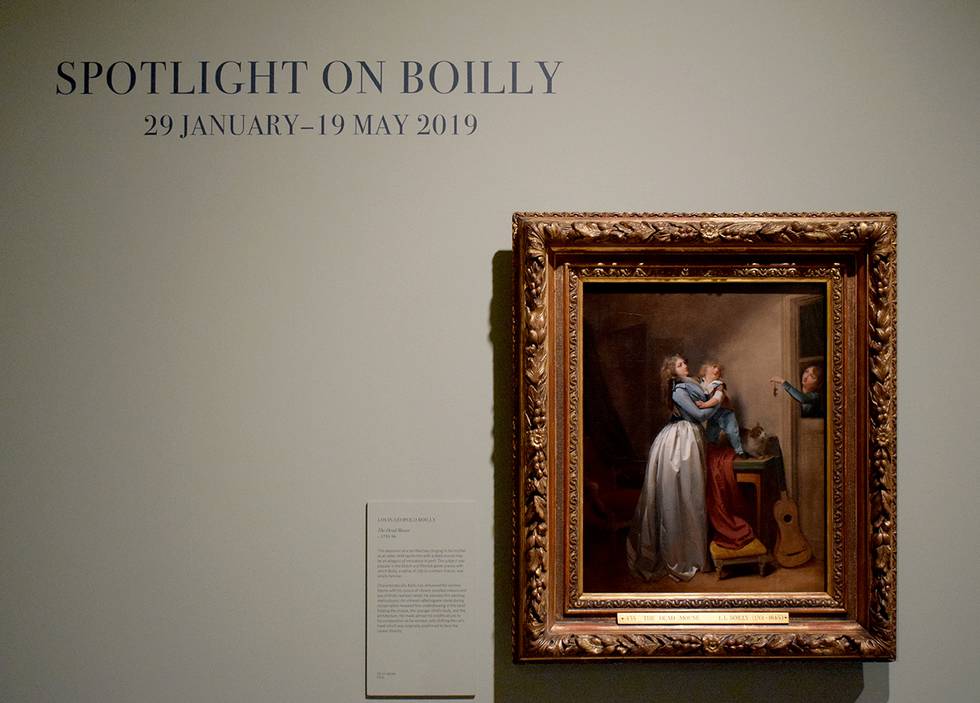 During his lifetime Léopold Boilly witnessed the overthrow of the Ancien Régime, the Revolution, the rise of Napoleon, and the Restoration of the Bourbon monarchy. Throughout, he worked with an intensity that resulted in a remarkably large and varied body of work. His striking images move from lively depictings of urban life unfolding on Paris's busy boulevards to trompe l'oeil (illusionistic still lifes), to small-scale portraits which he later claimed to have produced in the thousands - all in a single sitting. Today he is perhaps best known for his tongue-in-cheek depictions of bourgeois life, paintings such as our Dead Mouse (P435), Visit Returned (P473), and The Sorrows of Love (P479). Rife with mischievous, sensual undertones, such works earned Boilly the condemnation of Robespierre's puritanical Committee of Public Safety during the Terror, a run-in from which he barely escaped with his head!
In 2017 Boilly scholars Etienne Bréton and Pascal Zuber generously underwrote the conservation of our three paintings. Although these were generally in good condition, the artist's jewel-like palette and intricate compositions had become obscured by layers of grime and yellowed varnish accumulated over the years. When it became clear that the final transformation would be even more dramatic than anticipated, we began to think seriously about how to highlight these renewed paintings in a designated display, 'Spotlight on Boilly'. The fact that the National Gallery was focusing on Boilly at the same time encouraged us to think of such a display as a singular opportunity to raise broader questions about this artist's place in UK collections and his critical fortune in this country.
We also wanted to encourage our visitors to slow down and fully appreciate the post-treatment beauty of these newly conserved works. The challenge of how to highlight the Boillys proved an opportunity to rethink our special display spaces within the museum in general. Working with an exhibition designer and lighting specialists, we created an intimate alcove towards the rear of our main entry hall, a space in which our visitors can linger and look closely, before proceeding on to the Dining Room. We think this new space perfectly accomplishes what we have tried to achieve – it is distinct and yet still very much at the heart of the collection. So far 'Spotlight on Boilly' has gotten a great response – and if we find that our visitors continue to enjoy it, we plan to maintain the alcove as a special space for rotating displays of works of art into the future.
- Dr Yuriko Jackall, Curator of French Paintings