Open Furniture Month
Furniture-Making in the Paris Arsenal, 1750-1800
Have you ever wanted to peer inside the furniture at the Wallace Collection?
This February, Open Furniture Month will offer you the opportunity to admire, inside and out, the works of four of the greatest cabinetmakers of the eighteenth century: Jean-François Oeben, Jean-Henri Riesener, Jean-François Leleu and Bernard Molitor. All of them worked in the Paris Arsenal, a privileged area of production outside guild rules next to the Bastille, and made magnificent pieces of furniture. Several can be found at the Wallace Collection.
Join us this February for a series of free talks exploring their fine decoration, beautiful interiors and secret drawers, as well as the professional, creative and personal relationships of the craftsmen who created them.

Follow our Gallery Trail below to find out more about some of the most spectacular pieces of furniture produced in the Paris Arsenal, now on display at the Wallace Collection. Printed trails are also available at the entrance.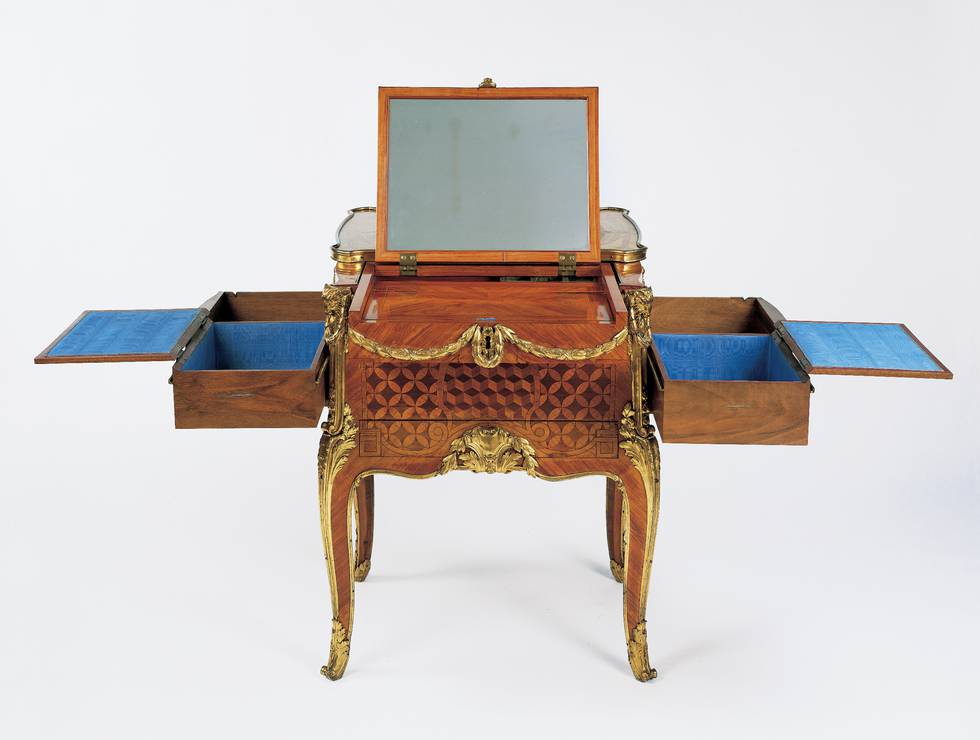 Writing and toilet table, c. 1763 – 4. Workshop of Jean-François Oeben
The floral and geometric marquetry on this table, and its ingenious engineering, are all characteristic of Oeben's workshop. He was renowned for creating small, multi-functional pieces of furniture.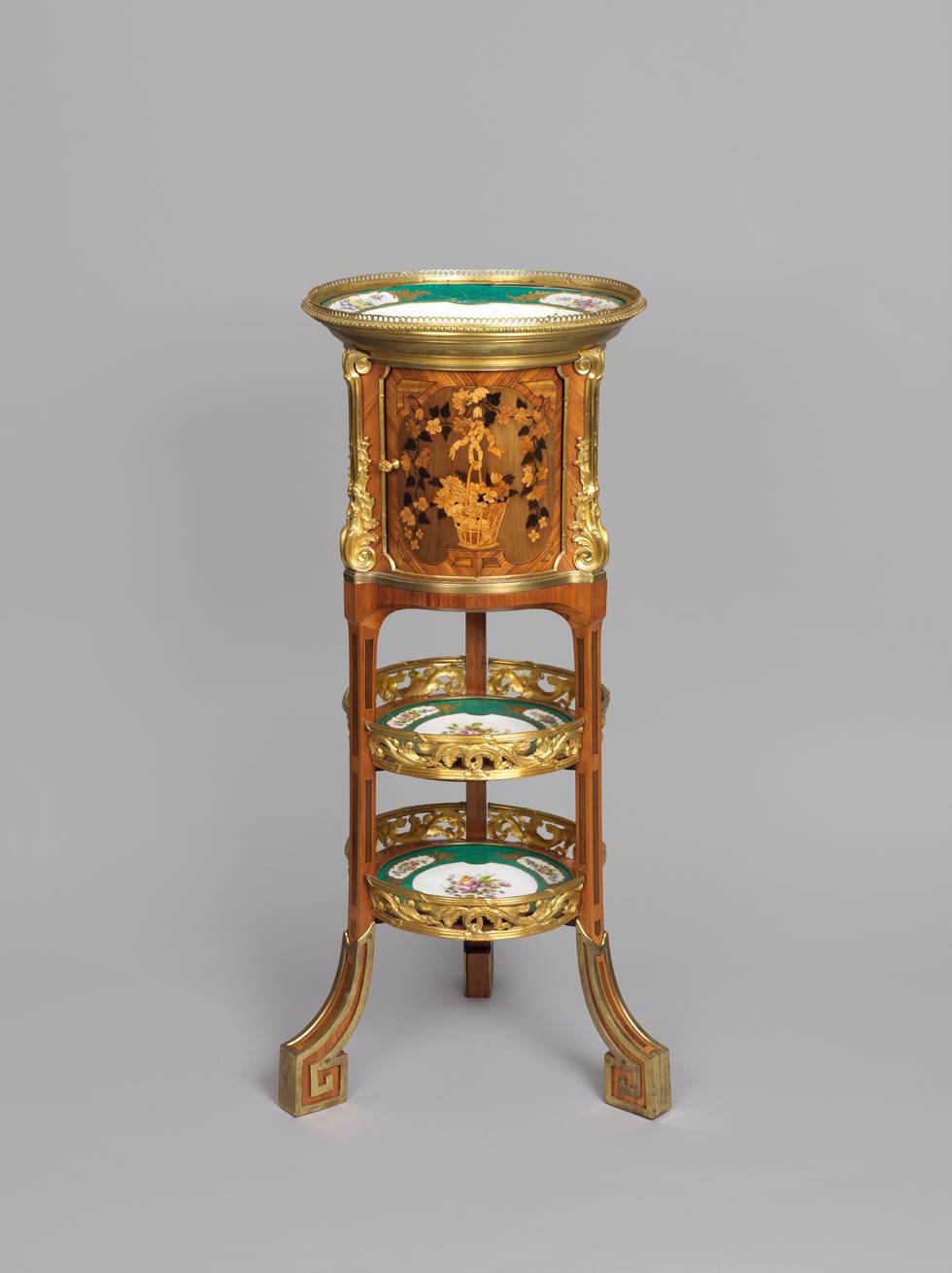 Worktable, c. 1760 – 4, Attributed to Jean-François Leleu
This worktable has an Oeben stamp and is of a model he created. However, its floral marquetry resembles the work of Leleu. It is possible that he worked on the table whilst he was in Oeben's workshop, or that it was finished by him after his master's death in 1763. Such a table would have allowed fashionable members of Parisian society to practise sewing and other leisurely activities by providing a cupboard for storing fabrics, sewing implements or even books, as well as two shelves on which to place needlework. The Sèvres porcelain dish and plaques were added in the nineteenth century, probably in France.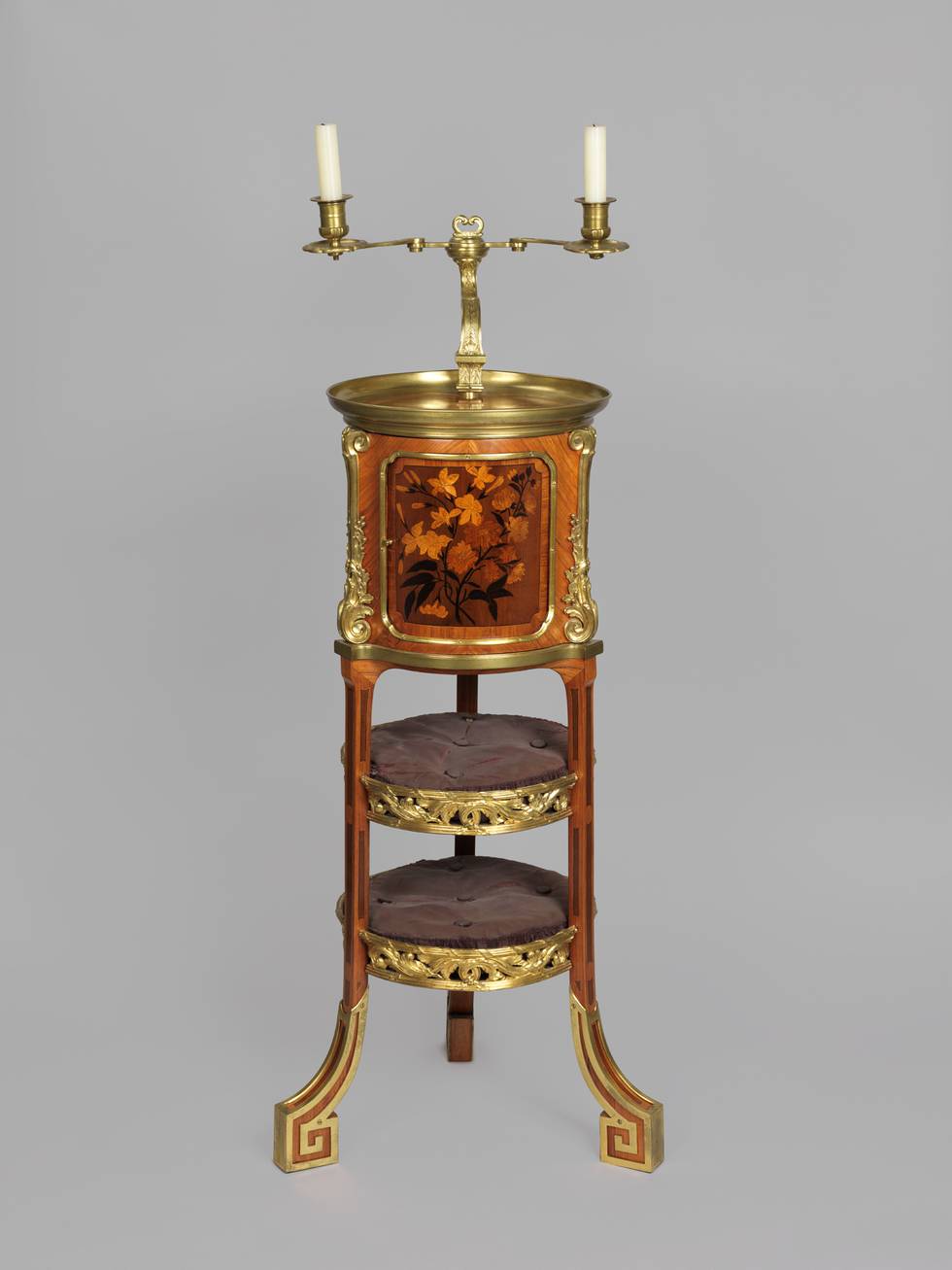 Worktable, c. 1765. Attributed to Jean-Henri Riesener
Like the previous table, this demonstrates the influence of Oeben's design on cabinetmakers who began their careers in his workshop. Although it is after a model he created, it was likely made by Riesener, based on the style of marquetry which is more naturalistic than that of Oeben. The feet of the table have Greek key-shaped mounts. Their heavy appearance is in the goût grec, an early iteration of the French neoclassical style.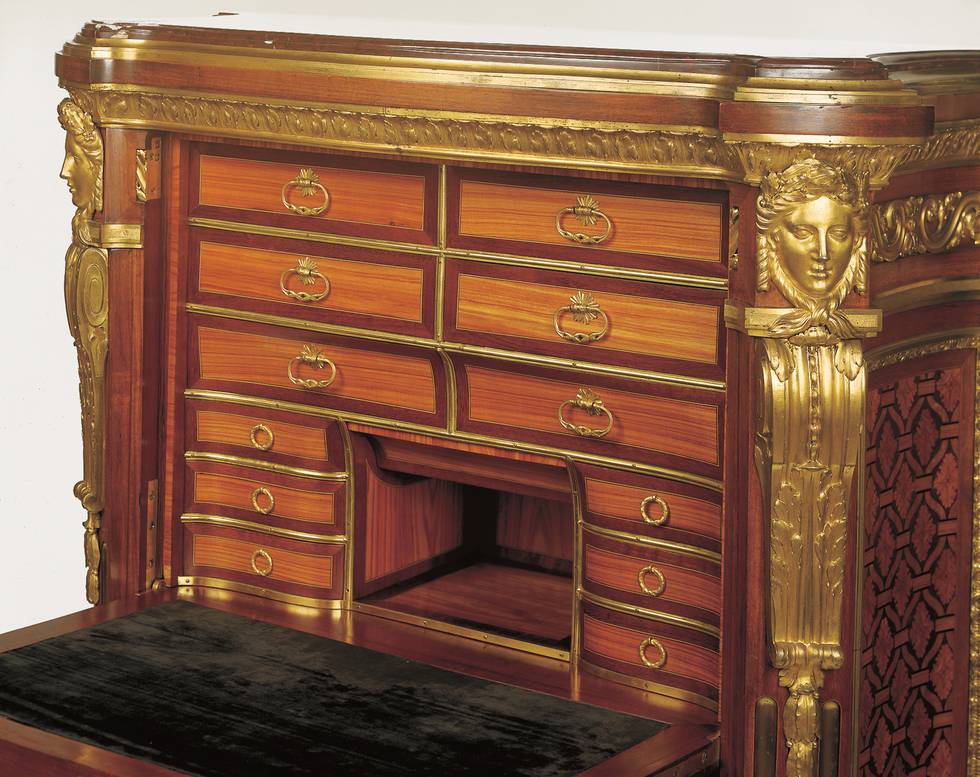 Fall-front desk, c. 1772. Jean-François Leleu
Leleu left Oeben's workshop shortly after Oeben's death and founded his own. He gained the patronage of the prince of Condé and supplied furniture to the Palais Bourbon between 1772 and 1777. Although the original owner of this piece remains unknown, the marquetry basket of flowers and trellis-work, as well as the gilt-bronze frieze, are the same as those found on a chest-of-drawers delivered by Leleu to the prince's bedroom in 1772.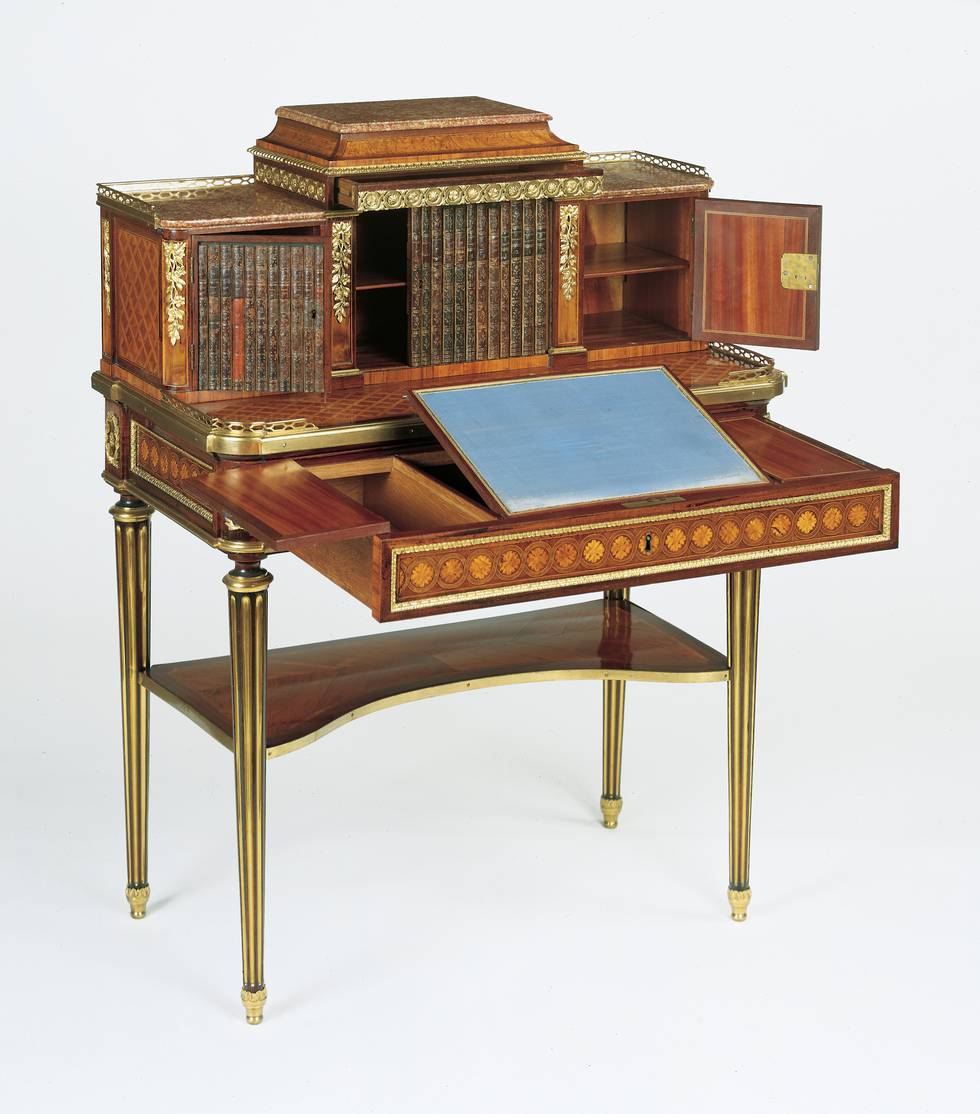 Writing table, c. 1774 – 6. Jean-François Leleu
This elegant table dates to the period during which Leleu delivered furniture to the Palais Bourbon, but is of a much lighter form than that intended for the prince. It was designed for reading and letter writing, which were popular eighteenth-century pastimes. This is suggested by a reading stand and compartments for storing books, papers and writing implements.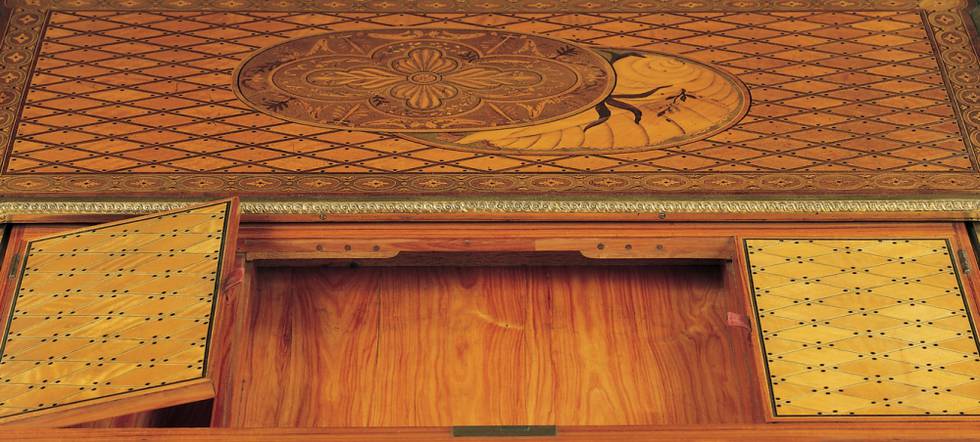 Toilet table, c. 1788 – 90. Bernard Molitor
Bernard Molitor was born in current-day Luxembourg. By 1778 he was based in the Arsenal in Paris, where he may have spent some time working with Riesener. He supplied a parquetry floor to Marie-Antoinette at Fontainebleau in 1787, and soon after created this sumptuous toilet table. The table top is decorated with an elaborate marquetry box which contains a conch shell and various seaweeds.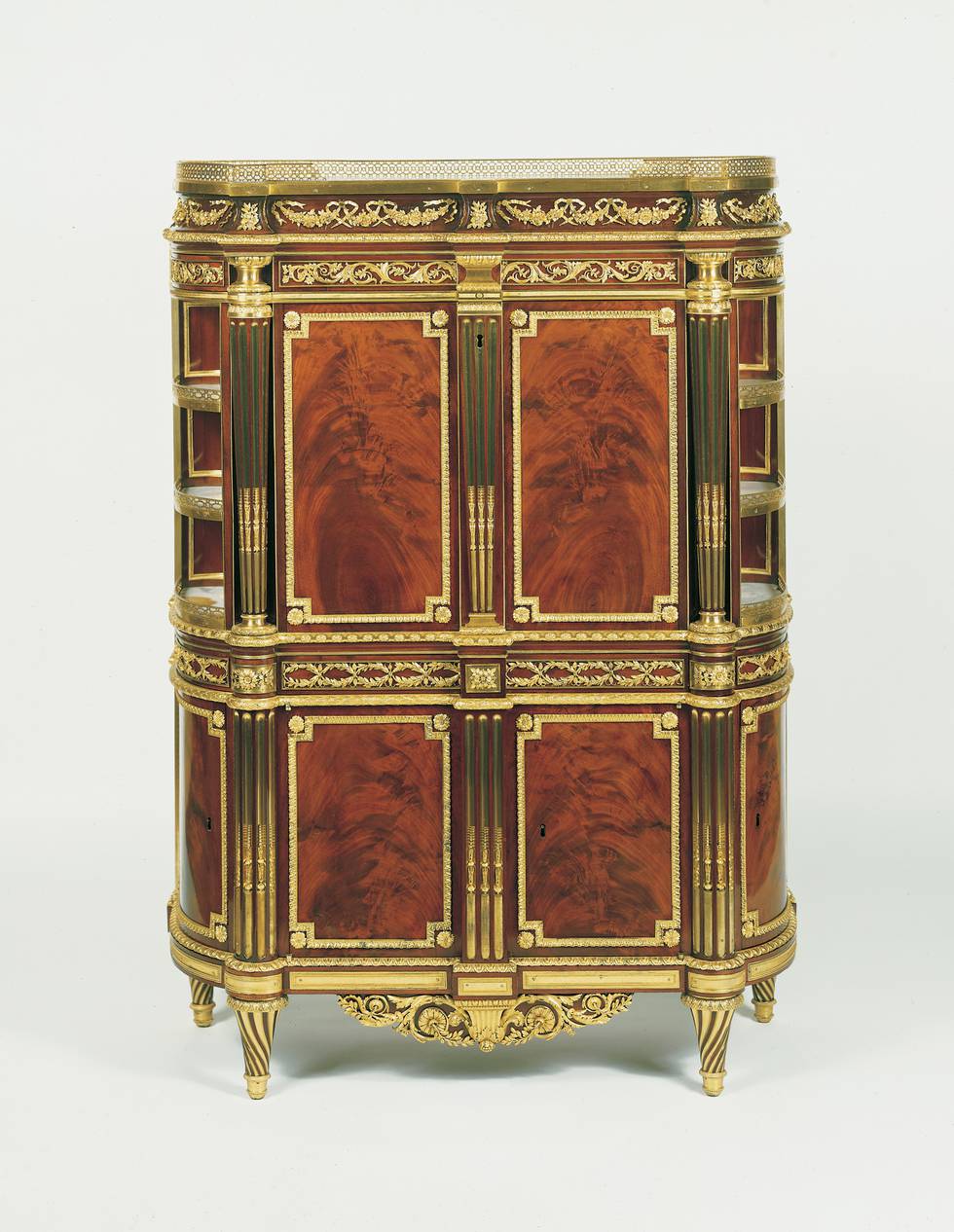 Fall-front desk, c. 1790. Attributed to Bernard Molitor
In the years leading up to the French Revolution, the taste for marquetry was gradually replaced by that for plain mahogany veneers. On this desk, the rich mahogany provides a foil to the sumptuous mounts.
Some, such as the floral swags in the frieze and the rosettes on the doors, echo those mounts found on Riesener's furniture. Certain aspects of the desk, like the fluted columns, pre-empt Empire-style furniture which Molitor later produced for Napoleon.