November Treasure of the Month
L'amour Falconet and Pendant de l'amour Falconet. Manufacture de Sèvres, 1762–3
The Treasure of the Month series offers the opportunity to highlight less well-known works from the collection as well as to look with fresh eyes on beloved masterpieces. This month we focus on these two porcelain sculptures created in Sèvres.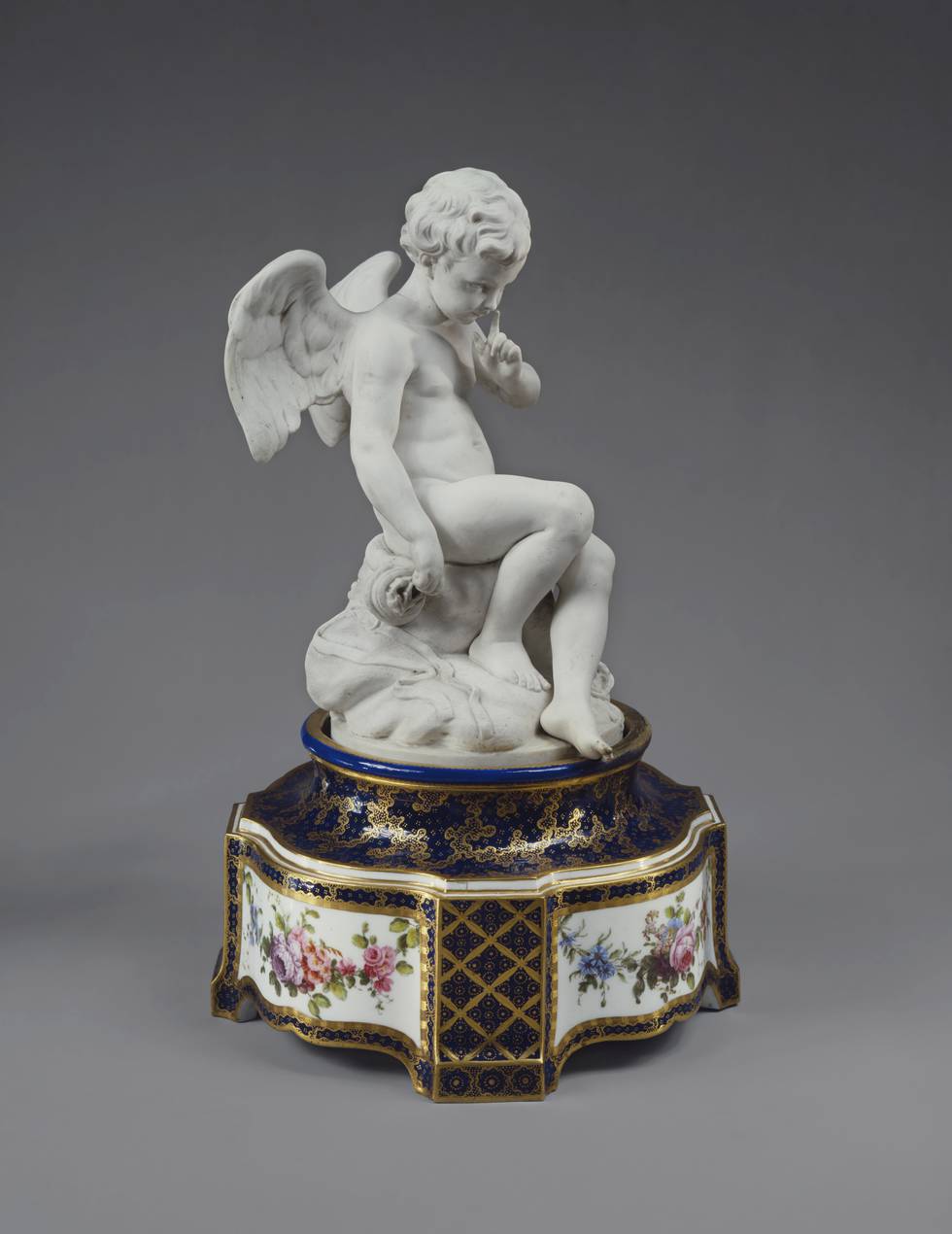 Made from soft-paste porcelain, these charming sculptures are testament to the inventiveness, artistry and skills of the Sèvres porcelain manufactory. The models for the two figures, one representing Cupid, the other his lover Psyche, were sculpted by Étienne-Maurice Falconet (1716–1791), who exhibited a full-size plaster model of Cupid, under the title L'amour menaçant (Menacing Love), at the Paris Salon of 1755. Its novel depiction of a seated Cupid appealed to Madame de Pompadour, the mistress of Louis XV, and she commissioned a marble version for her Parisian town-house which Falconet exhibited two years later to great acclaim.
One contemporary commentator claimed that 'one could not render the nature of our age with more truthfulness and more grace'. Madame de Pompadour commissioned another for her château of Bellevue and, perhaps even more significantly, Falconet was appointed director of sculpture at the Manufacture de Sèvres where he immediately put the model of Cupid into production in this reduced form.
The first L'amour Falconet was sold on 28 December 1758; Madame de Pompadour bought one two days later. It went on to achieve great commercial success for the manufactory, so much so that in 1761 Falconet introduced a pendant to it – Pendant de l'amour Falconet, or Nymphe Falconet, the plaster model of which he also exhibited at the Salon that year. The popularity of the pair was immense: not only Madame de Pompadour but later Louis XVI bought the figures, and the French foreign minister even sent a pair to the Emperor of China as a diplomatic gift in 1764.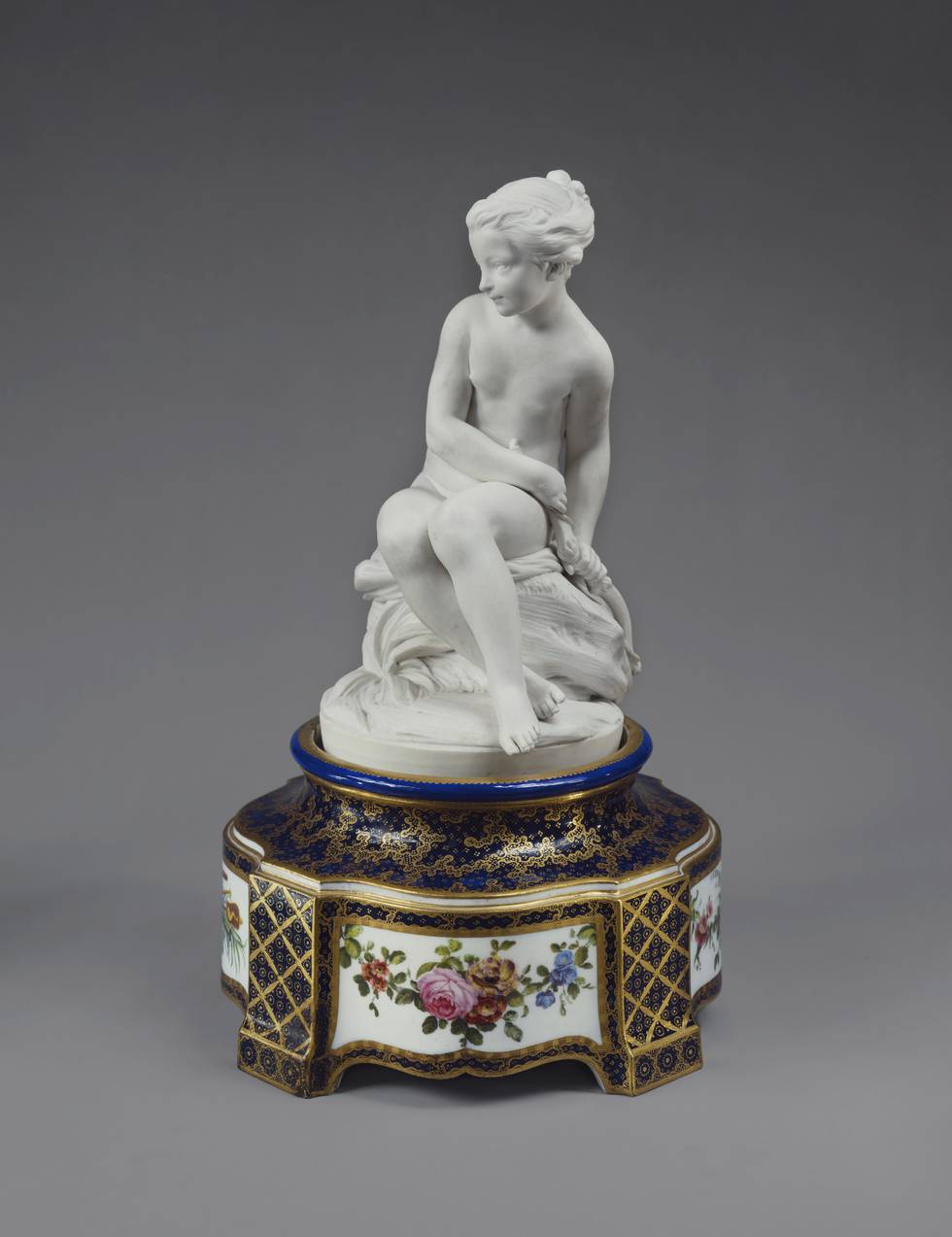 The figures are made from biscuit porcelain, that is, porcelain that has not been glazed. It was introduced at Sèvres in 1751 as an alternative to glazed sculpted figures, partly because the glaze tended to coalesce in the small crevices of the modelled porcelain and thus hide the details, and partly for reasons of taste: the creamy-white, soft-looking material resembled marble and appealed to the burgeoning taste for neo-classical objects. The figures were sometimes displayed as stand-alone sculptures, and sometimes intended as table decoration as part of a Sèvres service.
Pedestals for the figures were introduced in 1761, presumably to lend greater unity to the pairing of Cupid with Psyche. These two pedestals, decorated with underglaze blue (bleu lapis), garlands of flowers painted by Nicolas-Laurent Petit (op. 1756–1800) and rich gilding, were not originally intended to support L'amour Falconet or its pendant, but were swapped in the 19th century, presumably accidentally, from a pair of figures of a different model.
- Helen Jacobsen, Senior Curator and Curator of French 18th-century Decorative Art
Wednesday 13th and Monday 25th November at 1 pm in the Study with Helen Jacobsen, Senior Curator and Curator of French 18th-century Decorative Art.