May Treasure of the Month
Carlo Crivelli's painting of the patron saint of good health, Saint Roch.
The Treasure of the Month series offers the opportunity to highlight less well-known works from the collection and to look with fresh eyes on beloved masterpieces. This month it feels particularly appropriate to focus on Carlo Crivelli's masterful representation of Saint Roch, the patron saint of good health.
Saint Roch (c. 1348–c. 1376) was born in Montpellier (then a possession of the Kingdom of Aragon) to the wealthy governor of the city and his wife. His birth was miraculous — his childless parents had prayed for a child to the Virgin Mary — and Saint Roch was marked with the sign of a red cross on his chest.
Named governor of the city upon his parents' death, Saint Roch chose instead to confide ruling responsibility to his uncle and to distribute all of his worldly goods to the poor. He then set out on a pilgrimage to Rome. He found Italy decimated by plague and devoted himself to tending the sick. However, by the time he arrived at Piacenza, he was himself gravely ill, with the plague manifesting itself in a tell-tale spot on his leg. Careful not to infect others, he withdrew into the forest. A spring miraculously opened up giving him water and a dog appeared to supply him with bread and lick his lesion, healing him.

By the time Saint Roch returned to Montpellier, his years of wandering had rendered him unrecognisable and he was arrested on suspicion of being a foreign spy. When he died — five years later, still in prison — it was said that an angel placed under his head a tablet emblazoned with a divine edict: Whomever calls for aid to Saint Roch shall not be hurt by plague.
Elegant in form, jewel-like in colouring, Crivelli's painting constitutes one of the earliest known representations of Saint Roch and it sets out an iconography that would become standard. The saint is shown as a travel-weary pilgrim, his clothing tattered, his shoes scuffed. That he has been subjected to the ravages of the plague is clear from the wound on his thigh. And yet he does not appear to suffer. His lined face is gentle and serene. He is embodied proof that infectious disease could be cured.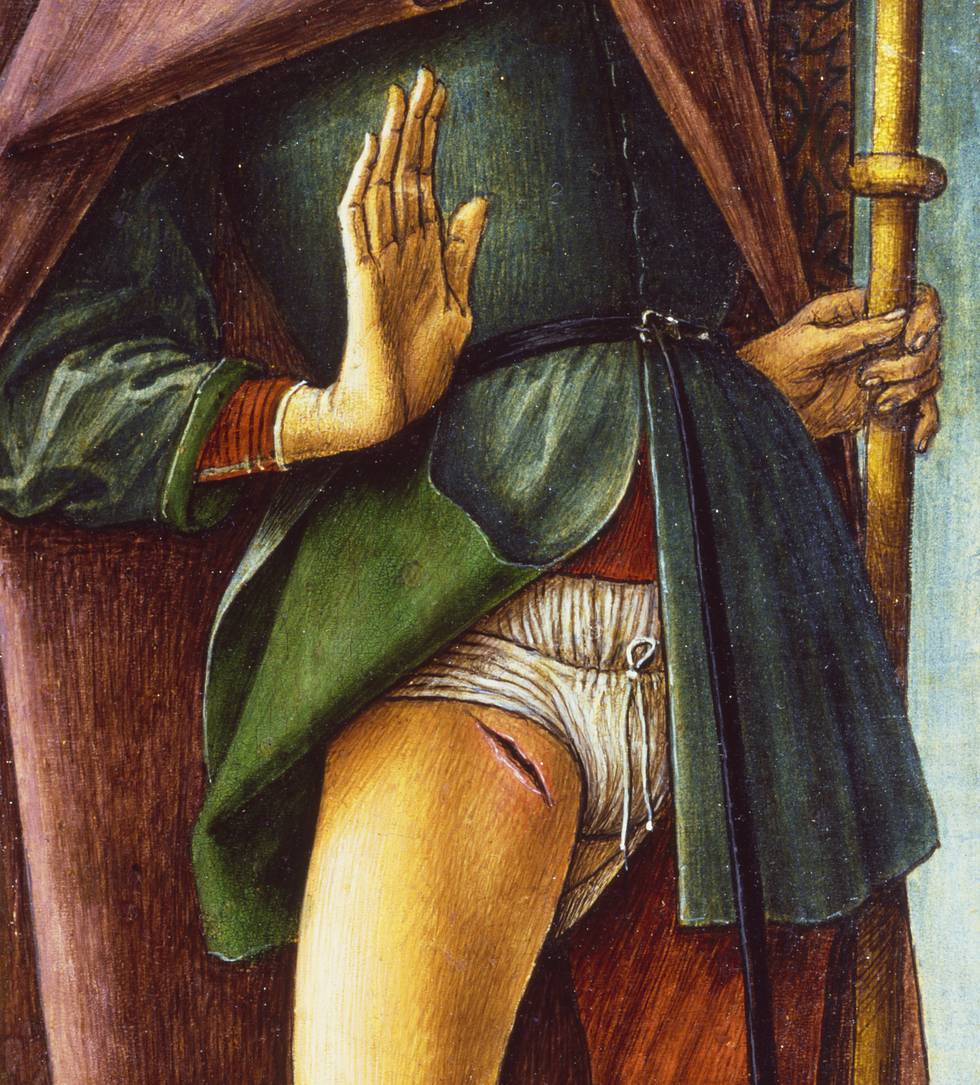 The cult of Saint Roch with its hopeful message held sway in Europe, particularly during early modern period. He was often represented alongside Saint Sebastian, who was also thought to possess a special ability to protect plague victims. This was the case for the altarpiece by Giovanni Battista Cima da Conegliano (1459–1517) commissioned by the Scuola di San Rocco in Mestre (near Venice) for which the Wallace Collection possesses the central panel (P1-1a). Churches dedicated to Saint Roch were also extremely prevalent, one of the most notable examples being the Église Saint-Roch in Paris, designed by Jacques Lemercier (c. 1585–1654) and completed under the direction of Jacques Hardouin-Mansart 1677–1762).
Still an important site of worship today, this splendid Baroque church has the additional distinction of housing one of the finest ensembles of French painting in Paris. It is also the final resting place of one of the major protagonists of the Wallace Collection: Jean-Honoré Fragonard (1732–1806).
Crivelli's kindly Saint Roch awaits your visit when the museum reopens. In the meantime, keep safe and stay well.
- Dr Yuriko Jackall, Curator of French Paintings