Material
In this blog series our curators, archivists, conservators and learning team will be bringing together works of art from across the Collection under one theme. From armour and jewellery, to portraits and porcelain, read about some of the most fascinating and marvellous pieces in the Collection here.
Today we will be looking at the theme of 'Material'. Explore some of the Collection's masterpieces through the lens of the material they have been made from, and their incredible craftsmanship still marvelled at today.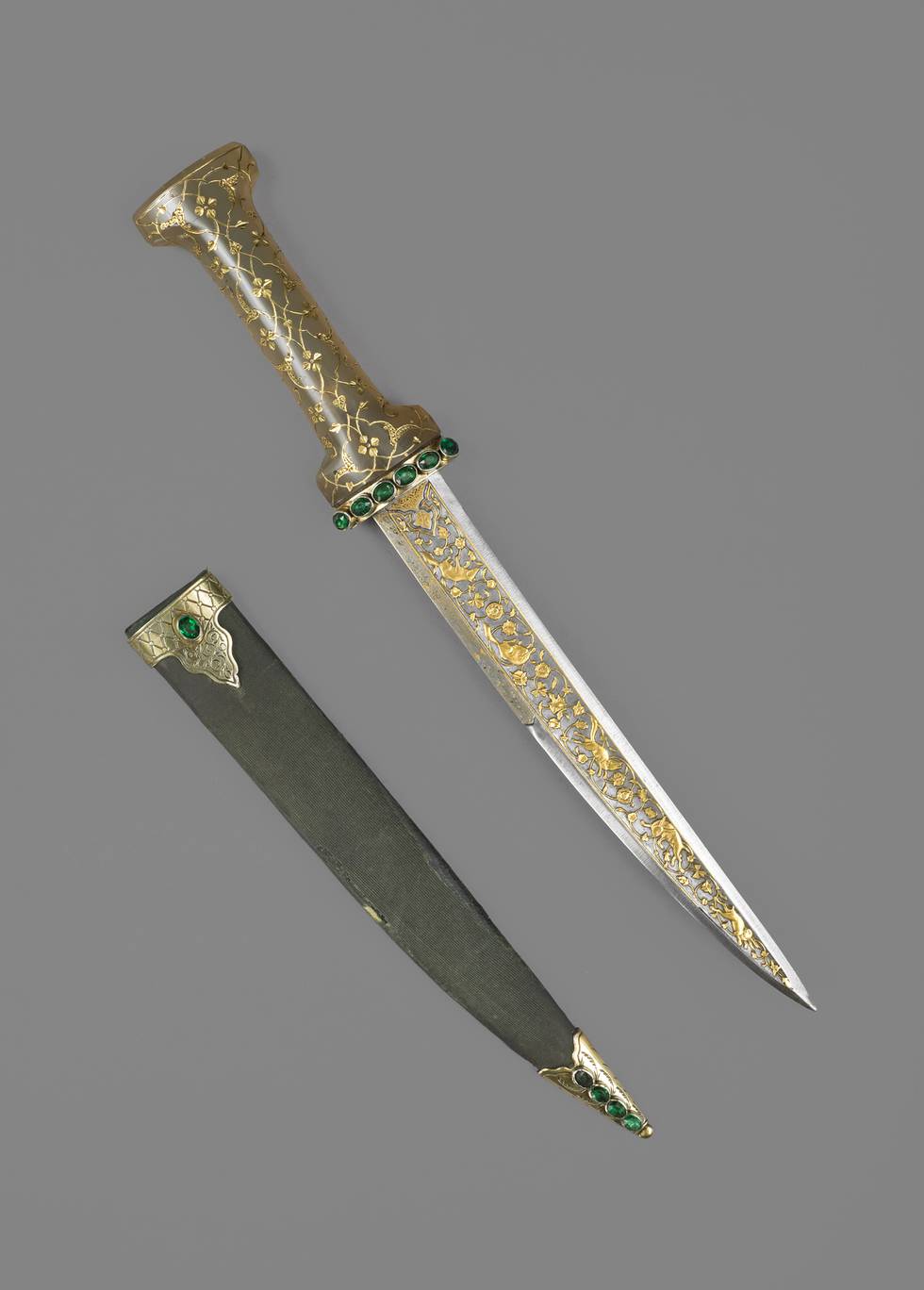 Fifteenth Century Dagger from Herat
As part of the Wallace Collection's commitment to further the scientific understanding of our objects, certain key objects are submitted for neutron diffraction analysis, a non-invasive technique that provides a breakdown of an object's chemical components.
One surprising result of this analysis came from one of the oldest non-European objects in the collection: this finely decorated fifteenth-century dagger. Despite the exceptional value of its goldwork and its inscribed poetry which speaks of the "water of the blade" (ab-i tigh), the blade is not made of watered crucible steel, but of plain iron.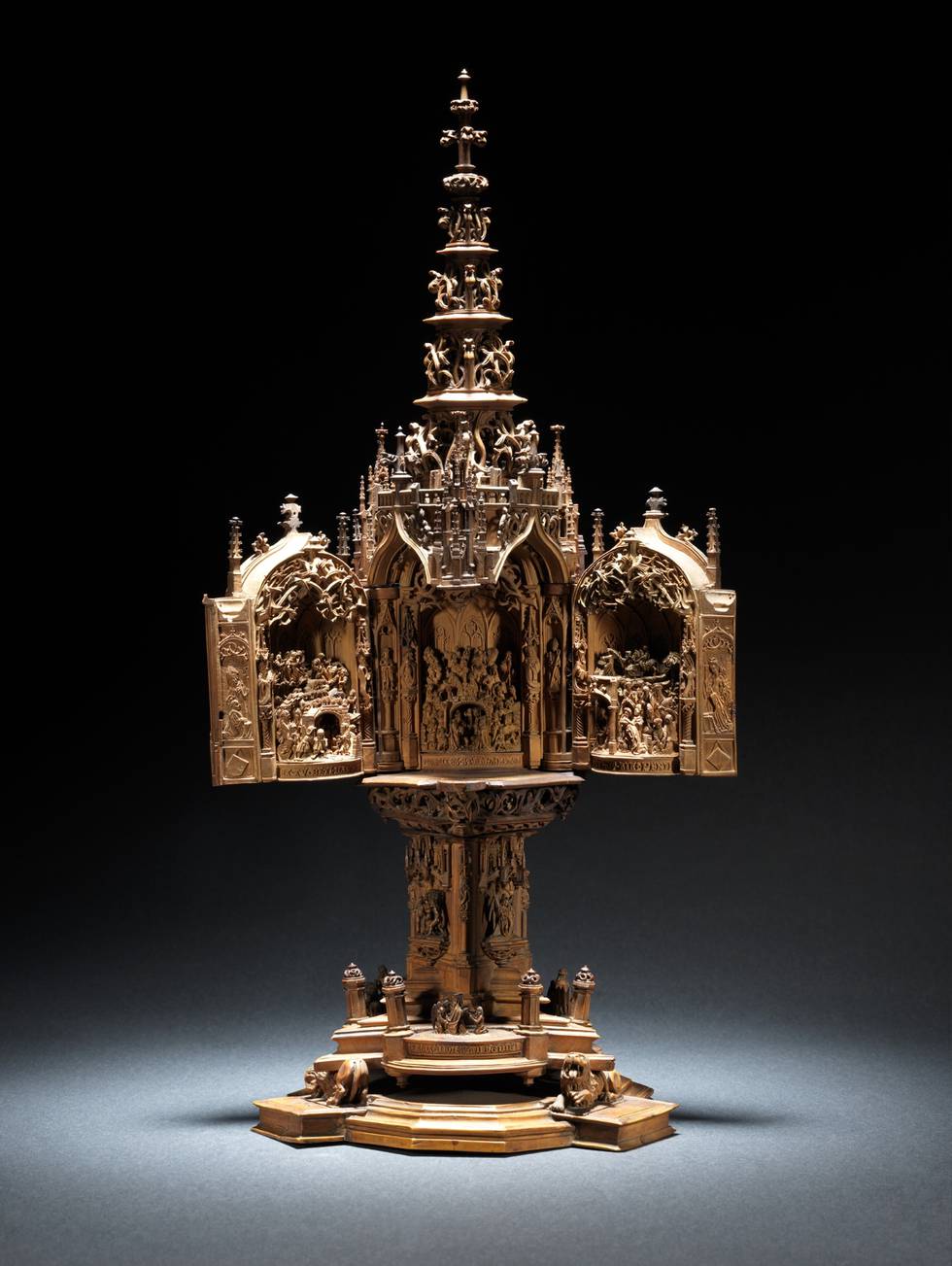 Boxwood miniature triptych by Adam Dircksz and workshop, c. 1500–30
The incredible intricacy of miniature boxwood carvings made in the Netherlands has always been a source of wonder. Intended for personal devotion, they quickly became desirable collectors' items. This miniature Gothic altarpiece stands only 44 cm high, yet is richly carved with scenes from the Old and New Testaments, with the Adoration of the Magi in the centre.
In the early sixteenth century, when this was made, boxwood had long been known for its suitability for carving. Its status was further enhanced by the mention of it in the Old Testament, making it an appropriate material for objects with a devotional or religious function.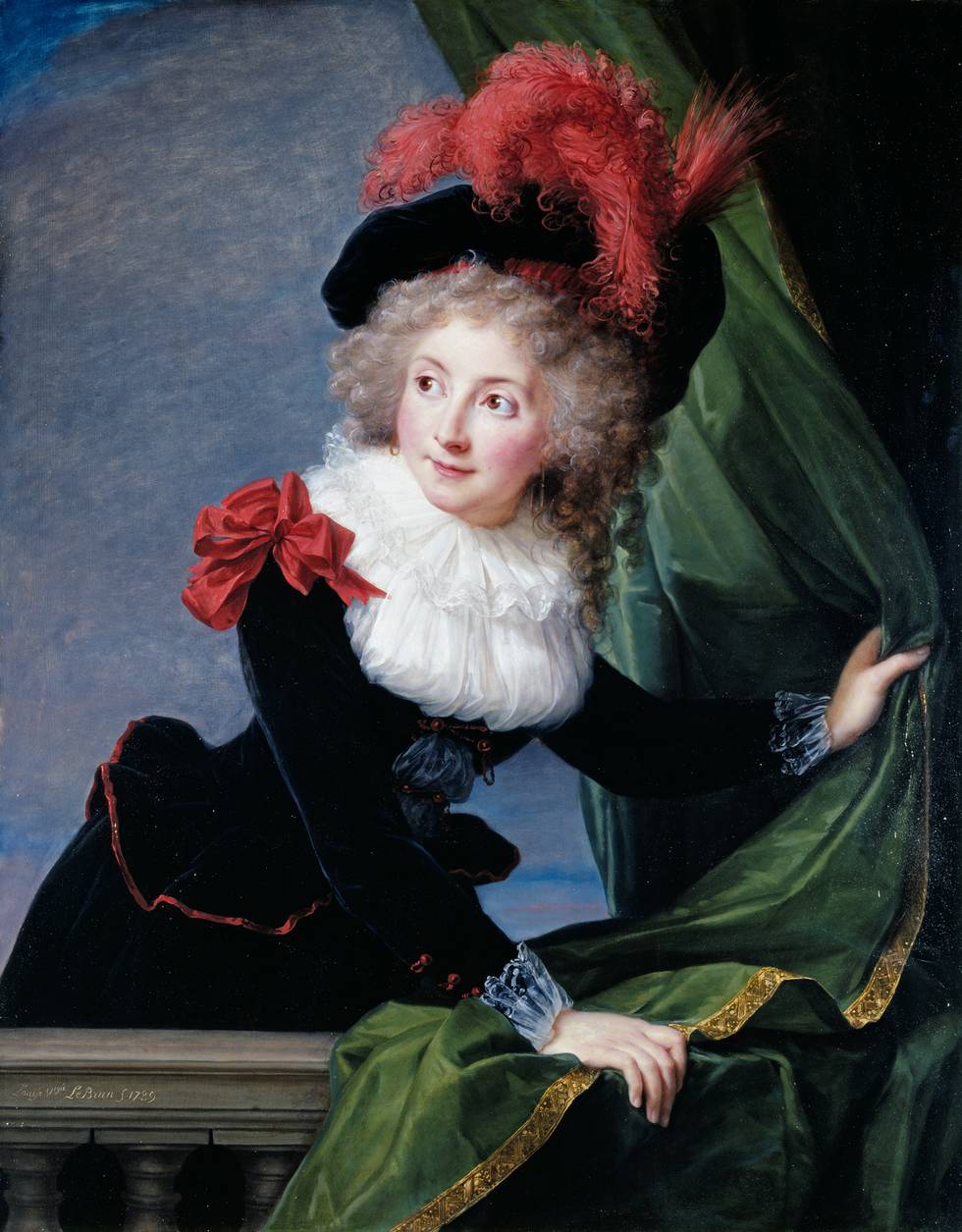 Madame Perregaux by Élisabeth-Louise Vigée Le Brun, 1789
When Elisabeth Vigée Le Brun went to Flanders in summer 1782, she found her true artistic model, in the art of Peter Paul Rubens. It has been said that the experience overwhelmed her and pushed her to modify her working methods to more closely emulate Rubens's effects. She embraced a warm, luminous palette.
She also began to experiment with the use of wooden panel rather than canvas. Panel accentuates the glossiness of oil paint enabling artists to convincingly represent the surface textures of silk and satin. Seven years later, when she took up her brush to paint her beautiful neighbour, Madame Perregaux, Vigée Le Brun had fully mastered the art of painting on this support, which beautifully sets off the softness of the model's black velvet dress, the crisp shine of her red ribbons, the sheen of her powdered hair.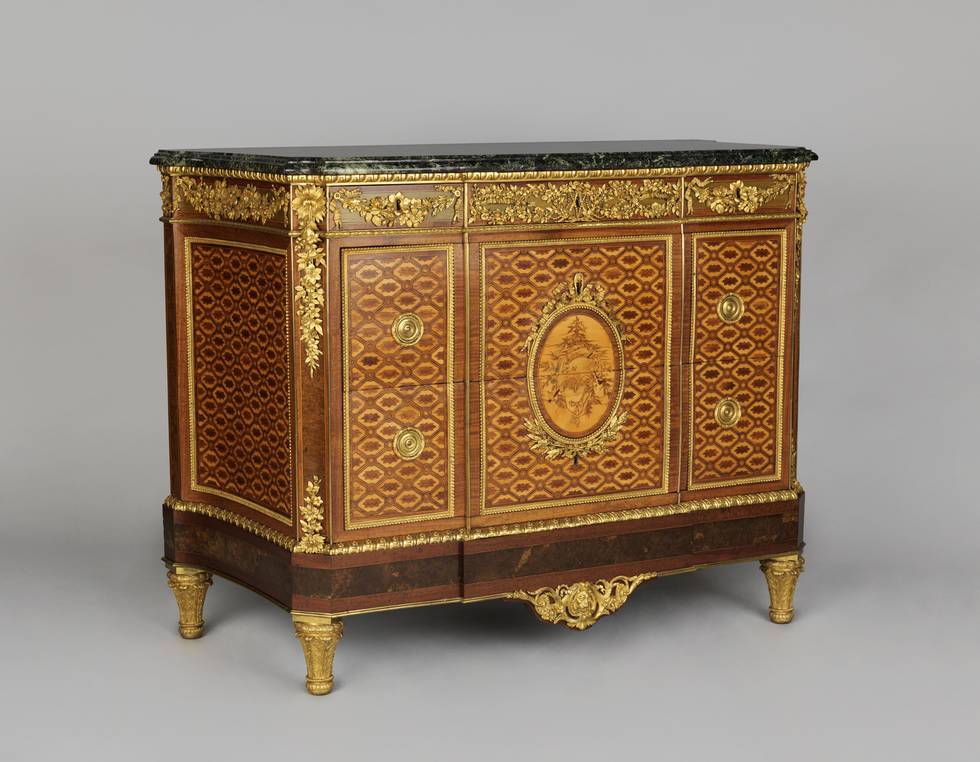 Chest-of-drawers by Jean-Henri Riesener, 1780
Jean-Henri Riesener (1734–1806) was renowned for his great marquetry, and the sumptuous pieces of furniture he supplied Louis XVI and Marie-Antoinette. He used a variety of materials, all highly worked to achieve magnificent visual effects. His marquetry was made up of hundreds of pieces of different types of wood veneer, cut out using saws and knives.
These veneers, both dyed and naturally coloured, would originally have been vibrant in colour and were referred to as 'paintings in wood'. Together they formed geometric patterns and decorative motifs like the trophy on this chest of drawers made for Marie-Antoinette in 1780, where the remains of the colour can still be seen in the blue flowers.
Find out more about Riesener through the Wallace Collection's ongoing Riesener Project.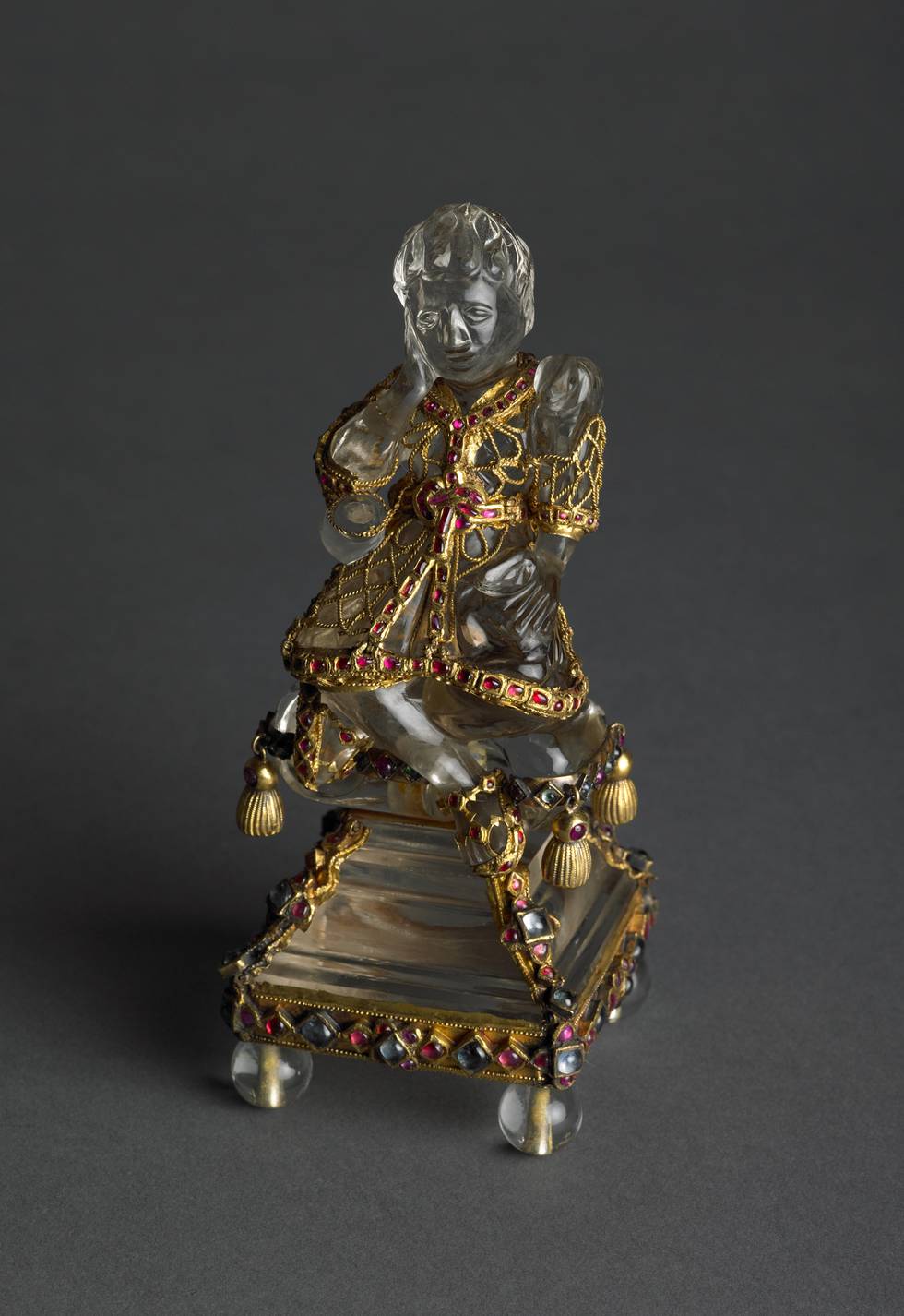 Sri Lankan or Goan statuette with The Good Shepherd, c. 1600
With its sumptuous setting of gold and gemstones, this is the finest and most elaborate of a small group of such figures, made in Goa and present-day Sri Lanka, to survive. Representing Christ as the Good Shepherd, a symbolism introduced by Portuguese missionaries, they were often carved in ivory, but this is a rare example sculpted out of rock crystal, one of the hardest materials to carve.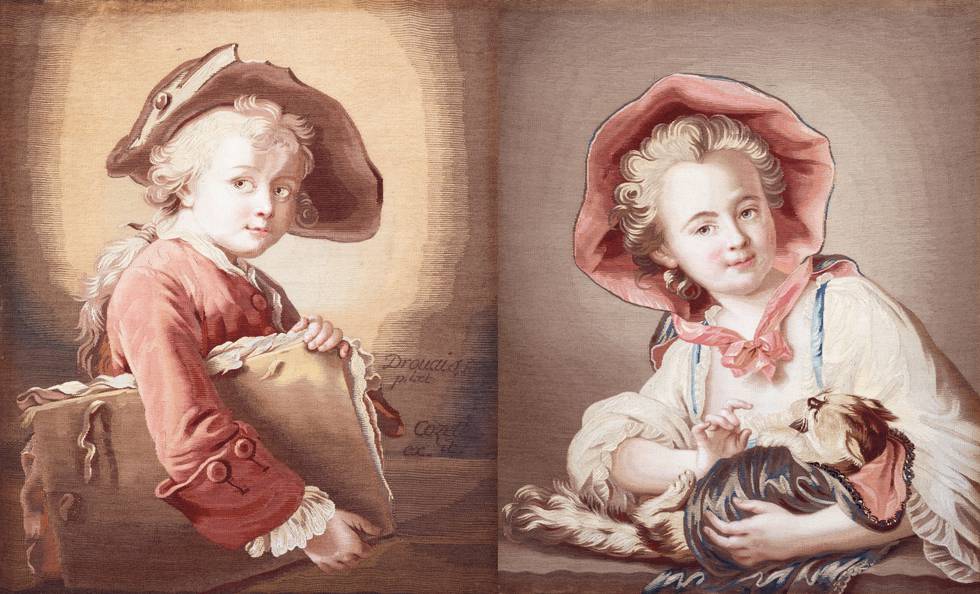 Tapestry panels by Pierre-François Cozette after paintings by François-Hubert Drouais, c. 1763–4
Although these two delightful images may resemble paintings, they are in fact tapestries, woven after two pictures exhibited at the Paris Salon by François-Hubert Drouais in 1761 and 1763. The paintings were owned by the marquis de Marigny, Madame de Pompadour's brother, and it is likely that it was he who commissioned the Gobelins manufactory to produce a version in tapestry, of which at least three weavings were made.
Eighteenth-century connoisseurs enjoyed the multiple ways in which paintings could be reproduced, including on porcelain, snuffboxes or textiles, and the skills which these reflected. These tapestries were intended to be framed and hung on the wall, just like the paintings from which they derive.