March Treasure of the Month
A Sèvres tea service and tray in hard-paste porcelain with 'chinoiserie' decoration, 1779
The Treasure of the Month series offers the opportunity to highlight less well-known works from the collection as well as to look with fresh eyes on beloved masterpieces. This month we focus on this Sèvres tea service and tray in hard-paste porcelain with 'chinoiserie' decoration.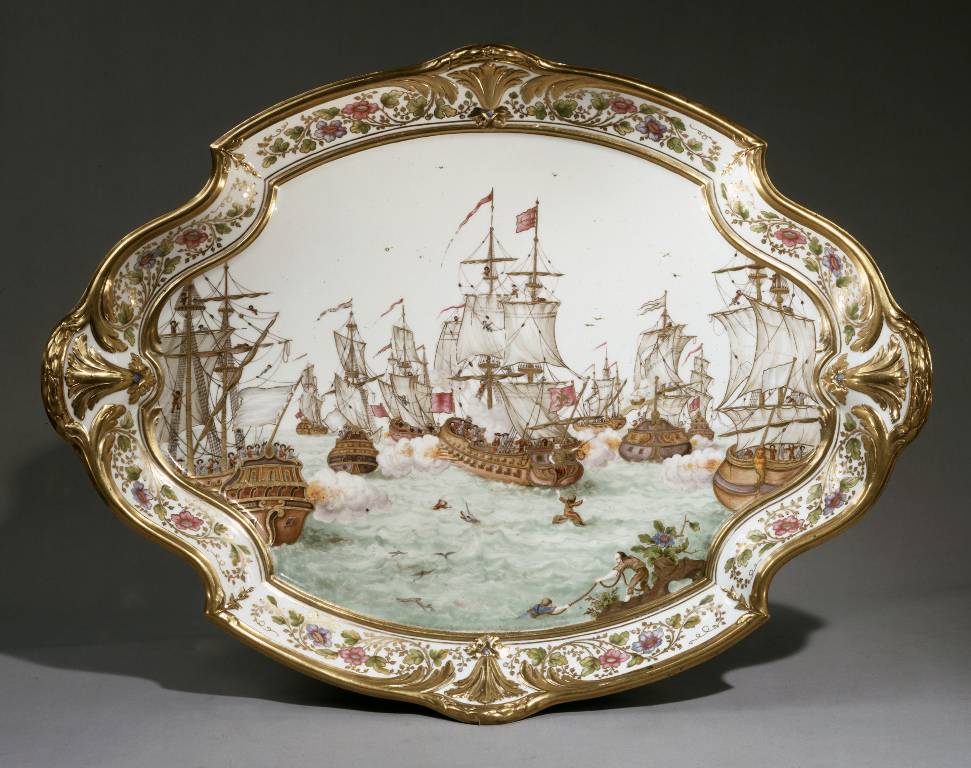 This tea service or déjeuner is one of the few examples of Sèvres hard-paste porcelain at the Wallace Collection. Its decoration combines mid-eighteenth century rococo shapes, later neo-classical decorative elements and the depiction of battleships and harbour scenes in a Chinese-inspired style known as 'chinoiserie'. It consists of a tray, three cups and saucers, one cup and saucer is missing, a milk jug, a sugar pot which has lost its cover and a teapot. Each piece bears the Sèvres factory mark surmounted by a crown for hard-paste porcelain, enclosing 'bb', the date letter for 1779, and an L which identifies the work of the painter Louis-François Lécot, active at Sèvres in the second half of the eighteenth century. Lécot specialised in light-hearted 'chinoiserie' decoration on hard-paste porcelain like the marine battle on the tray, populated with cartoon-like characters that convey a sense of humour.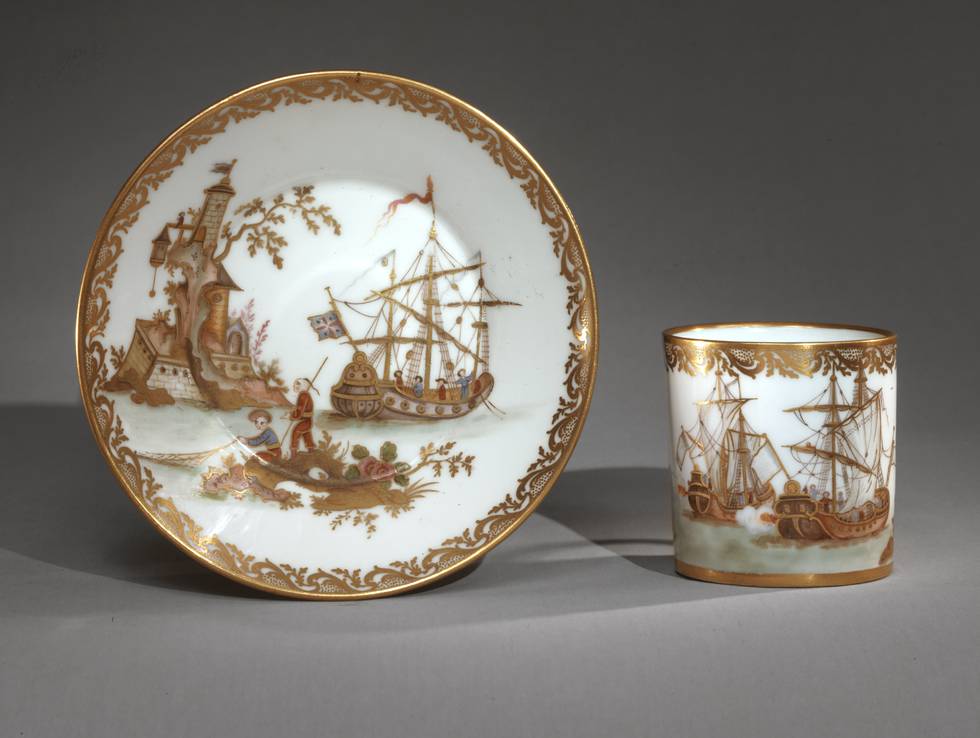 Our tray is named plateau 'Paris' after its designer, Jacques-François Paris. A short-lived shape, with examples known form 1775 to 1781, it may derive from early-eighteenth century Dutch Delft porcelain plaques after Canton enamels. The introduction of a new shape for Sèvres tea services is rare and usually limited to the tray. The other pieces forming this set have shapes designed in the early-1750s that were still popular in the 1770s. Some of them, such as the milk jug, combine rococo elements in the bulbous body and root-shaped feet, with traditional Chinese features in the crabstock handle.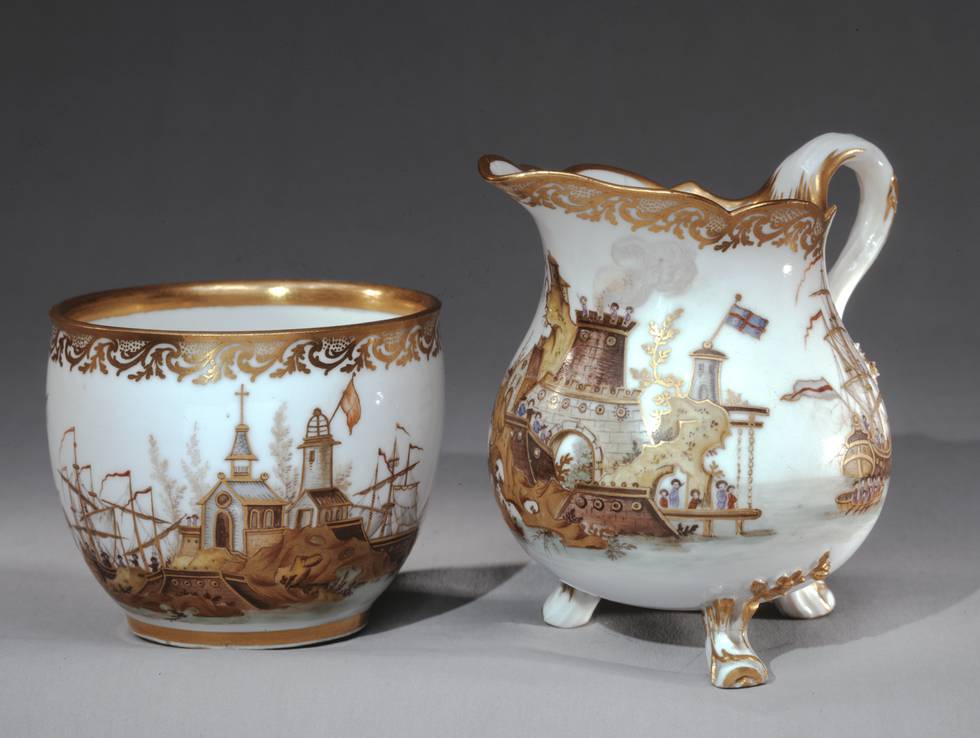 Several skilled workmen were involved in the production of this tea service. After the paste was prepared with the key addition of kaolin to obtain 'true' hard-paste porcelain, it was thrown or moulded into pieces that were tooled, carved, painted and, finally, gilded. The pieces were fired at least three times at different temperatures in between these steps. In contrast to soft-paste porcelain, hard-paste porcelain is stronger and more resistant to scratches, but it cannot be decorated with the same painterly and nuanced finish that had made Sèvres soft-paste porcelain famous. For this reason, decorators resorted to an extensive use of gilding to achieve an opulent finish, as seen in the gilded outlines of vessels, figures and architecture, or the use of red gold in the rocks and trees.
'Chinoiserie' déjeuners of this type were highly fashionable in Paris in the 1770s. They appeared in the collections of Louis XVI and the duchesse de Mazarin, and it is possible that one of them owned our déjeuner before it entered the collection in the early-nineteenth century with either the 2nd or the 3rd Marquess of Hertford.
- Félix Zorzo, Curatorial Assistant.