March Treasure of the Month
Isack van Ostade (1621-49), A Winter Scene, mid 1640s
This superb winterscape provides a wonderful glimpse of what life may have looked like during the many harsh winters Holland endured in the seventeenth century. During these periods, commercial traffic on many of the Dutch Republic's canals and rivers came to a halt due to icy conditions. As a result, locals devised alternative ways of transporting themselves—and their goods—on ice.
In this painting, Isack van Ostade represented individuals of all ages skating and sledging on a frozen river, accompanied by horses and dogs. Our eye is drawn to the central figure in yellow, seen from the back, wearing a blue cap and pushing a sledge filled with two barrels and a basket. Another man in front of him, who wears a red cap, is similarly pushing three barrels forward. These figures are likely references to Haarlem's (the artist's hometown) foremost industry, brewing, and to how business continued, more or less as usual, in spite of harsh weather conditions.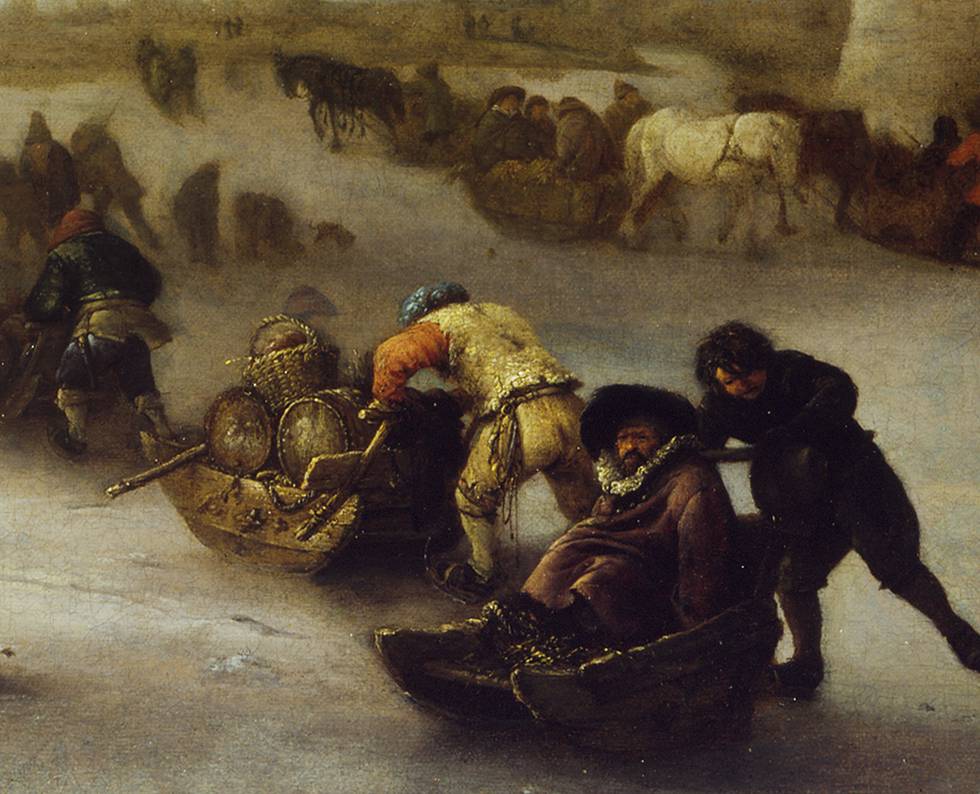 This painting illustrates Isack's unrivalled ability to beautifully capture a wintery mood through silver-grey atmospheric effects. Unlike his predecessors in the winterscape genre such as Pieter Bruegel the Elder and Hendrick Averkamp, who represented icy thoroughfares as everyone's happy playground, Isack takes a more realistic approach to the subject.