December Treasure of the Month
Dagger, probably Herat, dated AH 902/1496-97 AD
The Treasure of the Month series offers the opportunity to highlight less well-known works from the collection as well as to look with fresh eyes on beloved masterpieces. This month we focus on this incredible medieval dagger from Herat.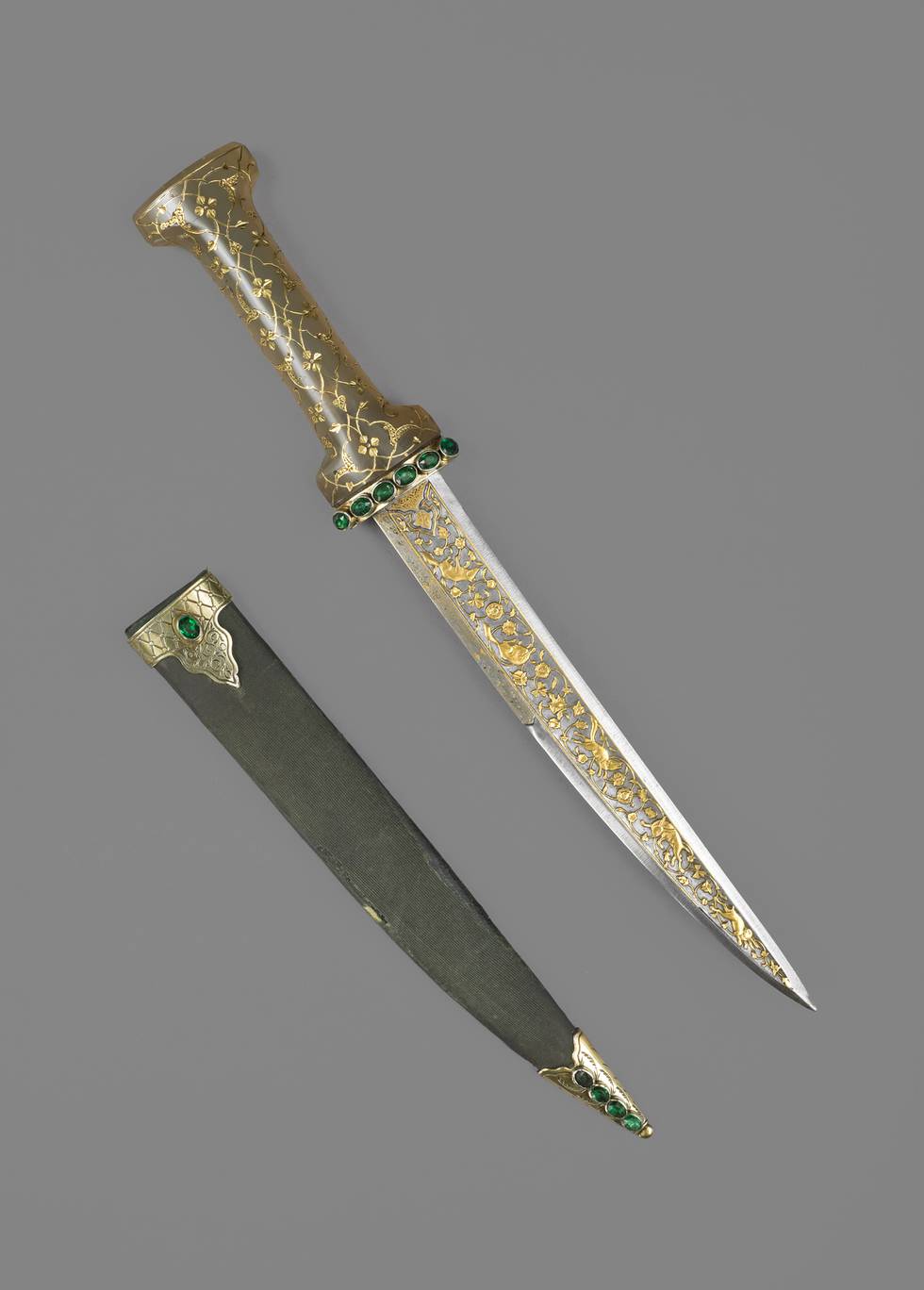 At the end of the fifteenth century, the Iranian world was in transition. The last great conqueror from the Central Asian steppe, Timur (or Tamerlane), had died a century earlier, and his descendants lived a life of decadence in their capital of Herat (modern-day Afghanistan). The poet-king Sultan Husayn Bayqara, together with his influential advisor 'Ali-Shir Nava'i, oversaw a swansong of fine arts before the city was overrun by the Safavid Shah Isma'il and many of Herat's artists relocated to the Safavid capital of Tabriz.
One of the finest works of art to survive from Sultan Husayn Bayqara's court is this dated blade. Set in a contemporary chalcedony hilt that has been cut back to accommodate the rim of the silver collar - a later, likely 19th-century addition – the blade finds its closest comparable objects in a small group of early 16th-century Ottoman swords, made at a time when the Ottoman imperial workshops saw a great influx of Iranian artists.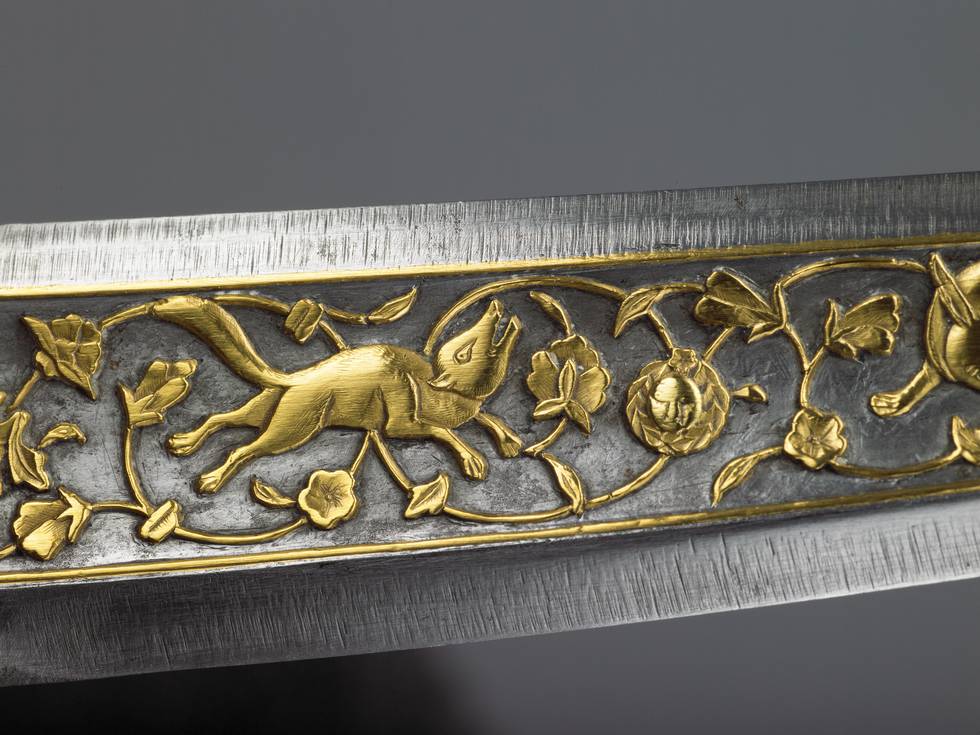 This dagger can be seen as a precursor to a group of Iranian and Ottoman daggers with hardstone hilts and distinctive blades decorated with floral motifs and lines of poetry in Turkish or Persian. The blade is decorated with a single line of Persian verse over two hemistichs, straddling a brief Arabic maxim warning the owner against sloth. Despite the minute size of the script, the Persian verse is executed in a fine nasta'liq hand and a lighter shade of gold than the primary decoration. It is also on a spiral-floral background typical of Ottoman and Iranian design at the turn of the 16th century. While a literary origin for the Persian verse has not been identified, it mentions the type of object (khanjar, 'dagger'), a feature consistent with other objects from this group.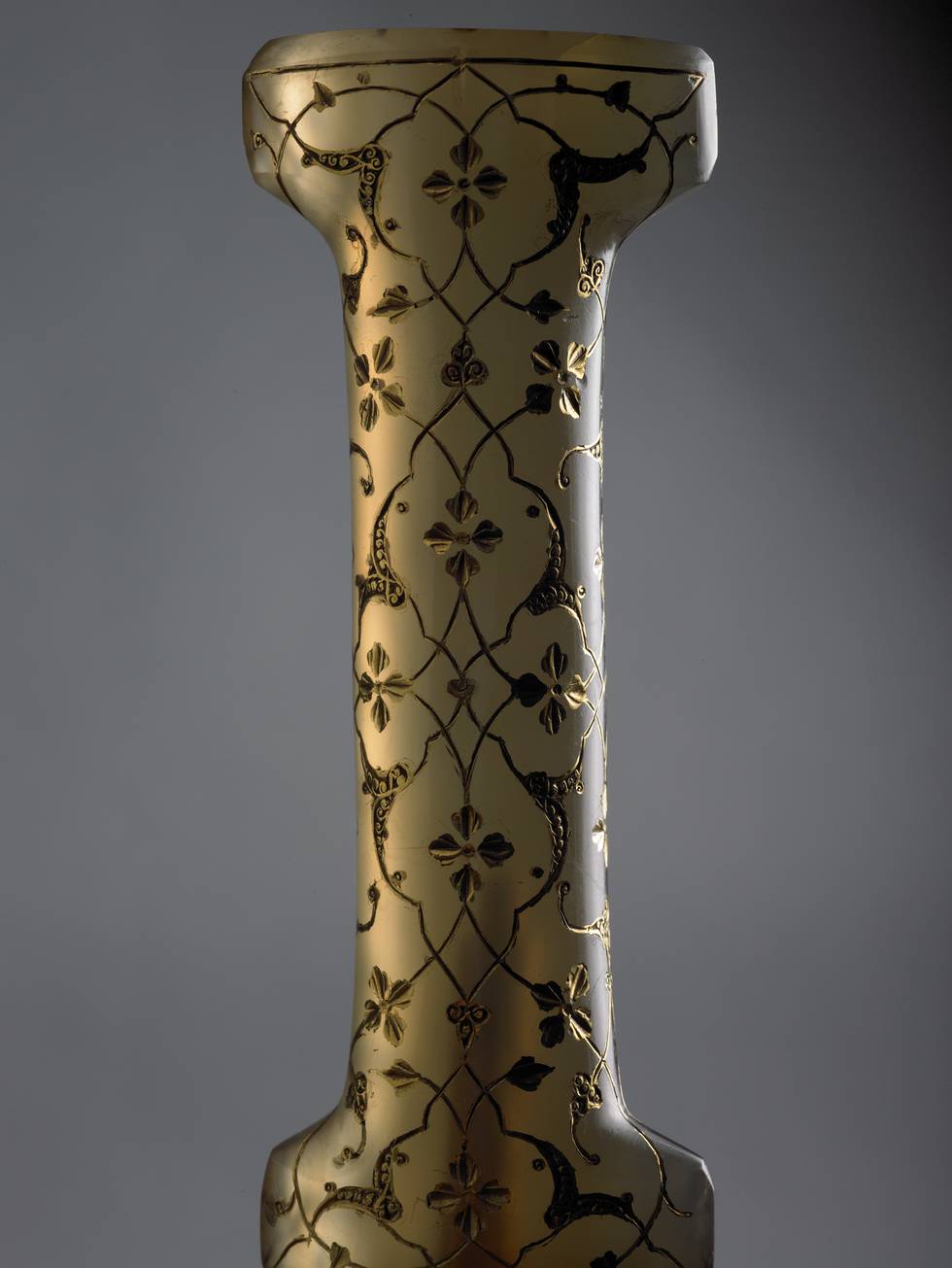 Most distinctive in the design of the blade are the animal motifs on a vegetal ground. The foxes on the blade are very similar to examples on an early 16th-century long-necked flask in the Topkapı Palace Museum. The vegetal decoration, which, by its inclusion of a human face, can be identified as a waqwaq-tree, was a popular motif across the Iranian world at the time.
- Arthur Bijl, Assistant Curator of Non-European Arms and Armour.