April Treasure of the Month
Incense burners, China, mid-Qing Dynasty, probably Qianlong period (1736-1795)
These spectacular pagoda-shaped incense burners are decorated with cloisonné enamel – an ancient decorating technique that became popular in China in the 14th Century, and remains so today. Their decorative motifs depict dragons, the character for longevity (shou), and various flowers and birds. They were probably made in the Imperial workshops, at the end of the Qianlong Emperor's reign, for use in a palace. The four-clawed dragon incorporated in the pierced gilt panels suggests that they might have been intended for the princes or nobles. The five-clawed dragon was restricted to the emperor.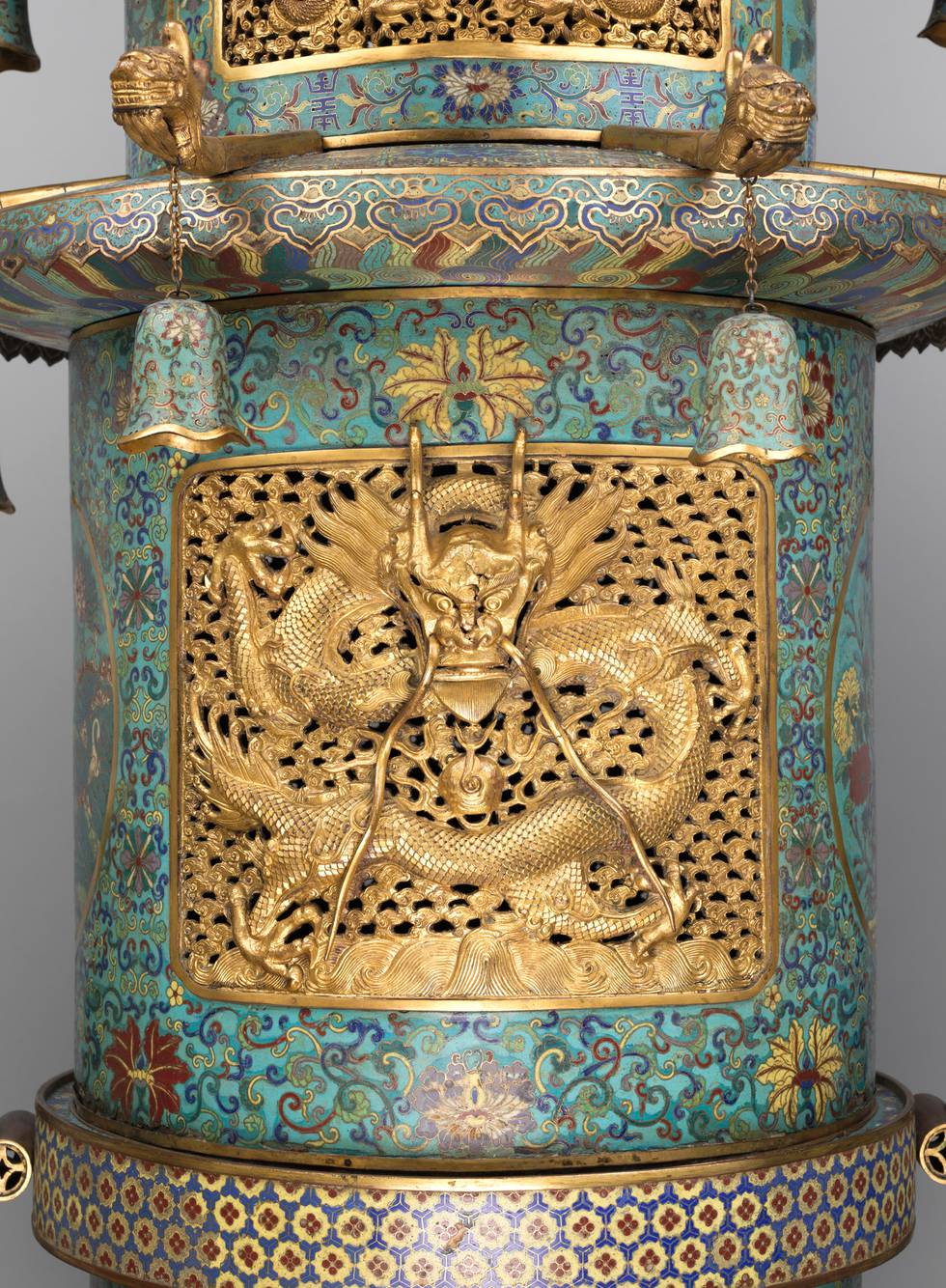 Incense was used in a variety of contexts in China: In temples it was an aid to meditation and prayer; it was employed to scent houses and palace halls; and scholars used it when practising activities such as calligraphy and music. Incense was commonly formed into sticks that were placed in beds of sand and burnt in vessels. The incense smoke would then escape through the holes.
The provenance of this pair is unfortunately unknown, but a recently-discovered photograph revealed that they were in Hong Kong around 1869-70 in the Landstein collection. This probably refers to William Rudolph Landstein (1840-1881), a Polish businessman who established Landstein & Company in Hong Kong in 1865. The company developed business with Indochina, including the transport of rice and cotton from Saigon. We do not know when the burners found their way to the Wallace Collection, however they must have been acquired by Sir Richard Wallace (1818-1890), who inherited the 4th Marquess of Hertford's art collection in 1870. Wallace was a keen collector of Chinese art, although today only a small group of Chinese works remains in the collection.