Animals
In this new blog series, our curators, archivists and conservators will be bringing together works of art from across the Collection under one theme. From armour and jewellery, to portraits and porcelain, read about some of the most fascinating and marvellous pieces in the Collection here.
Today we will be looking at the theme of 'Animals'. Discover the Collection's Palissy plate, Edwin Landseer's charming study of six beautiful animals resting and a lavish tool made in Japiur, India, used by an elephant rider.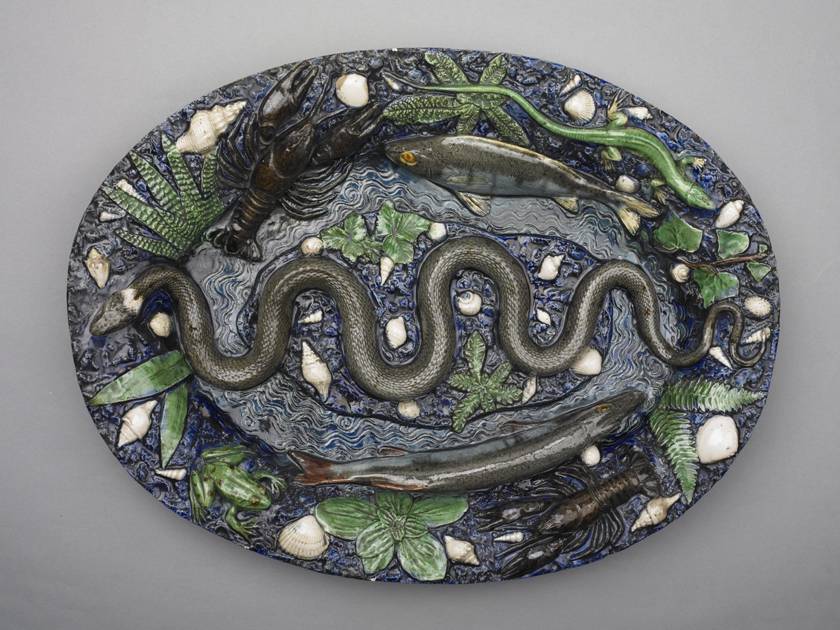 Ceramic basin by a follower of Bernard Palissy, late 16th-early 17th century
This spectacular ceramic dish creates the illusion of being a pond teeming with life: a snake spans its length, alongside fish, while crayfish, a lizard and a frog populate the bank. The dish is enlivened by an array of bright green plants and white shells.
The French Renaissance polymath Bernard Palissy (c. 1510–1590) invented this innovative type of basin in the 1550s. He used the life casting technique, necessitating the death of the model without damage to its appearance, to achieve great naturalism. His work has inspired many potters.
Create your own salt dough Palissy plate with our learning activity: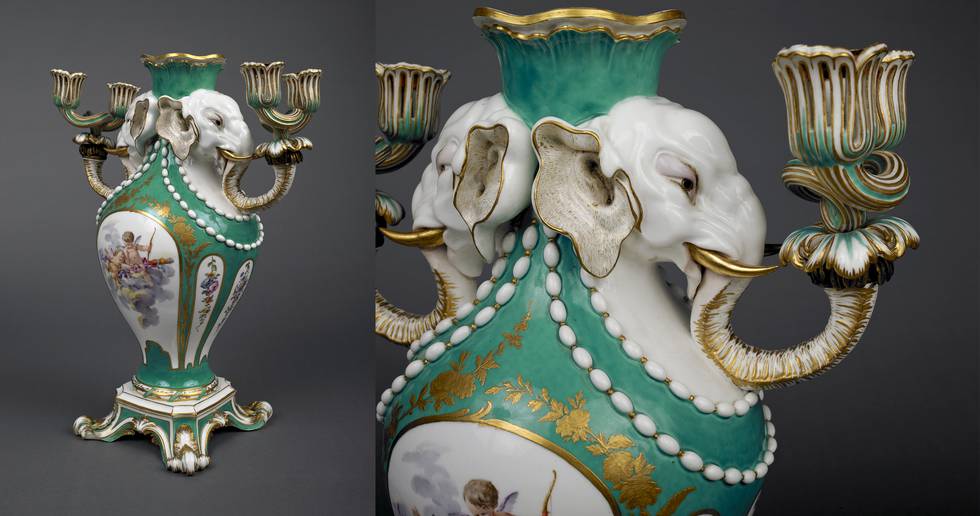 Pair of Sèvres vases with candle holders in soft-paste porcelain, designed by Jean-Claude Chambellan Duplessis, the Elder, and painted by Charles-Nicolas Dodin, 1757
These flamboyant vases are the creation of Duplessis the Elder, the Sèvres manufactory's chief designer in the 1750s. The elephants' heads are modelled in a naturalistic manner, an effect made possible by the supple qualities of the soft-paste porcelain. The clever use of gilding on tusks, trunks and ears, combined with subtle touches of pink on the eyelids and mouths, bring these magnificent heads to life. One may wonder whether Duplessis was inspired by the post-mortem of Louis XIV's elephant, published in 1755, which described the end of the trunk 'expanding like the top of a vase'.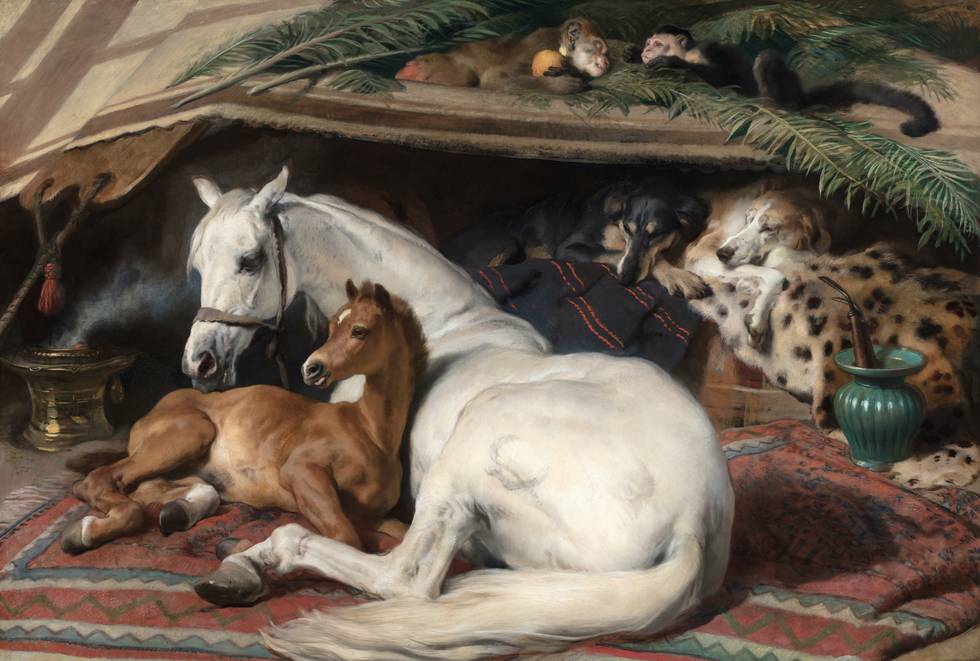 The Arab Tent by Edwin Landseer, c. 1865–6
Edwin Landseer was one of the greatest animal painters of all time; The Arab Tent is a portrait of six beautiful and diverse animals all resting inside what appears to be a Bedouin tent. Landseer often painted animals in pairs, as he does here, showing us the beauty of their contrasting forms and postures. The interior, with its exotic objects that tantalise the senses—an incense burner, an eastern rug, a cheetah skin—enhances but does not distract from the animals themselves. Dominating the composition is a magnificent Arab mare with her foal. Tucked behind them are two Persian greyhounds, while on the roof above a baboon and a monkey doze on palm fronds. Landseer communicates to us just how precious these sleek animals are to their owner; the baboon, wearing an earring, is clearly a cherished pet.
Landseer is our most local painter, whose studio was just around the corner from the Wallace Collection, on Queen Anne Street East. Here in our museum his three animal paintings can be admired along with those by his contemporary Rosa Bonheur.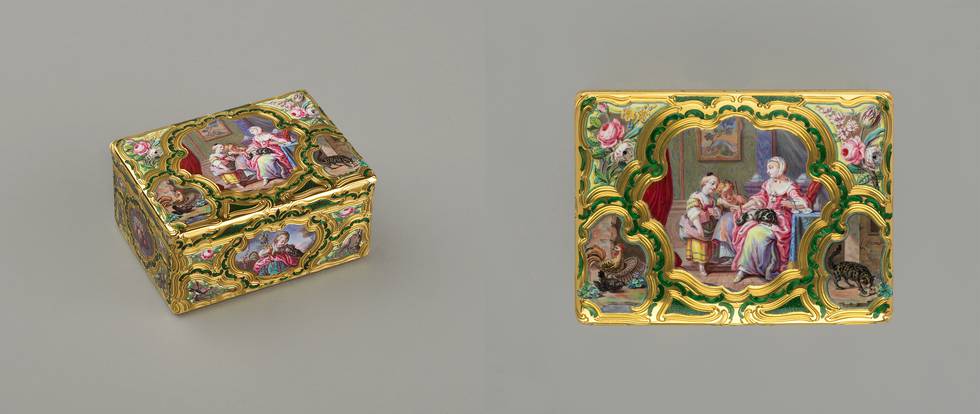 Snuff box, Jean Ducrollay (c. 1710 - 1787) , Goldsmith, Le Sueur (active between: 1750 -1761), Enameller, (one panel)
Snuffboxes were not only functional objects in the eighteenth century, they were also items of exceptional artistic creativity. Here, the goldsmith Jean Ducrollay has produced a box of virtuoso decoration in gold, heightened with joyful images painted in coloured enamels. In the centre, the artist has painted a scene of home schooling – after Boucher – in miniature, while the corners are decorated with flowers and animals. It is incredibly rare to find an enameller who signs his name on this type of gold box decoration, but here, just above the tabby cat playing with a trapped bird, we can read the name Le Sueur.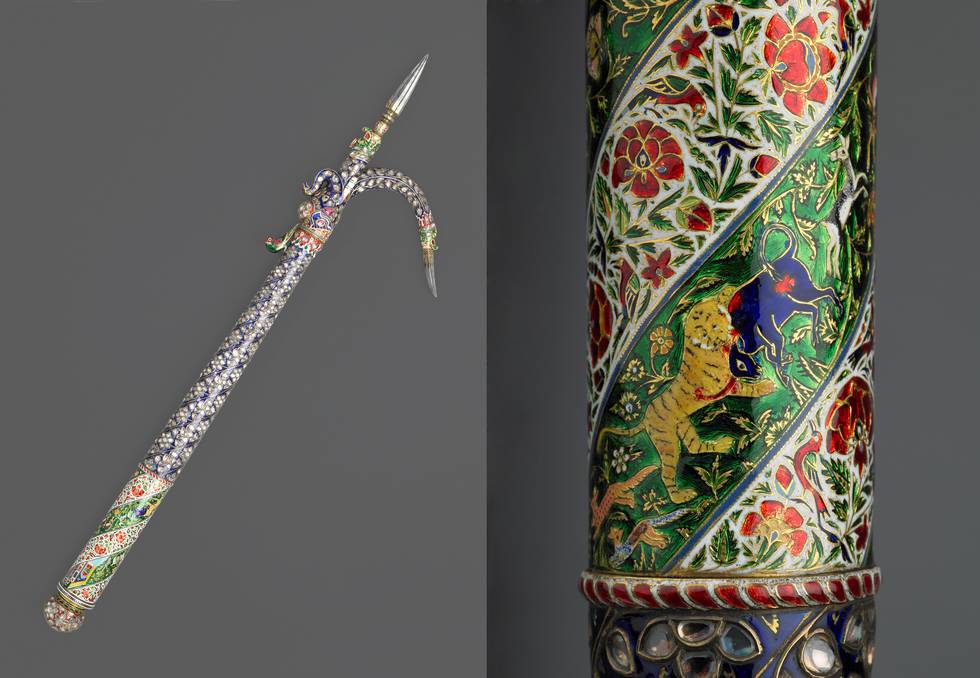 Ankus from Jaipur, India, c. 1860–70
This type of unusually shaped tool is used by an elephant rider to control his mount, and this is one of the most lavishly designed examples ever made! Over time, these so-called elephant goads were adopted as symbols of authority not unlike sceptres. While the object is studded with diamonds, it is a testament to the skill of the enamellers of Jaipur that it is the wonderfully detailed enamel that draws the eye. When the 4th Marquess of Hertford lent this object to the Musée Retrospectif exhibition in Paris in 1865, this elephant goad was brand new.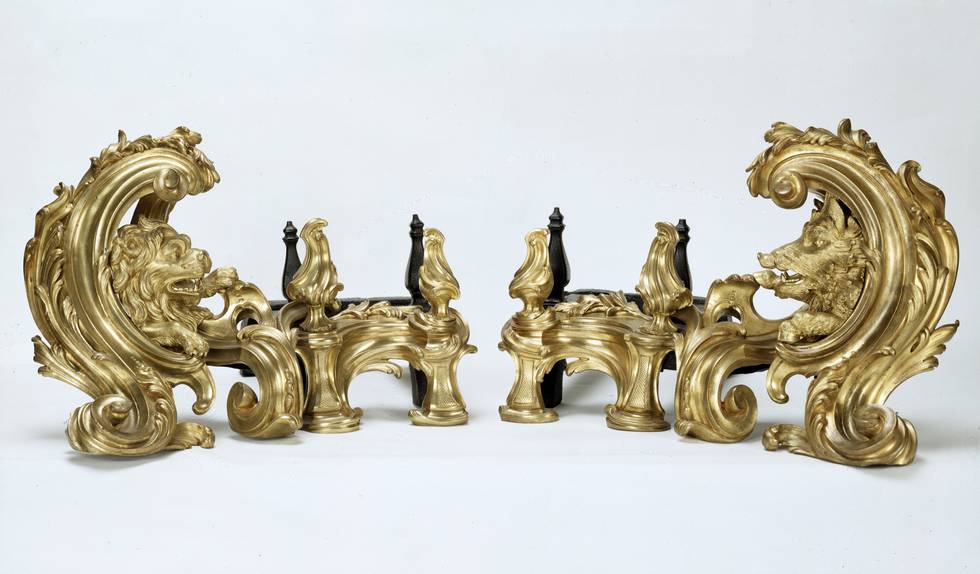 Pair of firedogs attributed to Jacques Caffiéri, c. 1752
Like many French monarchs, Louis XV was passionate about hunting and regularly hunted wild boar with his courtiers. The king had a number of hunting lodges and a private dining room at Versailles to return to after a long day of hunting, as well as a small room in which his favourite dogs slept.
These gilt-bronze firedogs, with beautifully sculpted heads of a lion and a boar, are attributed to Jacques Caffiéri, and may be of the same model supplied to one of Louis XV's hunting lodges, the Château de Saint-Hubert, in 1758. They would have made an impressive sight flanking a fireplace, attached to long cast-iron bars used to support logs in the fire.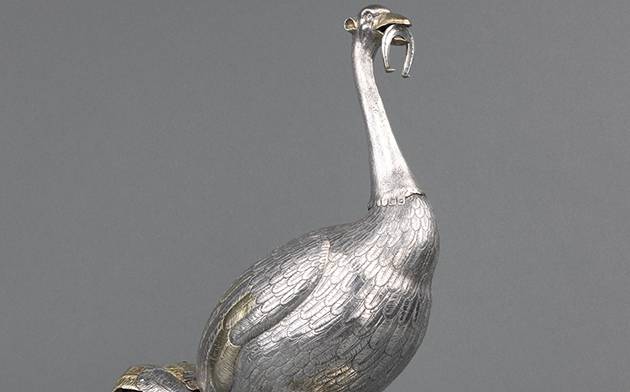 Silver ostrich by Elias Zorer, c. 1600
Due to its enormous size and inability to fly, the ostrich was seen as an exotic curiosity. Sixteenth- and seventeenth-century silversmiths in cities such as Augsburg, produced ostrich statuettes, sometimes using an actual ostrich egg as the body. Some figures functioned as extravagant drinking vessels. The neck of this ostrich was originally detachable, suggesting that it may have been used as a cup.
The Roman author Pliny the Elder in his Natural History incorrectly wrote about the ostrich that it can digest anything. This was possibly the source of a popular myth that it can digest metal, and the reason why the bird is commonly depicted holding a horseshoe in its beak.