Conservation Project: Prince Baltasar Carlos in the Riding School by the Studio of Velázquez
On the 4th of February 1636, the heir to the Spanish throne, Prince Baltasar Carlos (1629–1646), practised tilting for the first time. This was a momentous event in the life of the young prince, worth being recorded in the city's records of important events, and portrayed by the court painter, Diego Velázquez.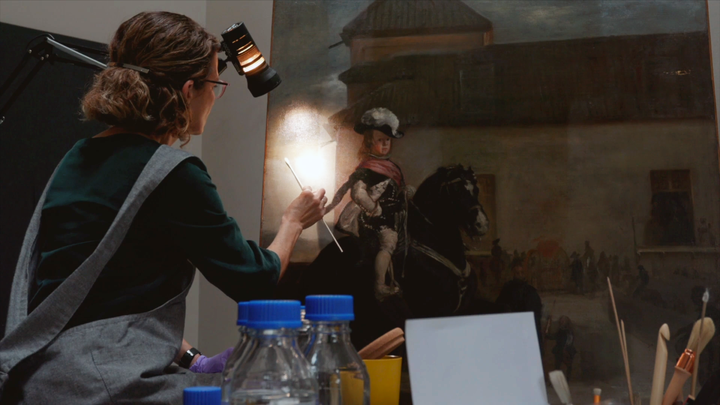 Baltasar Carlos was the son of Philip IV of Spain (1605 – 1665) and his first wife, Isabel of Bourbon (1602 – 1644). He is portrayed in front of his apartments in the Palace of the Buen Retiro, confidently performing a terre à terre. This highly original composition combines equestrian portraiture and genre scene in a steep departure from the conventions of Spanish royal portraiture. The thinly and sketchily painted scene unrolling behind the prince takes the viewer deep into areas of the court never seen before, offering a rare glimpse into the upbringing of heir to the Spanish throne. Standing behind the horse is the King's Master of Hounds, Juan Mateos, who is about to hand a tilting lance to the prince. In the background, courtiers gather around the tilting yard, where a rider is already running at the tilt, foretelling the exercise Baltasar Carlos is about to engage in. This powerful image conveys a strong political statement, that foretells his ability as future ruler and commander of the Spanish armies.
This picture is a contemporary version of the Prince Baltasar Carlos in the Riding School, painted by Velázquez around 1636, now in a private collection. The painting was commissioned by the powerful First Minister Count-Duke Olivares (1587 – 1645), who appears prominently depicted in the foreground standing beside the heir to the Spanish throne. Both paintings are closely related, yet some key differences in the figures depicted, particularly the absence of Olivares, have raised numerous questions regarding the attribution, dating and commission of the Wallace version.
In 2019, the Centro de Estudios Europa Hispánica generously funded the cleaning, restoration and technical analysis of our painting. Although it was generally in good condition, the brushstrokes and finer details of the composition had become obscured by a layer of yellowed varnish accumulated over the years. The painting's original cool palette has once again been made visible and it is now easier to appreciate the details and brushstrokes that enliven its rich composition.
The conservation project uncovered some fascinating details, including an old inventory number painted on the reverse of the canvas, which with further research could provide more information on the painting's provenance. Though it is not yet possible to find a firm attribution for the painting, ongoing research points to the fact that it is likely that the painting was both by the hand of Velázquez and his studio, and may help resolve the questions about its dating and commission.
See this magnificent work on display in the Great Gallery of the Wallace Collection.