Forgotten Masters Online Tour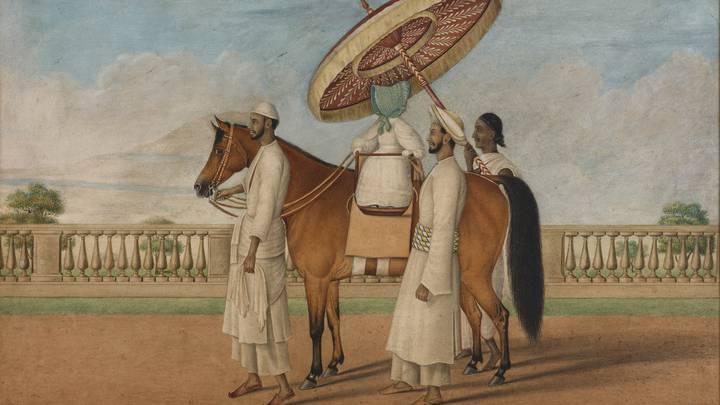 INTRODUCING FORGOTTEN MASTERS
The Wallace Collection presented Forgotten Masters: Indian Painting for the East India Company, guest curated by renowned writer and historian William Dalrymple, from 3 December 2019 until 13 September 2020.
Although the exhibition is now closed, you can still digitally explore, room-by-room, works by Indian master painters commissioned by East India Company officials in the late eighteenth and nineteenth centuries. See these vivid and highly original paintings up close in high resolution and observe the greatest masterpieces of Indian painting from the comfort of your device.
Discover historically overlooked artists including Shaikh Zain ud-Din, Bhawani Das, Shaikh Mohammad Amir of Karriah, Sita Ram and Ghulam Ali Khan and shed light on a forgotten moment in Anglo-Indian history. Reflecting both the beauty of the natural world and the social reality of the time, these dazzling and often surprising artworks offer a rare glimpse of the cultural fusion between British and Indian artistic styles during this period. Journey through our online trail of Forgotten Masters today.

Room One: The Artists of Lucknow
In the late eighteenth century, the magnificent Indian city of Lucknow was at the height of its Golden Age. Flamboyant, glamorous and newly rich, it attracted artists who flocked to the cosmopolitan city in search of commissions from of a dynasty of wealthy Nawabs, or Mughal governors, who had the means to patronise artists with an extravagant generosity.
One of Lucknow's foreign residents was Claude Martin, an enigmatic, self-made French buccaneer- businessman from Lyon, who worked for both the English East India Company and the Nawabs of Lucknow.
In the 1770s, Martin imported 17,000 sheets of European watercolour paper and commissioned a series of natural history illustrations from the master artists of Lucknow. They gave birth to a unique new hybrid style, one that was unquestionably Lucknavi- Mughal, but with a strong European influence. The result was over 1,800 exquisite drawings of birds, plants and reptiles, many of which have never before been exhibited in public.
Discover more from this room
Room Two: Illustrating the Natural World
By the end of the eighteenth century, the sheer volume of artworks commissioned from Indian artists through the patronage of East India Company officials was growing as more and more commissioned albums of painting. A large proportion of these, reflecting the new European enthusiasm for botany and zoology, were illustrations of the wonders of the natural world.
The names of many of the artists remain unknown, although their skills are evident from their exquisite paintings of flora and fauna. Among those whose names are preserved are Vishnupersaud, who painted masterly botanical studies, and Bengali artist Haludar, whose animal portraits show extraordinary flair and personality.
Most of the artists, such as the talented Manu Lall, whose botanical studies are remarkable for their microscopic detailing, appear to have been trained in Mughal techniques of portraiture. In the South, where such skills were not available, some artists appear to have been kalamkari textile painters before being recruited to work on paper by East India Company botanists.
Discover more from this room
Room Three: Master of the Impey Album
Between 1777 and 1783, Muslim painter Shaikh Zain ud-Din of Patna, later supported by Hindu painters Bhawani Das and Ram Das, created more than 300 beautifully detailed natural history studies. Commissioned by Sir Elijah Impey – Chief Justice at Calcutta's Supreme Court – and Lady Mary Impey, the project was a major artistic undertaking, remarkable both for its scientific ambition and inspired artistic vision.
Trained in the late provincial Mughal style that prevailed under the Nawabs of Bengal at Murshidabad, these Indian artists adapted their skills to suit the tastes of wealthy British patrons.
The project took seven years, with the brilliant Shaikh Zain ud-Din creating the majority of the works. Working with English watercolours on English Whatman paper and using English botanical still lives as their models, an extraordinary fusion of English and Mughal artistic impulses took place. The artworks from the Impey Album are now recognised as among the very greatest glories of Indian painting.
Discover more from this room
Room Four: Everyday Life
East India Company's officers also commissioned scenes of everyday life. Drawn to this patronage, several talented Indian artists set up business as freelances, producing scenes and personalities to order.
Foremost of these was an artist named Shaikh Mohammad Amir of Karraya. He was equally at home painting Palladian architecture as he was painting people, animals or street scenes. His single figures are sometimes shown in the Mughal tradition, in profile, but he was also capable of painting in a more Europeanised style.
At the same time, another artist, Yellapah, was working with East India Company patrons in Vellore, inland from Madras in the South of India. The result was a great masterpiece, the Vellore Album, still completely intact in its own binding. Most unusually, it contains a brilliantly knowing self-portrait of the artist himself, seen at the beginning of this exhibition. His features are rendered with such clarity and precision that even the tiniest details- including his smallpox scars- are revealed.
Discover more from this room
Room Five: Mughal Delhi and Agra
In 1815, the Scottish artist James Baillie Fraser headed to the Mughal capital of Delhi, to join his brother, the East India Company scholar and diplomat, William Fraser. The magnificent but half ruined Mughal capital soon worked its spell and during his stay, he commissioned an unmatched artistic record of the social, cultural and everyday life of Delhi's rural and urban residents.
The Fraser Album was most likely painted by members of the circle of the talented Delhi artist Ghulam Ali Khan. Descended from a long line of imperial Delhi artists, he was a master of landscape and architectural drawing, as well as portraiture. The often anonymous members of his family circle who painted the Fraser Album stand out as the most skilled artists of late Mughal Delhi.
Ghulam Ali Khan's rise to fame was made possible by Delhi's resurgence as an artistic centre from the last quarter of the eighteenth century, during which he worked for both the East India Company and the Mughal Court.
Discover more from this room
Room Six: Sita Ram
By the early nineteenth century, we see early signs of the growing influence of colonial artistic models that eventually led Indian artists to abandon their traditional styles. One of the last great commissions by an East India Company patron was the Hastings Album, commissioned from the great Bengali artist Sita Ram, by the Marquess of Hastings.
In 1814, Governor General Hastings travelled to inspect British possessions in India, a journey that led to him meeting many Indian rulers and visiting the principle cities of northern India. The paintings by Sita Ram are a vibrant record of his travels and act as illustrations to Hasting's own private journal.
Sita Ram was probably a Mughal artist from Murshidabad who found employment as an artist creating botanical illustrations in the East India Company's gardens at Sibpur. His adoption of an impressionistic 'picturesque' style for his landscapes speaks of increasing English influence and prestige. It is a style that is almost unique in Indian painting during this period , and brings to a close an unbroken Indian painting tradition going back to the early centuries BC.
Discover more from this room