The Influence of Chinese Art in European Decorative Arts
THE INFLUENCE OF CHINESE ART IN EUROPEAN DECORATIVE ARTS
In February 2021, in honour of the Chinese New Year which started on the 12th of the month, #WallaceConnections considered the lure of China in the eighteenth-century French imagination.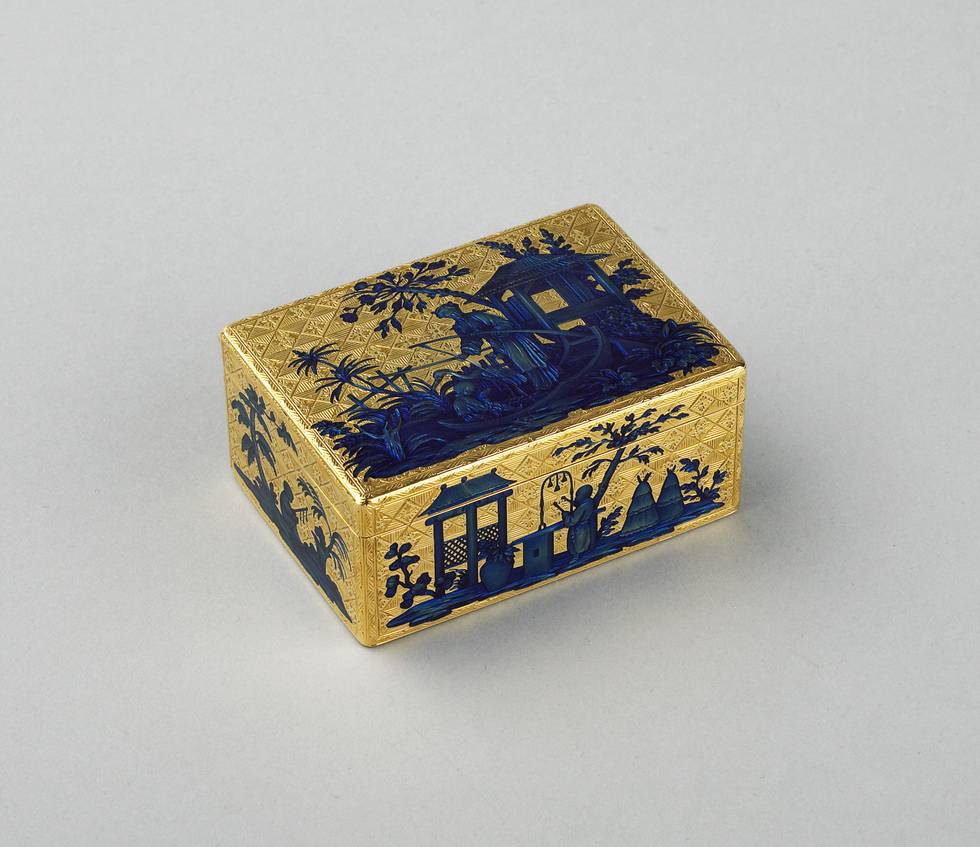 Snuff box with enamelled decoration after François Boucher, Paris, France, 1749–50 (G8)
This striking box, decorated in translucent blue enamel on a gold background, is covered on all sides in scenes of daily life — feasting, music-making, even fishing. But all of these rather pastimes take place in a land far removed from the country of origin of the maker, French goldsmith Hubert Cheval. For each of the tiny scenes has been inspired by an engraving showing life in China.
The engravings, shown here, were made after red chalk drawings by the renowned artist François Boucher who had never set foot in Asia. But Boucher's personal collection of Asian art and artefacts was catalogued in 1771. He owned several Chinese paintings of landscapes and flowers, a series of engravings, and a scroll painting showing a seascape. His collection also encompassed 168 pieces of porcelain, many from China and Japan.
Boucher used these objects to conjure up a highly personal vision of China, one that made its way into his art — and the art it inspired, even the present gold box, to which we might attribute a similar function as an album of picture postcards. The owner, seated comfortably in a French salon, could imagine himself overseas for the length time he held it in the palm of his hand.
- Dr Yuriko Jackall, Head of Curatorial and Curator of French Paintings
Please drag left or right to browse the gallery and click on an image to expand it.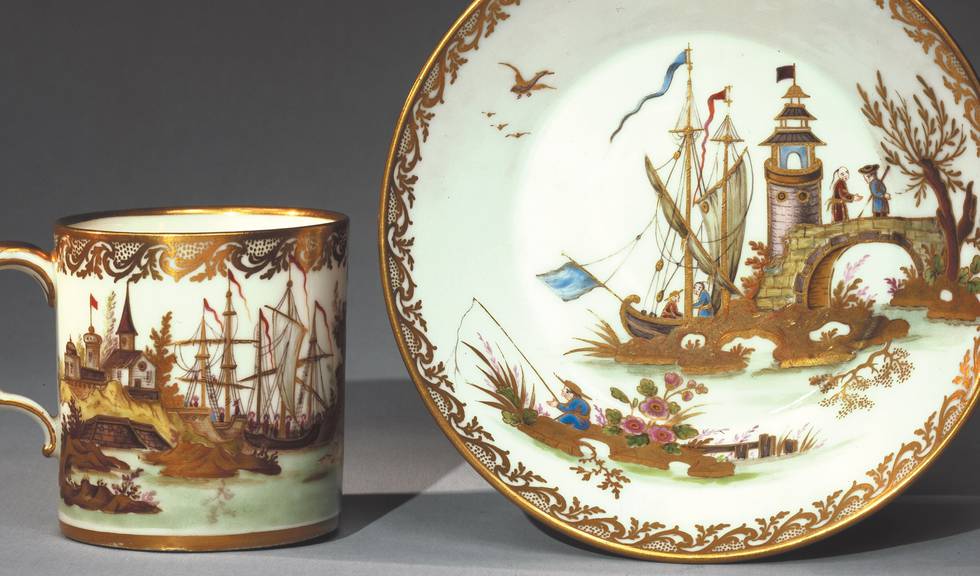 A Sèvres tea service and tray in hard-paste porcelain with 'chinoiserie' decoration, 1779 (C407–13)
During the 1770s, the Sèvres porcelain manufactory produced vases and tea services decorated with so-called 'chinoiserie' scenes, a European interpretation of Chinese subjects.
Chinese porcelain, painted silks, lacquer and prints depicting Chinese culture arrived in large quantities through the French East India Company and served as models and inspiration for Sèvres painters. The most popular subjects represented scenes of daily life, from tea-making to rice growing.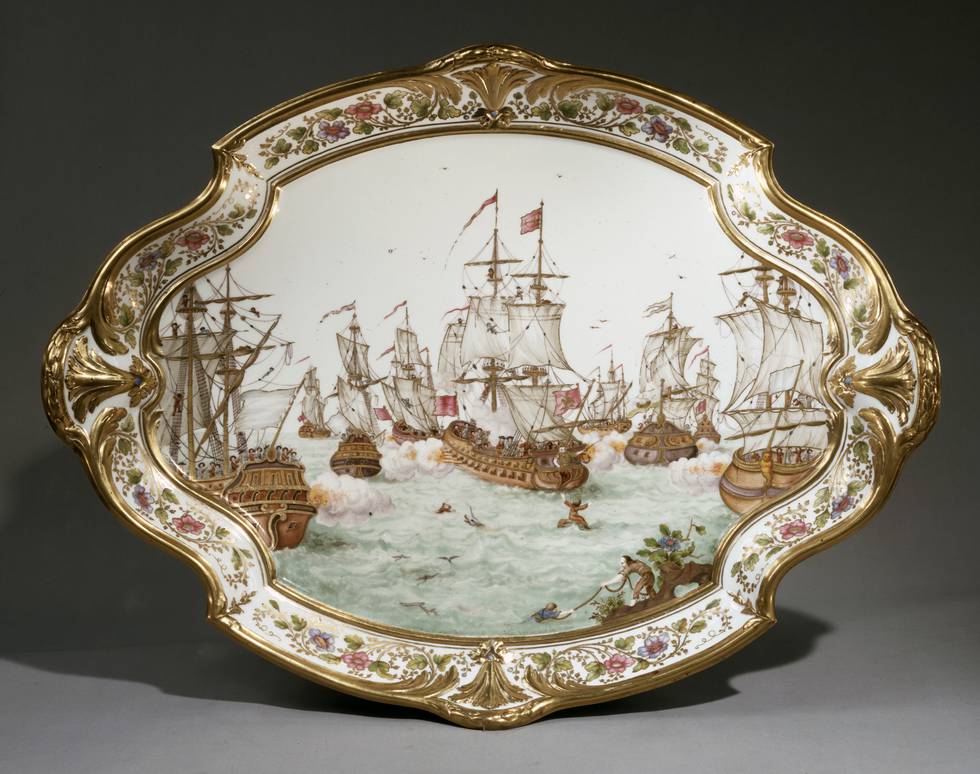 This tea service, or 'déjeuner Paris', depicts marine battle scenes that combine both Chinese-inspired characters and landscapes with European ships. Sèvres officials amalgamated this mixture of sources under the term 'décor chinois', a highly appreciated genre.
Louis XVI owned several similar tea services and garnitures of vases decorated with Chinese-inspired scenes. He also acquired a Sèvres biscuit sculpture and a portrait painted on a porcelain plaque of the Chinese emperor Quianlong, which he kept in his private apartment at Versailles.
- Félix Zorzo, Curatorial Assistant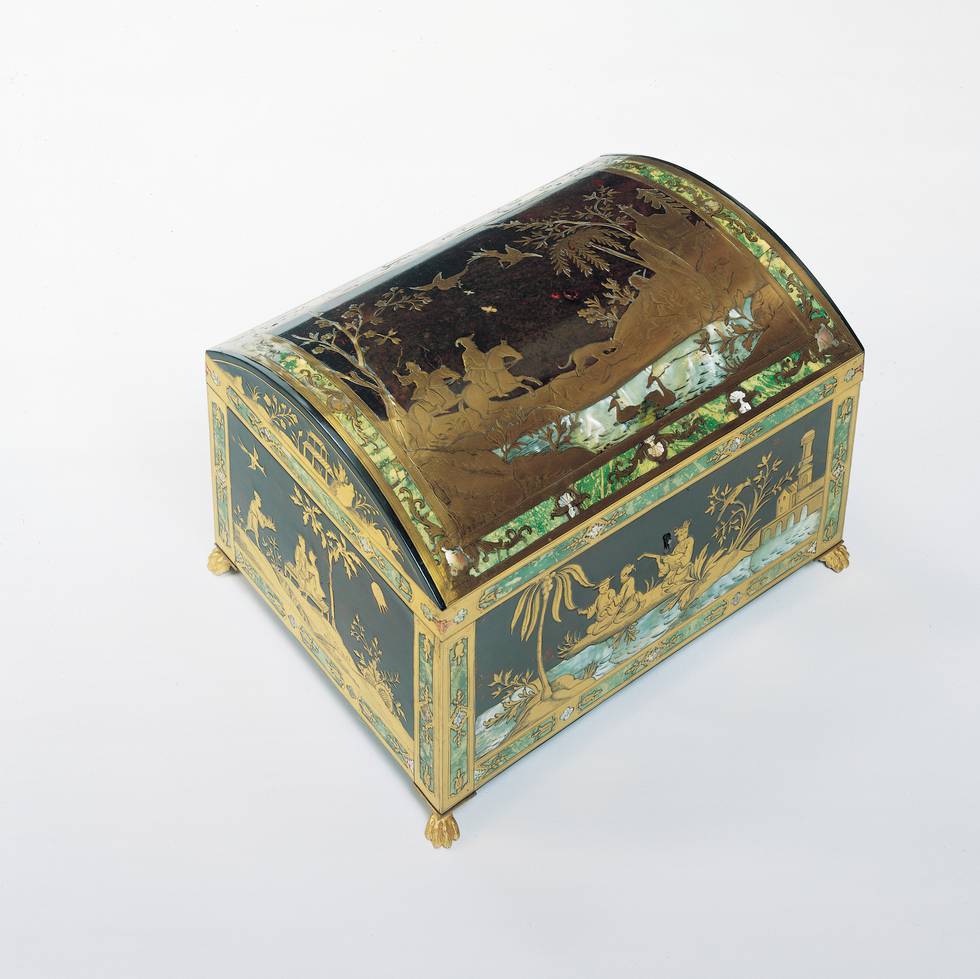 Casket, attributed to Bernard van Risen Burgh I, c. 1715 (F34)
By 1700 the scale of the Dutch and British East India Companies' imports had brought Chinese lacquer and porcelain to an ever-growing consumer base and, unable to produce either domestically, European craftsmen increasingly looked to provide substitutes.
On this casket, the cabinetmaker has used glossy, dark turtle shell, inlaid with brass marquetry, to mimic the effect of lacquer.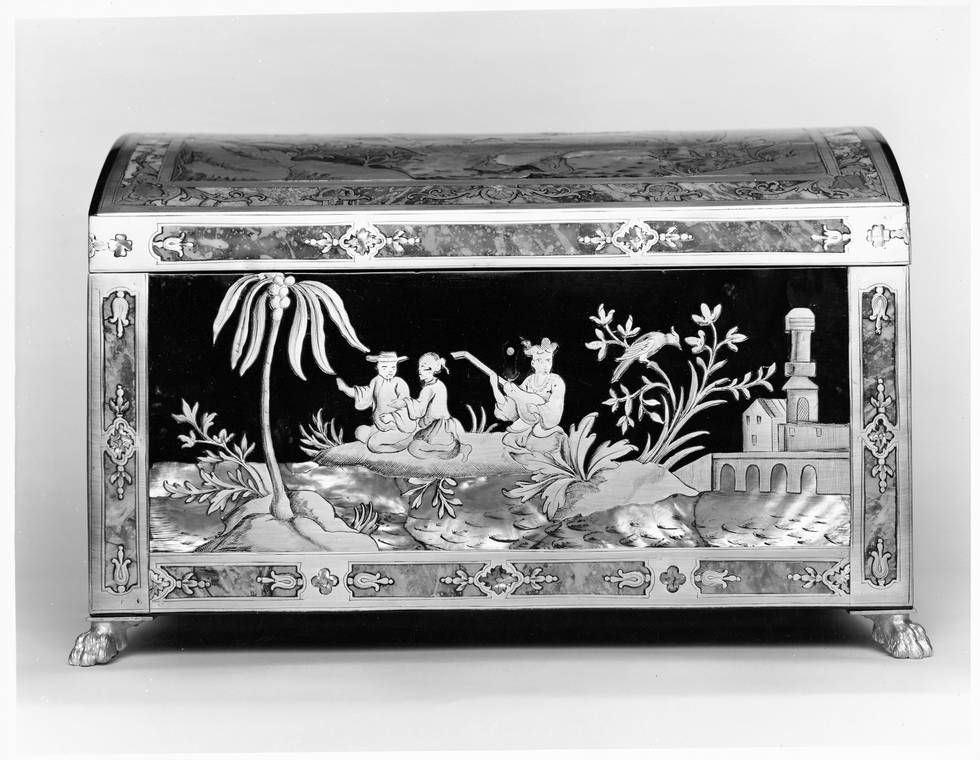 The marquetry is enlivened with decoration taken from print sources, including one of the most celebrated travelogues of its time, Johan Nieuhof's illustrated description of the Dutch East India Company embassy to China, published in Dutch in 1665 and widely translated.
Although working in Paris by the 1690s, Bernard van Risen Burgh, to whom this box is attributed, came from Holland and must have known Nieuhof's book. Aspects of the casket also show that he was familiar with Stalker and Parker's 1688 'Treatise on Japanning', a book intended specifically for those attempting to produce imitation lacquer.
- Dr Helen Jacobsen, Senior Curator and Curator of French 18th-Century Decorative Arts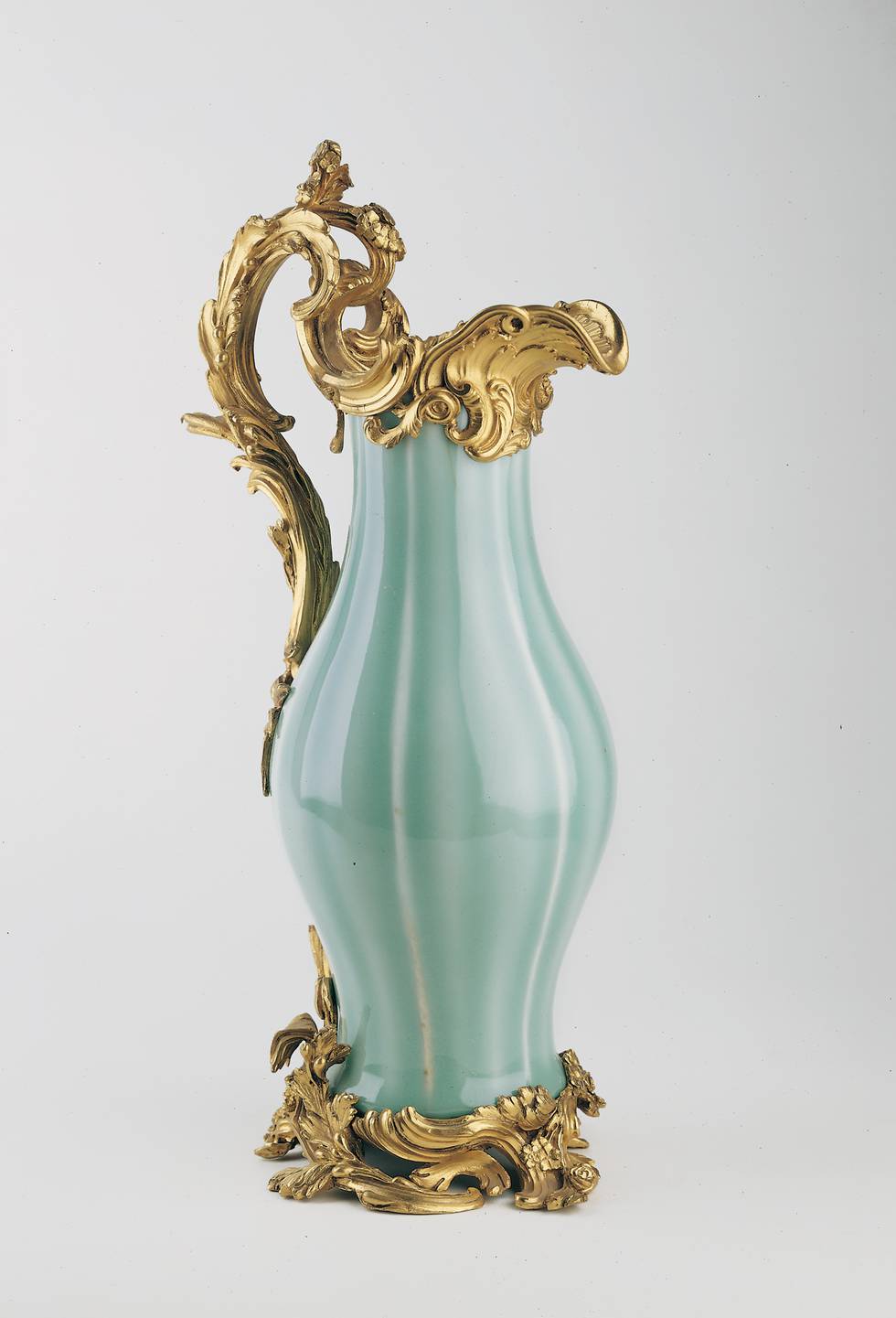 Pair of ewers, Chinese porcelain (1725–35) and French gilt-bronze mounts (1745–9), (F105–6)
Greenware was greatly appreciated in China because of its resemblance to jade, a semi-precious stone prized for its beauty and magical properties. In Europe greenware was known as celadon, probably after the character of a shepherd wearing green ribbons in the 1610 pastoral novel L'Astrée by Honoré d'Urfé.
French collectors acquired celadon and other Chinese porcelain through luxury goods dealers or marchands-merciers, who embraced fashion with a sharp commercial eye, often adding expensive gilt-bronze mounts to porcelain. Here, two baluster-shaped Chinese vases have become exquisite ewers. The mounts have been made to fit snuggly, kept in place by tension and a metal disk fitted tightly to the base of the vases, a clever solution that avoids drilling holes into the porcelain.

The marchand-mercier Lazare Duvaux recorded the sale of Chinese celadons decorated with gilt-bronze mounts to the most prestigious buyers, such as Madame de Pompadour, who paid enormous prices for these pieces.
- Félix Zorzo, Curatorial Assistant